Backlinks are arguably the most important way of ranking higher in Google results.
If you rank higher, you get more traffic, more leads, which you can convert to more sales, and ultimately make more money.
There are tons of ways to get backlinks, which we have discussed extensively elsewhere in this blog. This article is about categorizing links not by how they work (as in follow vs. nofollow) but by their source and the methods used to build them.
Without further ado, let's dive in and explore the different types of links, along with their advantages and disadvantages.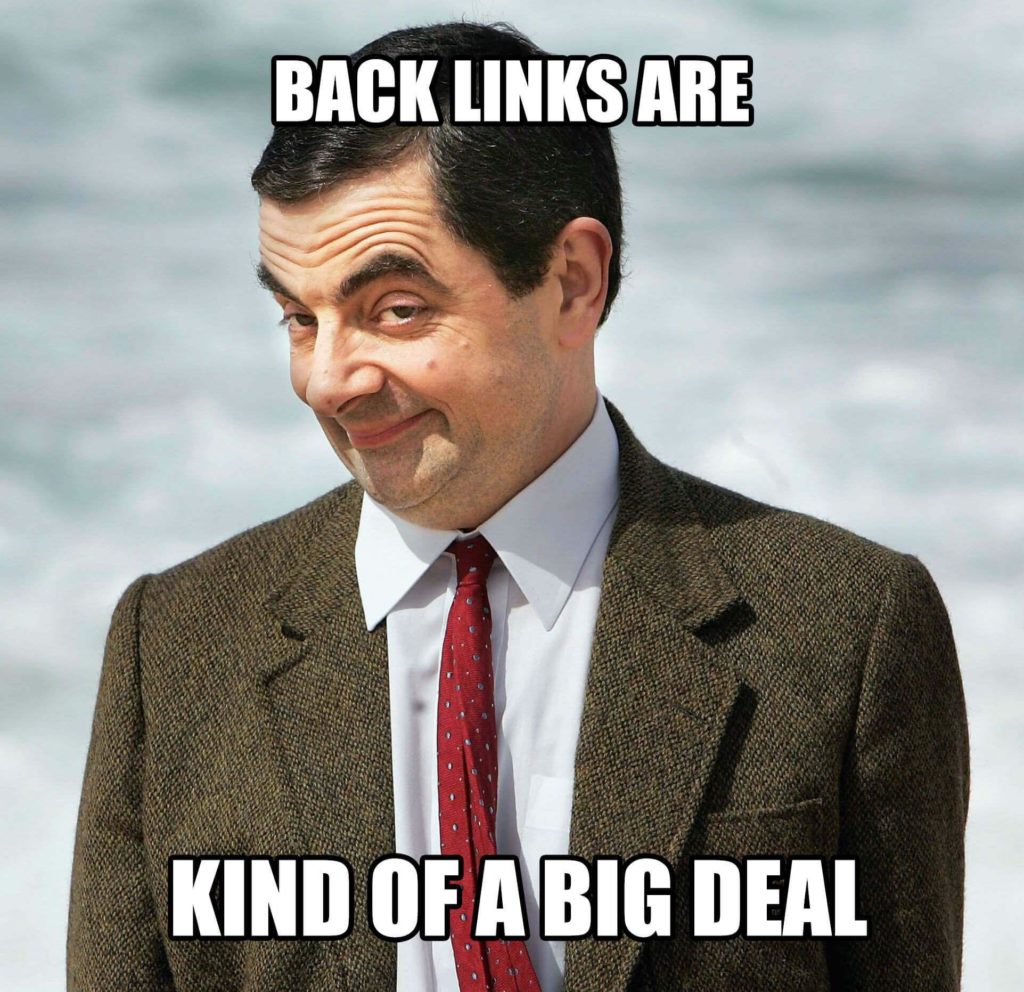 Editorial Links
When an authority website mentions your company or product in a thematic article about your business, it constitutes a thematic link. For example, we recently published a post about link building tools, in which we recommended many other tools like Ahrefs and Semrush. We explained how they work and also linked out to those tools. These constitute editorial links for Ahrefs and others from our blog.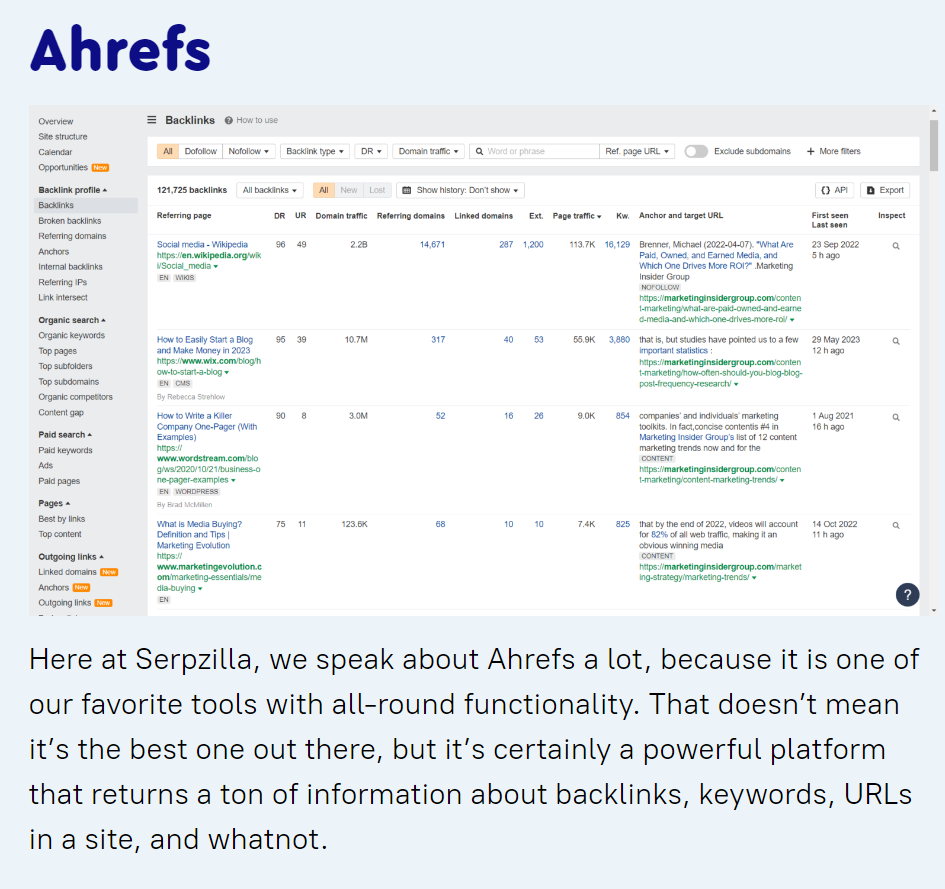 Editorial backlinks carry a lot of weight in SEO primarily because they are honest and organic recommendations. They serve the true purpose of a link – trust in that page. It could be a challenge to build such links. They mostly come from people who have a genuine interest in your product.
If you want to create a post with an editorial backlink, the content should be unique and very high quality, so that readers find it valuable enough to actually check out and use your product. The website that is recommending you also matters a lot. It should have significant authority of its own and be respected in your industry.
From Google's point of view, it should have respectable site authority, i.e. DA and DR numbers, it should be publishing articles frequently, and be a trusted, established source of information in your industry. The site gets brownie points if a large number of people regularly visit it and engage with their content. That's the sign of a truly alive website.
If you want to attract editorial backlinks, you can try and create content assets, in-depth resources, studies and surveys – basically any resource that can be helpful to people in your industry. For example, we published a study about the electronics niche in ecommerce and that got us a lot of references, citations and backlinks that were totally natural in the eyes of Google.
Guest Post Links
When you write an article for another website as a guest and they link back to your website – either from the content or from your author bio – it is termed a guest post link. This is a way to tell the reader of that site that your website needs to be checked out because you are a true expert in your field.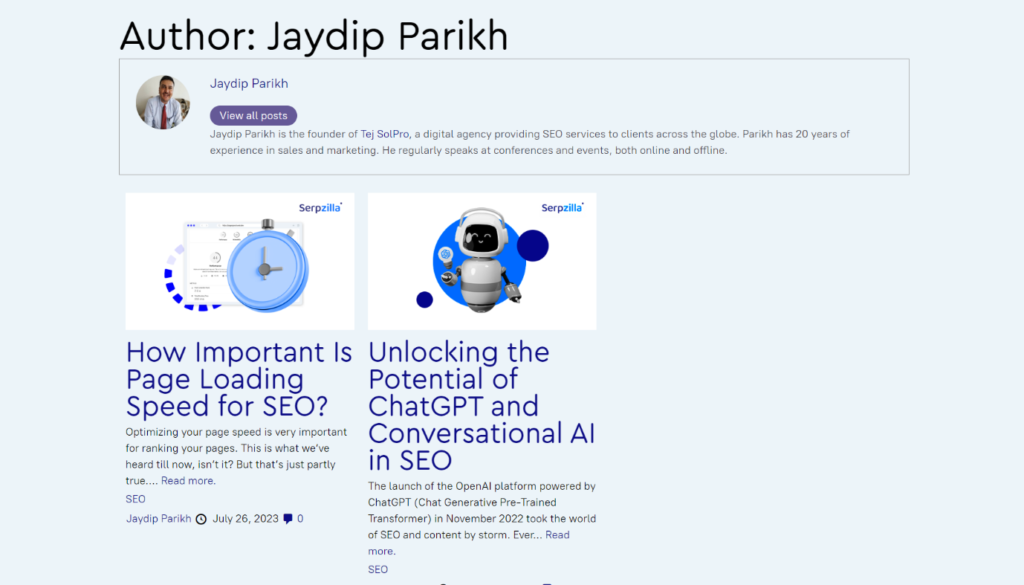 How do you get backlinks from guest posts? In principle, you simply go to a website and say, "Hey I will create an awesome piece of content for you. Are you open to it?" Who would say No to this kind of a win-win proposal?
Well, in reality it's not so simple. It is just like having a guest in your house. You wouldn't invite any random person who contacts you to dinner in your house – you'd only invite your friends and family.
This is why developing deep relationships with bloggers as well as creating a great personal brand in your industry is extremely important for guest blogging activities. On top of that, you need to create customized, high-quality content every time you post on a site (you make sure you are a good guest by being a fun person in the eyes of your host).
A lot of organizations and even SEO specialists make the mistake of outsourcing guest posting activities to SEO agencies, which do a botched-up job of reaching out to sites and creating content. The result is often spammy backlinks on low-authority sites from thin or duplicate content. The risk of Google penalizing your site is very high in such cases, because it's very easy for them to detect such spamming patterns.
If you want to excel at guest posting, your best bet is to create content that people really want to read, that addresses your audience's pain points with solutions they can easily implement after reading your post. The link should be just the additional bonus to the authority you get.
Business Profile Backlinks
Profile links are those that you get by creating a profile on business directories or listing sites in your industry. Such links give you the opportunity to describe yourself in your own words and providing selected blurbs of information that portrays your company in a good way.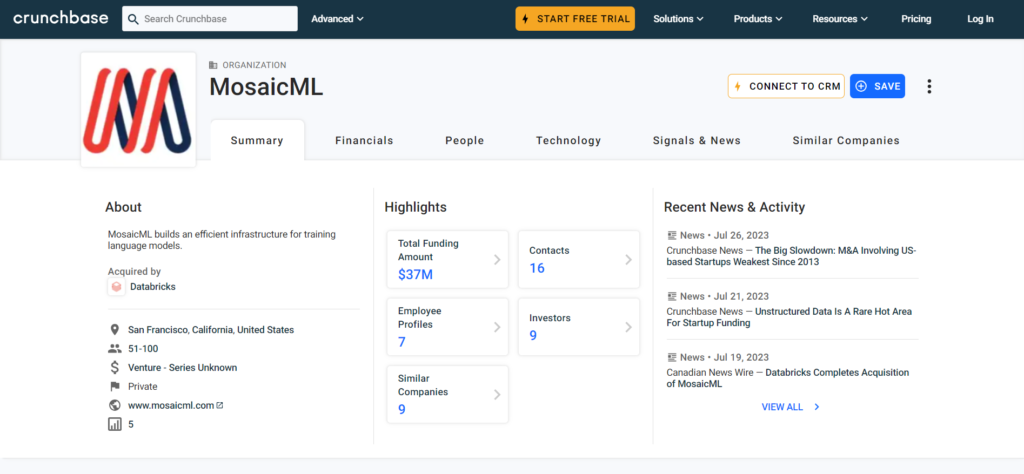 In fact, social media profiles can also come under this banner. On top of that, you can create your own groups in Facebook, LinkedIn, or other social platforms where you not only list your flagship products, but also control the conversation around it.
Such sort of profiles sound easy to create but they aren't in many cases. Many platforms require you to meet certain minimum requirements before they let you create a profile.
Moreover, such links don't carry a lot of weight. It is easy for Google to classify a business listing site that links to your site as spammy if you don't have a huge presence online or offline. The logic is, why would the site want to describe and link to an unknown business? Plus, if you do this in large numbers, Google also suspects that what kind of person or organization would build a profile on dozens of websites just for the sake of it?
The solution is to create high-quality platform-specific content that goes on each profile you build. That is something the spammers can't do. Only you know the ins and outs of your business, so make sure you make your profiles original, valuable and authoritative. This will add to the strength of the links from those profile pages.
Webinar Backlinks
Webinars are something we at Serpzilla regularly leverage in order to educate our customers and the SEO audience in general. Basically, when you organize a webinar, people who come to know about it and sign up for it will share the links with their friends and peers via social media or email.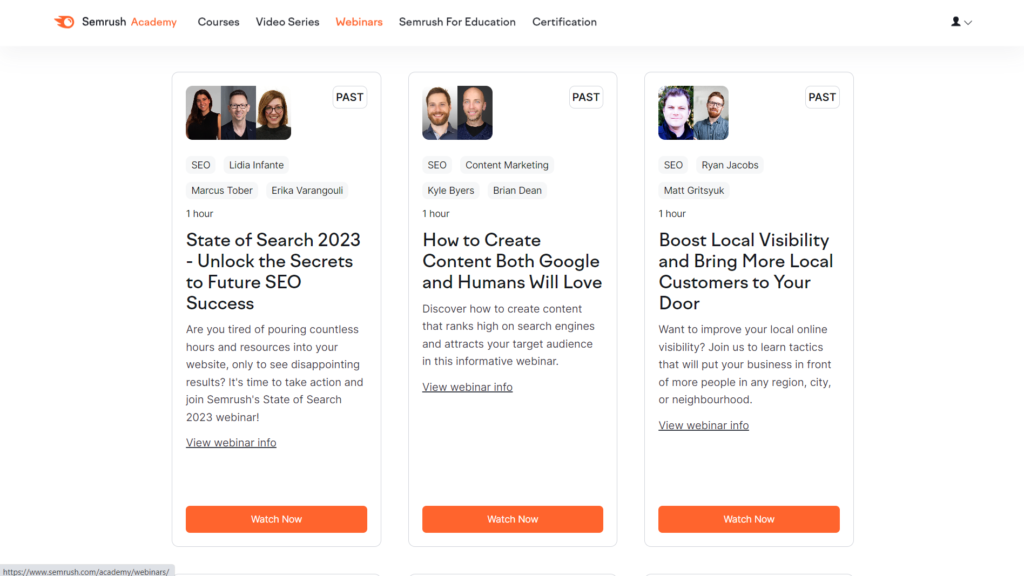 If you are speaking at a webinar, the listing and the link from it from the host site will boost your credibility as well as your brand's. In general, registrants who haven't heard much about you will be curious and click on to your website. For example, we host a lot of guests in our site. Ravi Soni is one of my favorite guests with whom we recently did a webinar on SEO mistakes. Naturally, we'd write a glowing description of what his company Obbserv does and provide a nice link to it.
A downside of webinar links is that you can't get many of them from high-authority websites – it's not a scalable link building tactic. However, there is enough research that says your backlinks should be evenly spread out over different types and authority ranges, so getting webinar links is an ideal way to maintain your mix.
If a lot of people are sharing the link to a webinar on social media, that's completely natural by Google's standards. You just have to share the spoils with the other guests on that webinar.
Backlinks from Free Widgets and Tools
We've all seen and used those little free tools on a website that enable us to check our reaction time, calculate EMI of a home loan, or make us look like a character from the Barbie movie. With the proliferation of AI and low-code technology today, such tools have proliferated in even more abundance.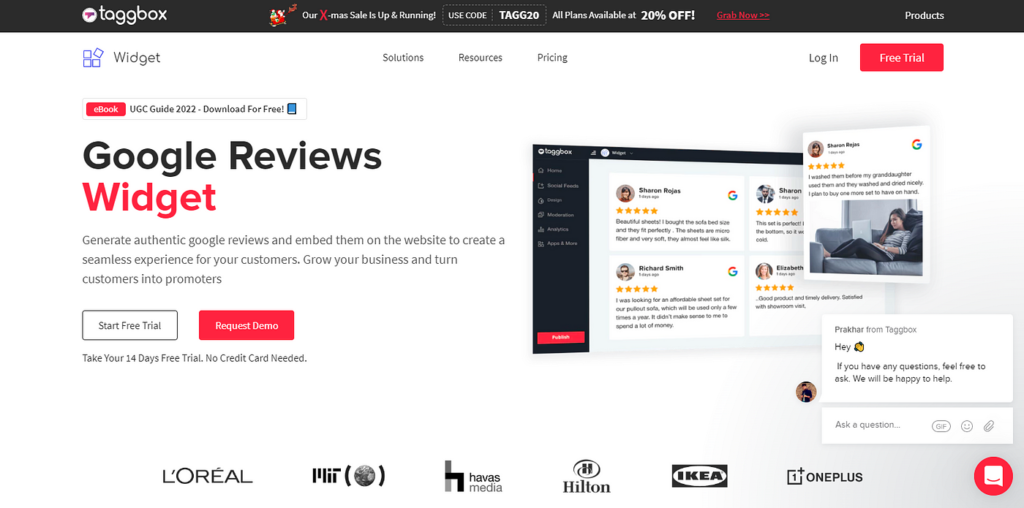 When you create such a tool and it is embedded by hundreds of sites, you're creating a large mass of backlinks to your website. For this reason, Google devalued links from free tools and widgets some years ago. However, even if each link doesn't pass much juice, don't forget that there is strength in numbers. Every backlink to your widget is a specific vote or recommendation for your brand.
A downside is that you need to spend money to create such tools or widgets. You need to invest in the brainstorming process (likely done by the creative group at an agency). You need developers to build the tool and developers don't come cheap. Finally, the initial push to promote the widget and make it known also needs a certain amount of budget.
Infographic Links
Infographics are a great and fun way to get backlinks. You create an infographic from data that you've researched, share it on a few specific infographic-listing websites, and from there, they are picked up and embedded by a lot of sites that link back to you as the source or creator.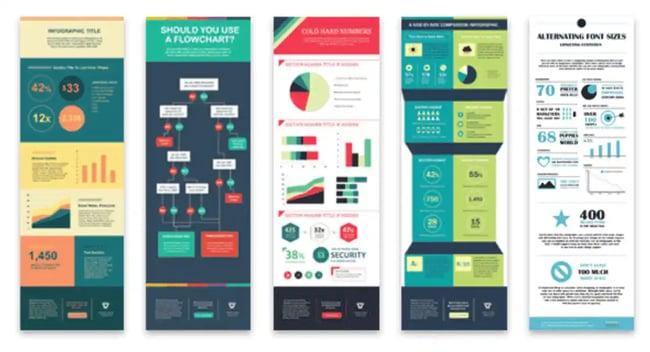 Backlinks from embedded infographics are valuable because generally there is high-quality, relevant content built around the topic on that page. Further, your brand's impression as a creative and authoritative voice is enhanced.
Creating infographics doesn't require much time or investment, considering the returns. If they're picked up and reposted by news media, topical research publishers, or authoritative sites in your industry, they will bring decent value.
Links from Forum and Blog Comments
Comment links are exactly what they say – a backlink from a comment you post on another site.

Since comments are easy to spam, they have gained a notorious impression amongst SEOs and webmasters in the last few years. Google's policies have also added to this perception.
But not all comments are bad. People are constantly sharing links to reinforce their comments on blogs and forums. Posting a well-articulated comment on a blog or a helpful answer on a QA site is not an easy job; it takes quite a bit of knowledge and interest in the subject. To assume that all of these are spam would be to make a sweeping generalization.
That said, most websites today use the "nofollow" or "UGC" tags while linking out from all comments by default. This means that these links will not be of any direct help in boosting your rankings. However, some comment links are absolutely necessary for your backlink profile to appear natural. Sape, our parent company, has been helping build comment links for the Eastern Europe market for a quite a long time, and they work pretty well in that region.
Acknowledgement Backlinks
Backlinks that you get by sponsoring an event, partnering with another company, or simply by doing something remarkable can be classified as acknowledgement backlinks. For example, here's a special article about the BrightonSEO conference by Oncrawl (with a link, obviously).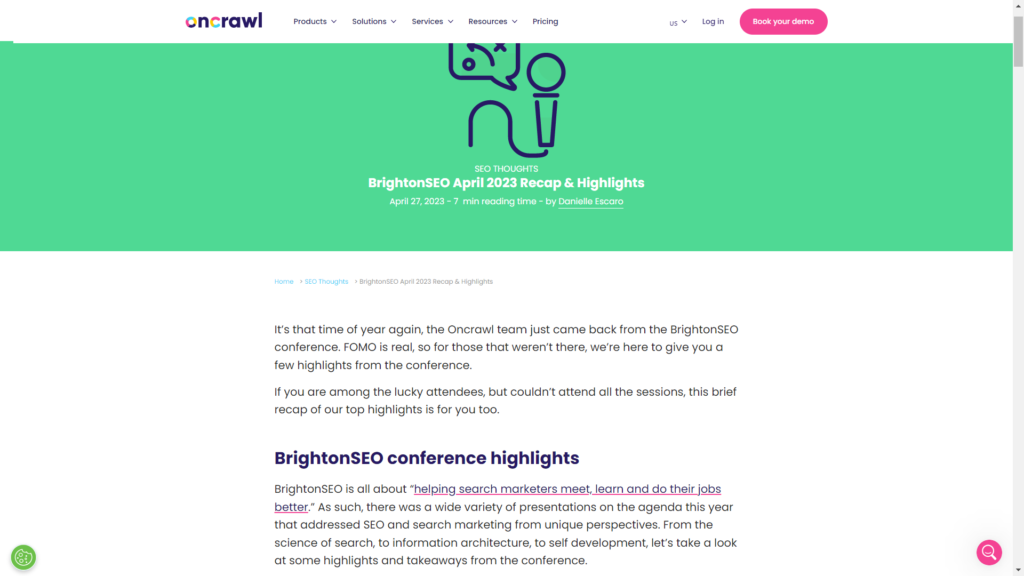 Since these links are given by websites that do their due diligence, they will have great contextual value in the eyes of Google.
If you reach out to external sites to get such links, just make sure that they aren't violating any of Google's guidelines if they agree. Overdoing such links might trigger some automatic algorithmic pattern monitors and push your site over the danger line.
Interview Links
Interview links are similar to guest post links, with the difference that you're not sharing your thoughts in the form of an article, but a series of answers to different questions on a topic. Here, you've already proven your individual authority to a great extent, so if you ask for a link, there's a great chance that it will be given to you.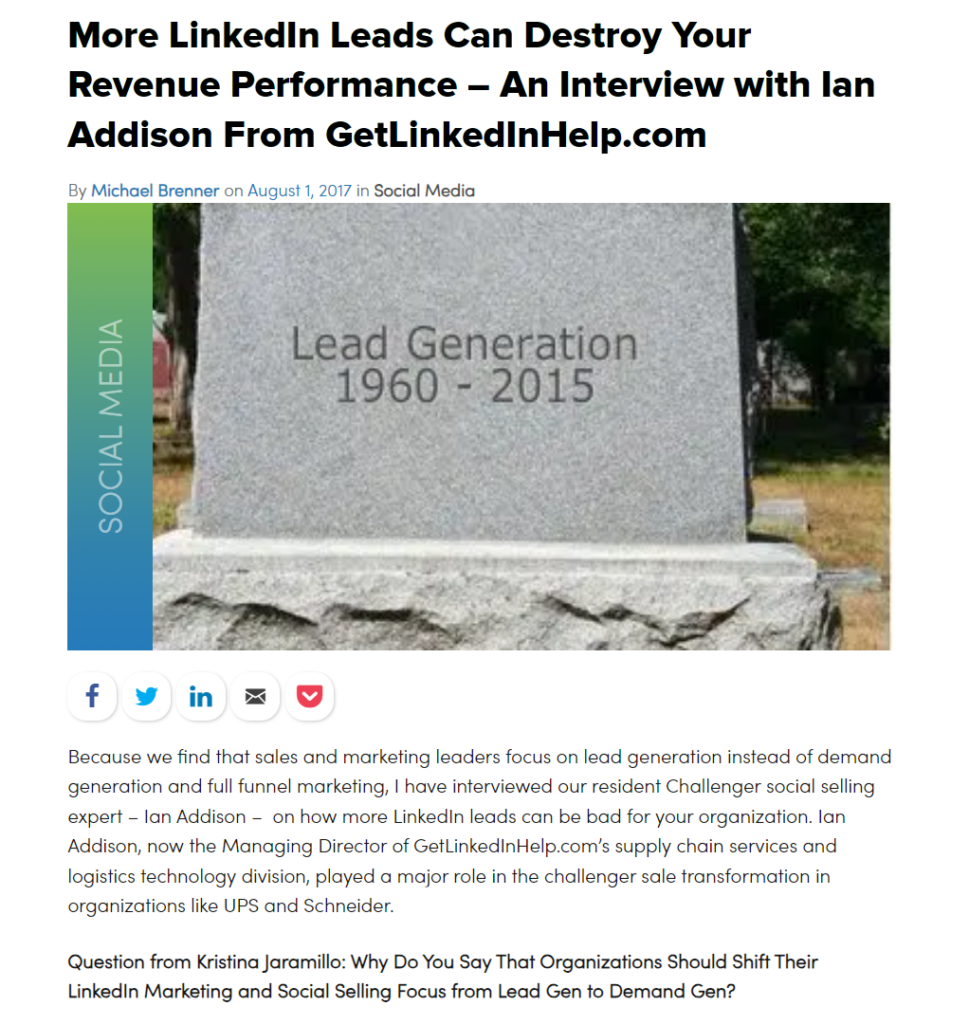 While interview links work wonders for your branding and authority, they are time and effort-consuming to build. Any webmaster who would want to publish your thoughts on their site will obviously do so only when you've built up a reputation or influence in your industry, and already proven your expertise in the subject over the years.
If you, your employer, or your business aren't very well-known in your niche, it is quite a task to land interviews on multiple sites. You might need to start by paying for a few.
Backlinks from Round-Ups
Link round-ups are weekly or monthly digests of events in a niche, or various articles from around the web in that niche. Some websites and communities have built quite a name for themselves by summarizing the best blog posts published in their industry over the past week or month. In SEO, Search Engine Roundtable is one such site.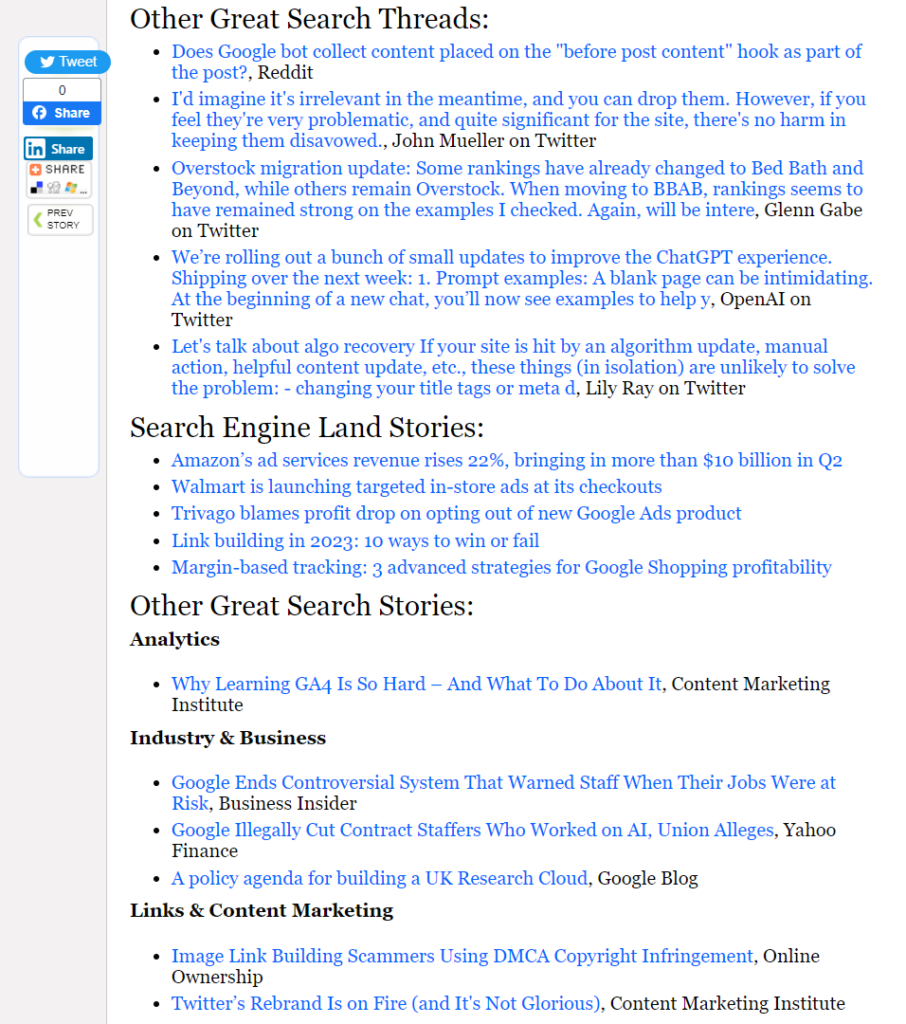 While the round-up might have a deep analysis of your article or simply a one-line gist, you get a valuable link as the source of material that stands out from run-of-the-mill content.
The downside of such links is that the round-up will link to multiple sources and you need to share the link juice with them. Plus, you don't have much control about what exactly they say about your article, especially if it's an opinion piece. Still, it's a great link to have that tells you what kind of content is widely appreciated or significant in your industry.
You can try and contact people who publish round-ups in your niche and pitch them content that they're probably interested in. If one of your recent articles is already performing well, it's ready fodder for round-up links.
Directory Backlinks
Directories are categorized online lists of businesses and organizations operating in different areas. Yellow Pages and Yelp are a couple of great examples.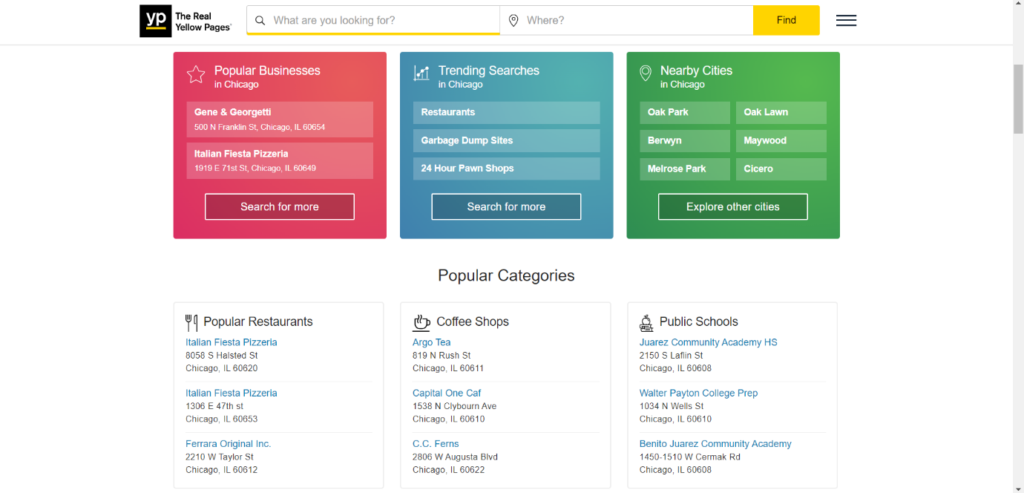 Such backlinks are artificial but they're simple to create and mostly free. You only have to submit a few lines of content in addition to your contact details to the directory listing site.
For example, when you create a social media post or profile, you need to maintain your presence there. You just can't insert a link and not revisit it anymore. On the other hand, you can simply create a directory listing and forget about it.
Such directories can be paid or free. They can be general or operate in a specific niche or business category. The best way to choose is to analyze your competitors and see the kind of directories they've built links from.
Since Google considers most directory sites to be spam or low-quality (which is why millions of them have now shut down), you need to be selective and careful. In most cases, if your competitors are fine getting such links, you'll be fine too.
Over to You
I can't emphasize this enough: The key to creating high quality backlinks is high-quality content. If you read through all of the above points carefully, you'll find that each point is about creating "smart" and unique content that works well for the platform from which you want the link. Quality is much more important than quantity at all times.
Of course, if you want to have the best of both worlds, then Serpzilla is your go-to tool. You can build relevant, contextual and topical links in bulk and yet maintain a pace that doesn't trigger Google's link penalty algorithms.
And oh, do tell us what kind of links work best for YOU in the comments. We'd love to discuss!