How do you make sure that every backlink you build is effective and working for you as intended? How do you speed up the process of building links while squeezing the maximum benefit from each link?
Even specialists have blind spots in their SEO knowledge. Sometimes, the link is not exactly relevant; at other times, it doesn't meet the necessary criteria; or it is not worth the time or money you spend on it.
Serpzilla has existed for 15 years as a tool in various forms. Over the years, we've built a lot of core features as well as bells and whistles. As you use Serpzilla for link building more and more, you'll gain practical insights on how to take advantage of nifty and practical link building techniques.
Since new users might feel overwhelmed by all the options, we present to you a step-by-step guide to building contextual backlinks.
What are contextual backlinks? These are links that are usually placed within the content of an article. Serpzilla has a whole category of the same name – with the option to choose the page according to metrics you want and tweak the anchor text to match your target keyword.
Can't wait to see them? Fire up Serpzilla and head straight to the "Buy backlinks" option under your project. Within the "SERPZILLA" section, choose "Contextual." Your screen will look like this: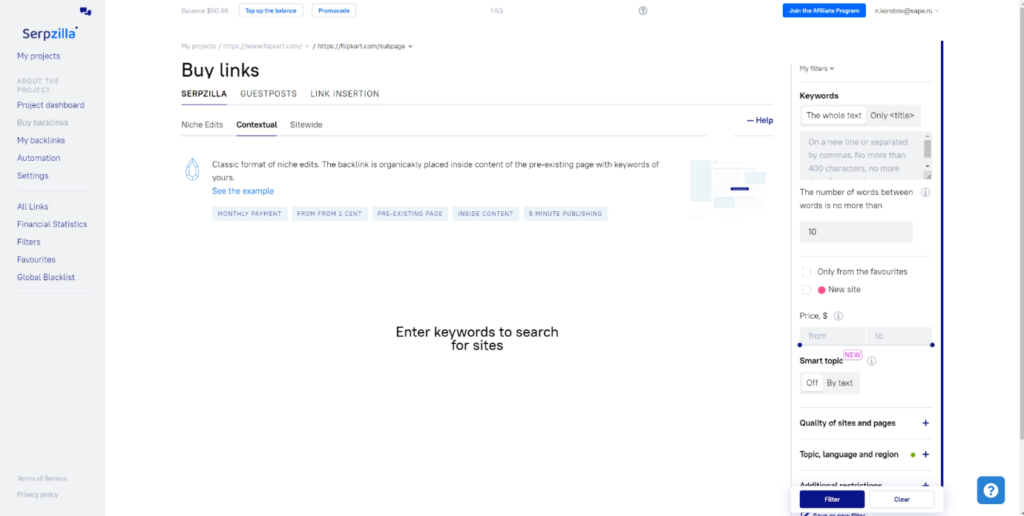 You can click on "See the example" for a quick preview of how contextual links look within your target page.
Contextual links are a classic variation of our "Niche edits" category – this is the stuff that's done manually by link builders, day in and day out. You find a good URL to get a link from, choose relevant anchor text to make it more topical, and negotiate with the website owner to add the link.
However, we at Serpzilla want to make your life easier. And so, we figured out a way to do this 100% automatically. Our system gets you through the entire process in a jiffy.
Here's how to use the system optimally and extract as much raw potential as possible from the sites in our database.
The first step is to enter your keywords. You do that in the Keywords box on the right. Separate each keyword with a comma and a space.
The system will search our database of 1 billion+ web pages and match the most relevant pages to these keywords. Of course, relevance is more important than numbers, so I suggest you wisely choose the keywords. Don't add too many, or the results will be all over the place. Don't add too few, or you won't find enough opportunities.
And of course, you need to find the perfect balance of essential web metrics such as trust and traffic, which you can specify in various sections below the Keywords box.
As usual, we'll run with my favorite example of a greengrocer's website.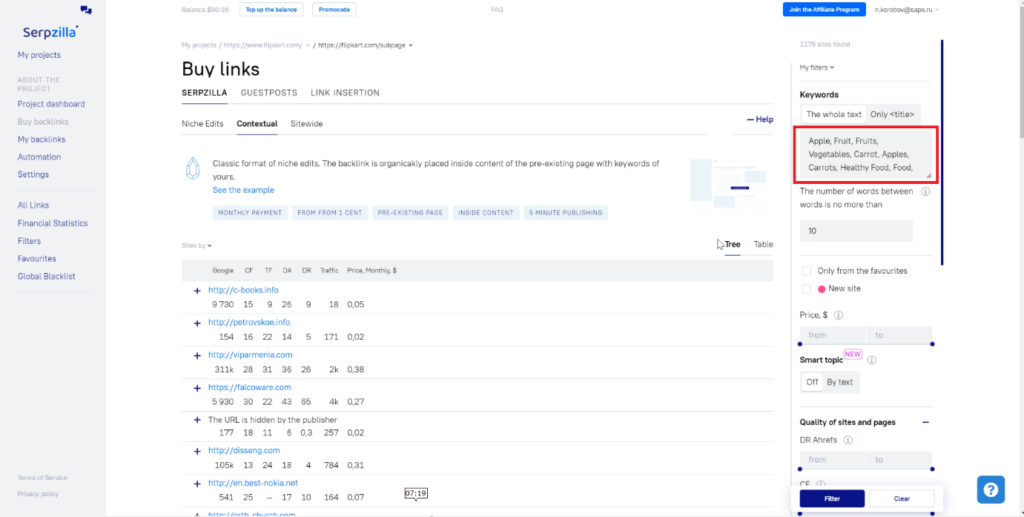 Here, you can see that I used both niche-specific and generic keywords. Niche-specific keywords are closely related to your industry and may include jargon. These include your products and services (apples and carrots in this case). Not many URLs might match with these as they're less likely to be used in articles and discussions outside your niche.
Generic keywords such as "food" and "healthy food" are used liberally throughout the web. I added these to cast the web wider. As a result, we found 1100+ sites that match our keyword set. That's really, really good.
Now, the question is, how do you proceed with such a huge list? Simply open the pages in new tabs and check them out quickly. You'll find all kinds of sites here – forums, blog posts, directory listings, and so on. If you want to prioritize the best sites and filter out those with low authority or relevance, you can use filters such as region, DA or traffic.
Another great way to increase relevance is to choose topics from the "Topic, language and region" category from the parameters you see on the right. Click the Select button in the Topic sub-category and you'll see this box: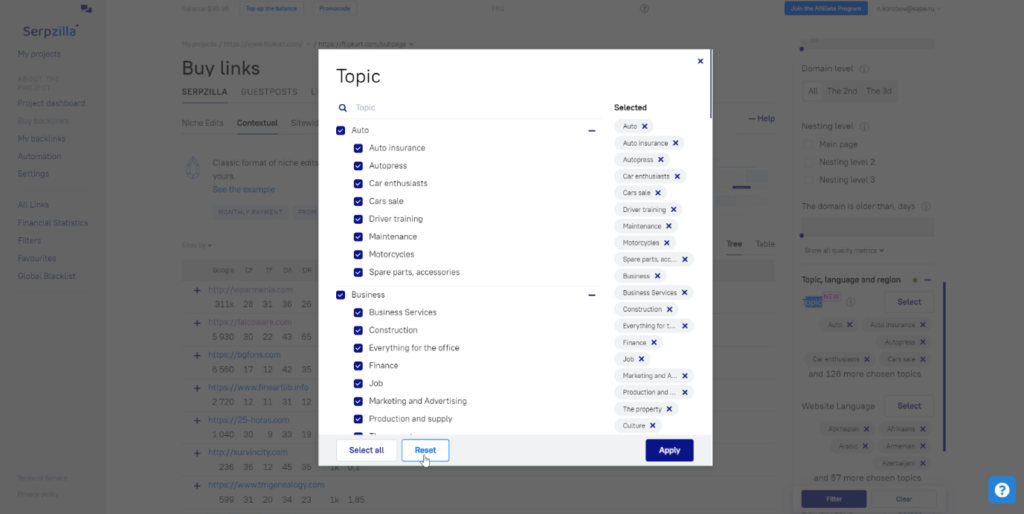 Deselect everything by pressing the Reset button. Then type your topic or keyword in the search box or click one or more main topics or subtopics as you deem fit. Then press the Apply button and watch Serpzilla work its magic.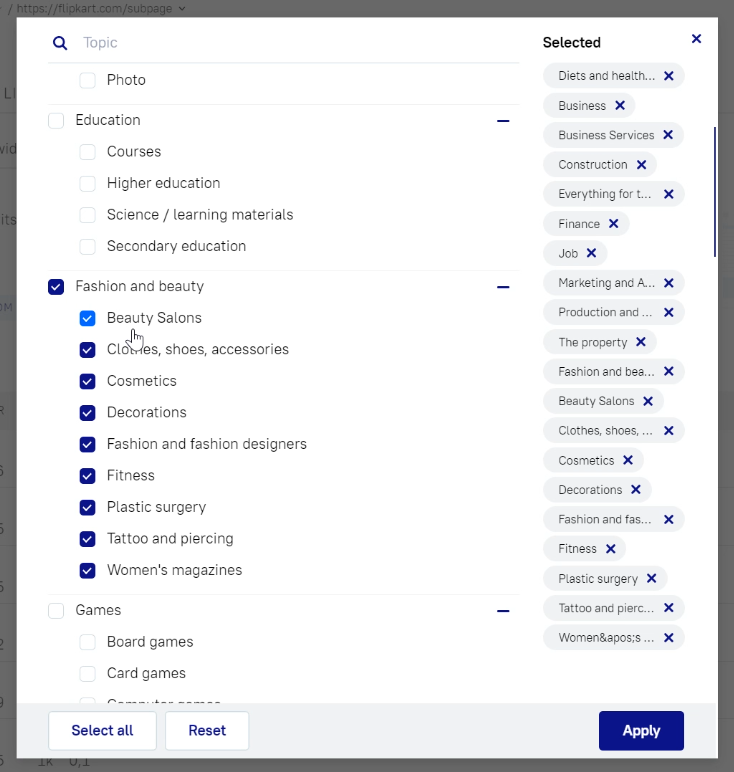 One of the pages returned in my example search was one from a lifestyle and culture website, but talked about "Apple Trees in Arani"

It seemed to be a respectable website with good metrics that met my minimum requirements.
Now if you click the cart icon in the screen above, it will buy the link for you. But the default anchor text here is "Apple Trees in Arani" which may not exactly be what you want.
What you can do next is copy the text, go to the actual page, and find it in the content.
If you are happy with the page and the content, you go back to Serpzilla and highlight the part you want as anchor text (the keyword). You don't need to select the whole phrase. You can choose one or two words or whatever part of the keyword you want – say, "Apple Trees."
Suppose you select "Apple" – the system will understand what you're planning to do and highlight the text in green. You can go with a pre-selected URL to link to (in this case, the flipkart.com URL displayed below the anchor text) or specify a new one.
Now for the most important part: the price. As you can see here, the price displayed is $0.22. This is a monthly fee because the links are subscription-based. The link will be automatically renewed every month until you have enough money in your account, remove the link manually, or stop the entire campaign altogether.
Once you're satisfied, press the Add to Cart icon on the right.

Congrats, the link is now placed successfully!

You can click on the Purchased button to see the status of the link you just bought. In most cases, it is live within a few hours.

If you need to remove the link for some reason, you can do so by pressing the Settings icon (three dots) in the Status column, and it will be gone within a few hours.
Contextual links are very popular with link builders – especially in Serpzilla's home market of Eastern Europe. They're one of the most effective types of backlinks because they're as organic as links can get.
You need to build contextual links wisely in order to create a natural backlink profile for your site. Make sure you have the right mix of trust metrics and relevancy.
As we saw, there's nothing better than Serpzilla to help you buy contextual links – a few clicks in a few minutes can work wonders, letting you buy a lot of these in very less time. And we SEOs do need a lot of these, don't we?
Buy Contextual Backlinks
Boost your SEO results! Link building has become fast and easy with Serpzilla. Buy quality backlinks on authority websites with high DR.
Sign up