Having a website is like having kids.
They grow, change, fall sick, need to be fed and pampered.
And there's a hundred different things happening in their lives, but you need to ensure that they're always in good health.
A website needs regular health check-ups too – one which tells you if everything is normal or informs you of any issues in advance, and helps you fix them before any further damage is done.
One such health check-up is an SEO audit. And today, there are so many factors and variables in checking a website for technical SEO compatibility and crawling and indexing issues that it is impossible to conduct one manually without any tools.
And with any other SEO function, there are umpteen tools available in the market. The all-popular Semrush and Ahrefs tool suites can check your site for hundreds of factors, but they do cost an arm and a leg. In this article, I'll attempt to give you an overview of some free tools that you can use to see how well-prepared your site is for Googlebot when it comes crawling.
Let's start from the beginning.
What is an SEO audit and why do you need to do it?
SEO audit is the process of assessing a website for its current state of SEO performance based on a different set of criteria including technical, on-page, and off-page elements.
The objective of an SEO audit is to identify areas of improvement and develop actionable strategies to increase website visibility and ranking on the search results page.
The different criteria evaluated in an SEO audit are:
Technical factors: Website speed, security, mobile friendliness, crawling and indexing
On-page factors: Keyword optimization, metadata, content quality
Off-page factors: Backlinks, forum profiles, social media presence
Based on the audit results, you can create an action plan to make changes to the content, optimize it, build high-quality backlinks, and improve your visibility in the SERPs. Why is it essential that you do an SEO audit?
You need to perform regular SEO audits to validate your SEO efforts and check if what you are doing is getting you your desired results. If not, you need to identify the areas that need your attention.
Other reasons for doing an SEO audit are:
To identify technical issues

To improve site performance

To get an edge over your competitors

To increase traffic and conversions
It is practically impossible to check all the factors with a manual audit. Having efficient tools saves a lot of time that you can use for better purposes. Many experts start off with a checklist such as this:
TECHNICAL SEO CHECKLIST by MOZ
Now that you have the checklist, you know what you're looking for. Without further ado, let's get to the tools:
Google Search Console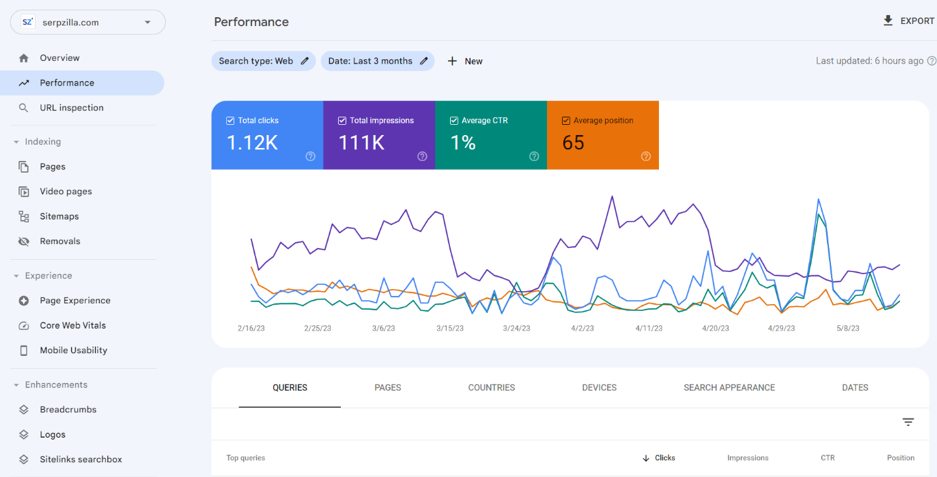 Google Search Console is a webmaster's toolkit provided by Google to give you an insight into how your website is performing in the search engine page results. What can be better than getting performance metrics straight from the horse's mouth?
You can find insight related to site indexation and accessibility issues at a glance. GSC also gives additional information about structured data, mobile usability, Core Web Vitals, broken links, HTML, and content quality. You can retrieve data about SEO issues dating back more than 16 months.
Google Analytics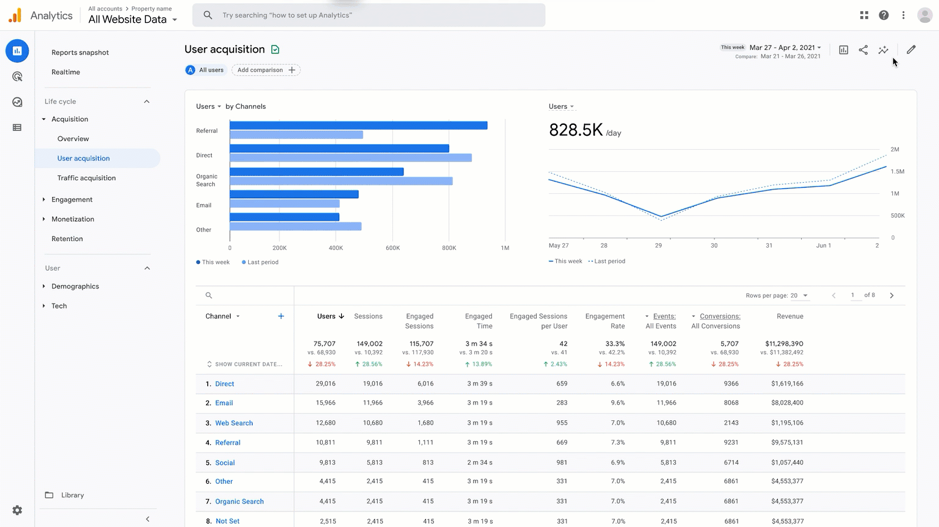 Google Analytics is a must-have tool for every website owner and easily the most widely used analytics package in the world. It is the best tool with robust features to analyze almost anything related to web traffic, user behavior on site, site speed, trends, and demographics of your audience. You can align your marketing strategy based on different regions that send you traffic.
This data can be exported as PDF, downloaded, or emailed for detailed analysis. It works in conjunction with other Google products like Google Search Console and Looker Studio.
Screaming Frog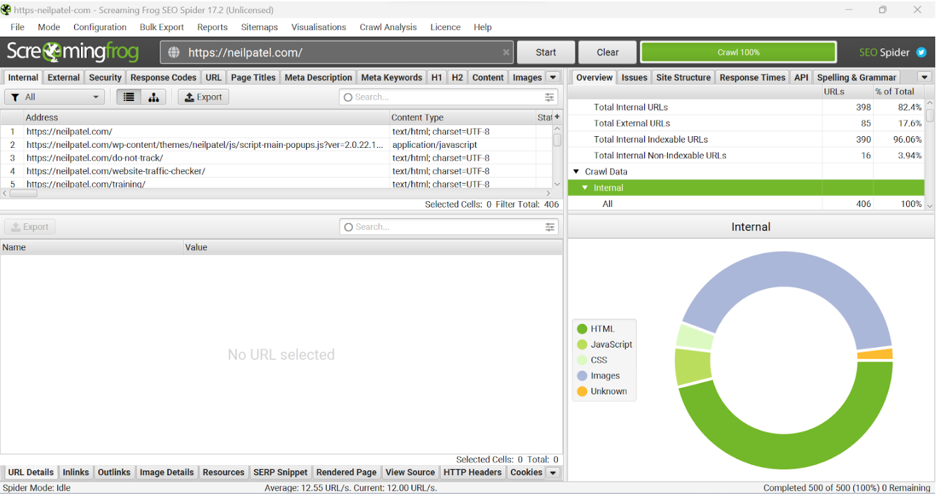 Screaming Frog SEO Spider is a crawler that can be used for free up to 500 URLs. It is a powerful tool to crawl a site and identify if there are issues.
You can find information about internal and external links, images, metadata, and almost everything you would want to check for on your website. Screaming Frog allows you to set the specific user agent you want to replicate – such as Googlebot, Bing or Chrome – to give you an insight into how different crawlers and users perceive your website.
Netpeak Spider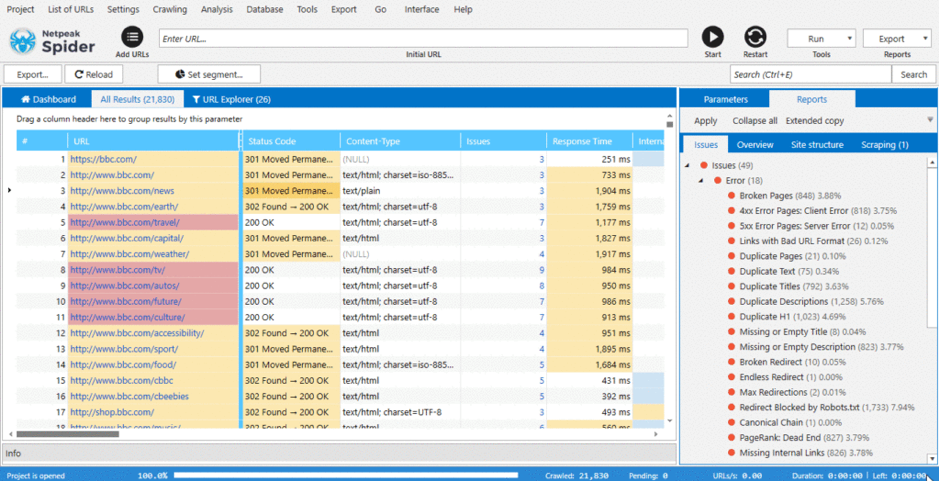 Netpeak Spider is a tool similar to the Screaming Frog but more generous to free users. You can check up to 100,000 URLs with the free version.
And that's not all. You can find data for 80 SEO-related issues, along with competitor research opportunities. Netpeak presents different data in different ways – and you can use it as a complement to Screaming Frog.
Serpstat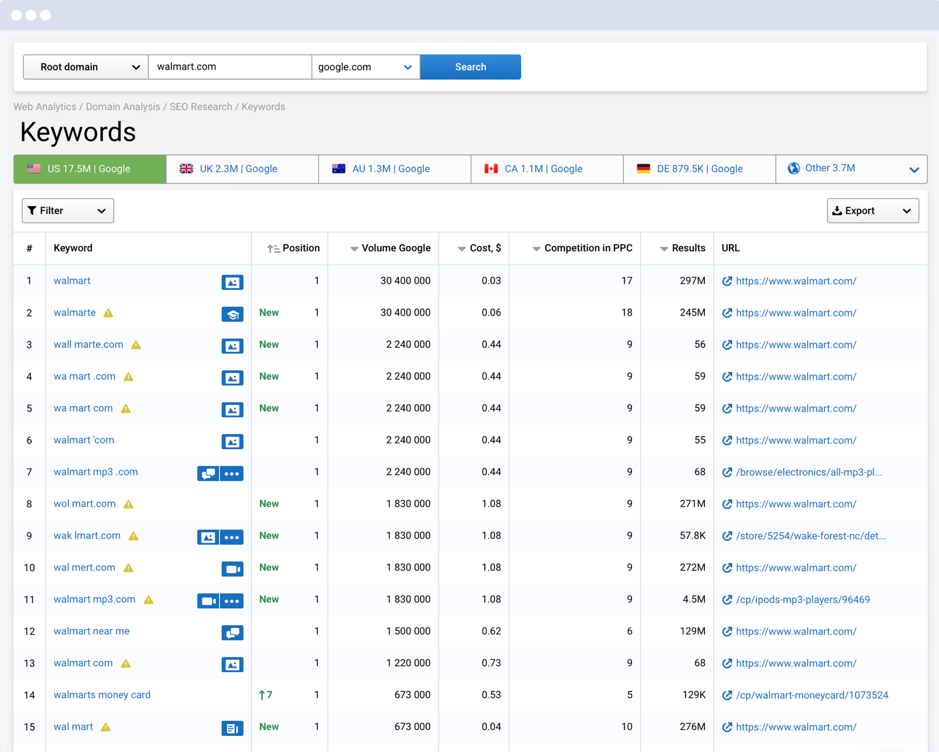 Serpstat is an all-in-one SEO platform used to analyze website performance, their competitors, keywords, PPC track positions, backlinks and perform an audit. The report shows a list of technical issues prioritized according to their severity. You can make up to 10 audit requests per day using the free version.
The audit report will show you the gist of all issues, give recommendations on page speed and optimization, as well as help you track growth.
Google PageSpeed Insights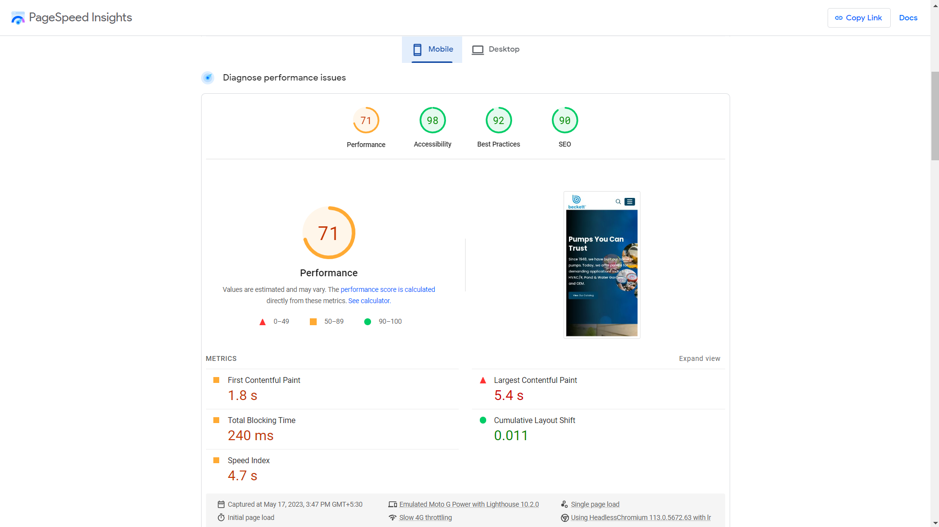 PageSpeed Insights is yet another tool from Google. It runs tests for loading speed, Core Web Vitals, performance, accessibility, and SEO on the entered URL and assigns a score to it based on the performance on desktop and mobile devices.
PageSpeed insights gives you an overall idea of the user experience along with the website speed. It provides a list of issues in three different categories – Diagnostics, Opportunities and Passed Audits.
The Passed Audits include parameters on which the page has performed well. The Diagnostics section provides insights into your page's adherence to best practices in web development. Opportunities identifies areas of improvement that affect your page's overall performance and offers suggestions.
SpyFu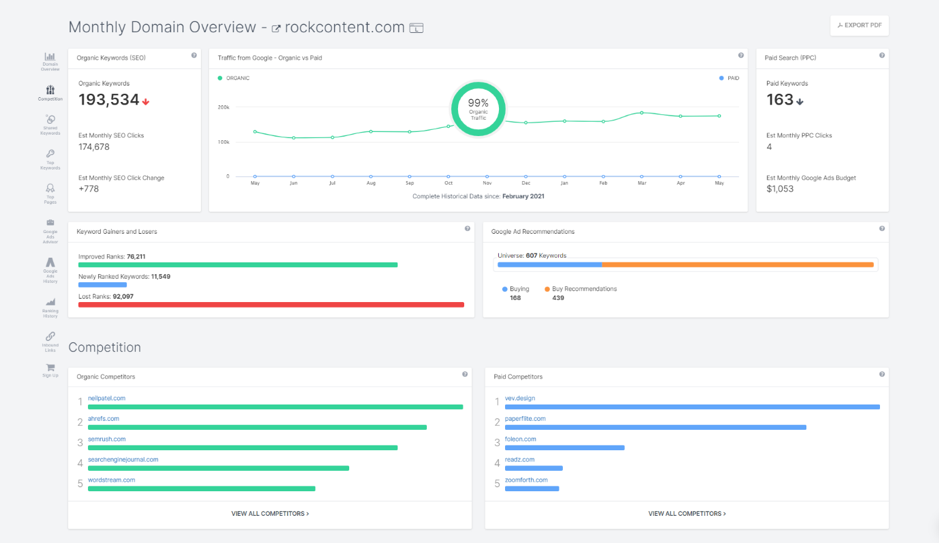 As the name suggests, SpyFu is a spying tool. If you use it wisely, it can be your go-to resource for extracting information about your competitors' online activities.
You can get your competitors' SERP rankings, PPC budget and ad copy data, backlink profile, inbound click visibility, and top keywords, just by entering the URL into the SpyFu box.
JetOctopus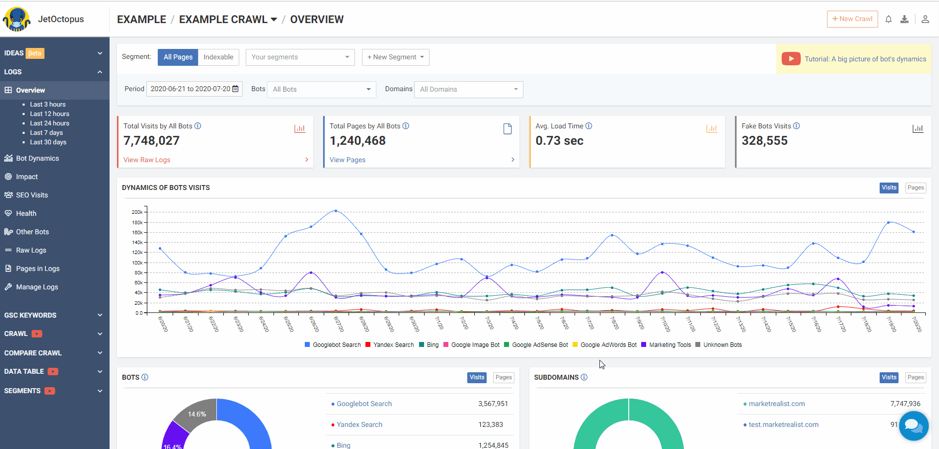 JetOctopus is an advanced audit tool for in-depth SEO analysis. It stands out because it offers unlimited crawling and log analysis. It also lets you integrate Google Search Console and Google Analytics in its plans for free.
JetOctopus focuses on fixing SEO errors to improve site visibility, crawling and indexation to boost organic traffic. You can also identify fake bots, analyze user engagement, and optimize site structure, internal links and tags.
In Conclusion
SEO audit is a quintessential part of website optimization without which you have no means to measure site performance and troubleshoot crawling errors.
The different tasks involved in SEO require variety of efficient tools to achieve best results. This can be an expensive affair. But surprisingly enough, there are plenty of tools out there which are available for free performing most of the required tasks for you.
I hope this list of tools helps you work out your SEO needs. Once you conduct your audit, don't forget to format it in an easy-to-understand manner, along with your recommendations and priorities, before you present it to your clients. Here's a nice template from Aleyda Solis on how to do that: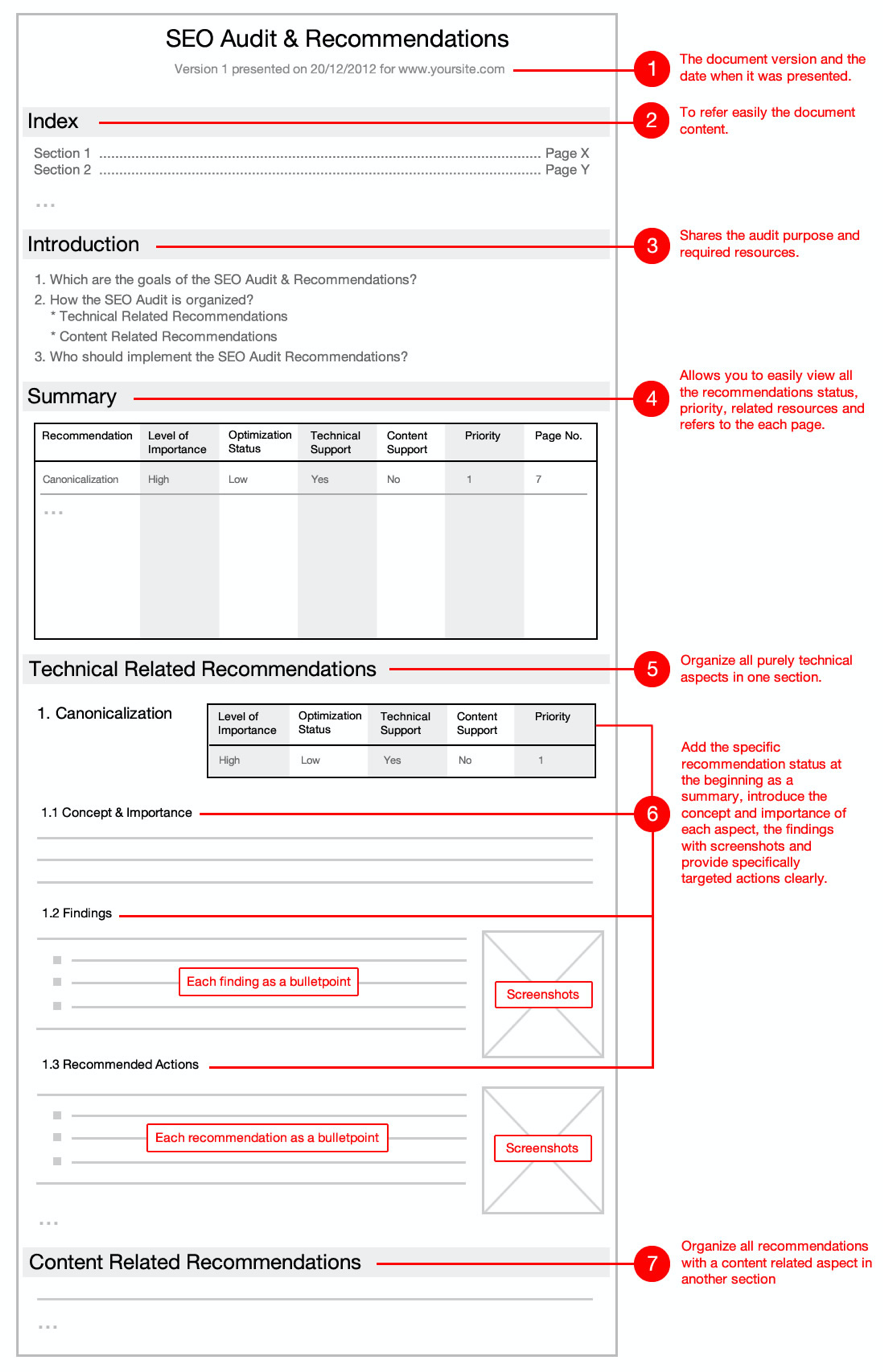 Did I miss your favorite SEO audit tool? Let me know in the comments!