For a long time link building was the activity SEO marketers invested their time and effort into most of all, because the general consensus was, backlinks have the most effect on where your page is placed in Google ranks. However, Google keeps rolling out new additions to its policies. Google Search Essentials, formerly Google Webmaster Guidelines, make SEO marketers invent new tactics, and link building is going through a number of transformations. In this article, we'd like to answer a pivotal SEO question: is link building still a thing in 2024? And if yes, what are the trends to look out for?
What is in Stock for Link Building?
The short answer for the question of whether link-building is still a viable SEO tactic in the coming year is yes, of course it is. However, there are a few caveats. Google has been very specific and constant over the years about how it looks at any attempts to manipulate its ranking with the help of backlinks: with disdain. And over the recent years its policies towards black hat link building have only become more severe.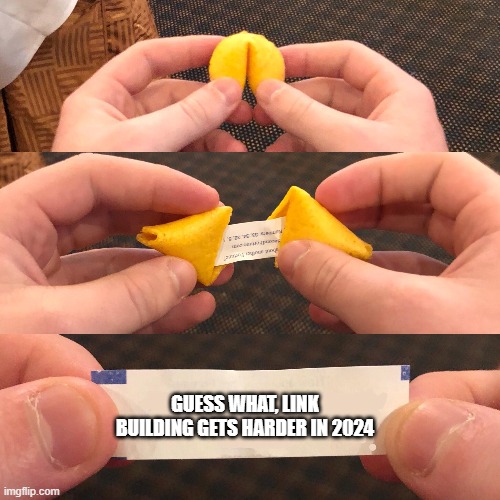 Also, if before there was a more straight-forward dependency between the quantity and quality of links that lead to your resource and your place in SERP, today Google's algorithms rely on a much larger and diverse number of factors, which include the quality of your content, quantity and authenticity of social signals, the smoothness of user experience at your resource and even how fast your page loads. To complicate things even further, Google also counts how well all the metrics measure against one another. Thus, if you have a solid backlink profile but your social media presence and coverage is poor, it will deflate the score you're getting from your backlinks. And vice versa, when all of your metrics show that you're doing well, they are capable of boosting one another.
We can conclude that it is evident, while link building is no longer the decisive factor in your Google SERP results, it still has a great impact on your overall SEO performance, so maintaining a healthy backlink profile is still more than just relevant. 
Link Building Over the Years: Evolution
Let's take a look at some of the most important terraforming milestones for the link building landscape of today: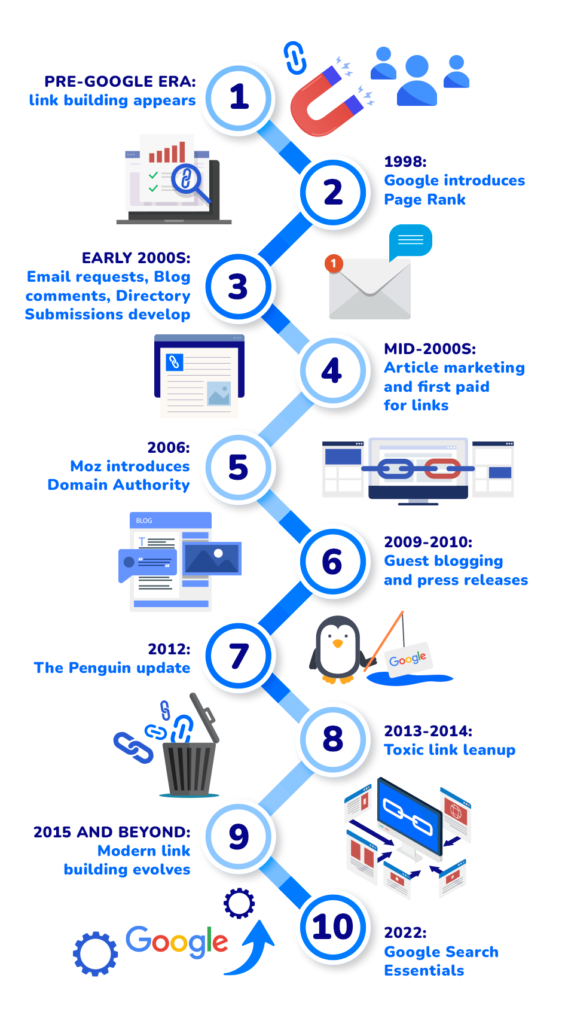 Pre-Google Era: link building appears
Link building mostly exists as a means of drawing traffic to one's web site.
1998: The emerging Google introduces Page Rank
Digital marketing is yet a budding sphere, but marketers understand that it is possible to manipulate SERP results and building a backlink profile is one of the ways to do it.
Early 2000s: Several link building methods develop
Before Google got smart, link building was more quantitative. Email requests, directory submissions, blog comments en masse were leading ways to create backlinks
Mid-2000s: Article marketing and first paid for links. Moz introduces Domain Authority
Huge networks of sites with badly written and often copy-pasted content created with a single purpose: to insert links in it. Also, people started paying for links from sites with high domain authority. Google quickly puts a stopper on the evident purchases.
2009-2010: The rise of guest blogging and press releases
A safe and organic way to get backlinks appears. Back in the day, Google looked most favorably upon press releases, up to a point where you could get in SERP page 1 just by making a relevant one.
2012: The notorious Penguin update
The year everything changes for SEO marketers. Google starts meting out penalties if it considers your backlinks spammy. Before the Penguin update algorithm got tuned, thousands of websites suffered for naught.
2013-2014: Massive cleanup
As websites recover from the major Google crackdown, link removals and disavows become the tactic to get rid of toxic backlinks.
2015 and beyond: Modern link building evolves
Link building becomes more link earning. Content marketing becomes the main strategy. Automated link building platforms emerge.
2022: Google Search Essentials
Google switches from Webmaster Guidelines to Search Essentials. While the information it contains is largely the same, it is widely noticed that Google now evaluates overall SEO performance of a website and distributes the ranking score between various webpage metrics more evenly to calculate the rankings.
Backlinks in 2024: Main Qualities of the New Link Building Approach
As you can see, link building has gone through a lot over a short span of years. This leads us to the most important part: what is the successful link building strategy in 2024? Here are a few things to consider for your approach to link building if you want to stay away from Google's punishing hand, save your dollars on other PR activities and still impact your SERP rank and SEO.
An organic-passing link from a site of good repute will do more good for you than a hundred vaguely relevant mentions. This is exactly why link building should be viewed as link earning today. People need to want to link to your content.
Today Google has means of finding out whether your link makes sense in the page where it is placed. And Google acts on this knowledge. So make sure if you're selling knitted toys that they're linked from parent blogs and not from a rock music fest review page (unless it is a toy guitar). And don't forget that your anchor text also needs to be relevant.
Where the link is placed in the referring page now also matters. Now Google also considers the context of placement, so you won't be able to get away with a random link location. Moreover, the link value also depends on the placement. Links within the main context of a page are weighted more with Google.
You need to strike a perfect combo here. Your backlink profile needs to include links from pages with varying domain authority and niche type. You need to diversify in terms of link type (dofollow, nofollow, etc.) You also need to put thought into a good distribution of links between the pages of your own domain. A heavily homepage-centered backlink profile is a sure sign for Google that something's fishy with your backlinks.
Link Building in 2024: Paving way for Innovation
Now let's take a closer look at some new trends that have sprung up recently but already have a big impact on how link building is going to develop in the near future.
AI
To cut it short, the use of AI is spreading like a wildfire and the SEO domain is not an exception. Now AI is used for smart automation in link building workflows and for content generation. It also allows marketers to create more targeted and individualized link building campaigns with less effort.
UX
User experience metrics become more and more important in how Google ranks web pages in SERP. Take care to make sure your site is very user-oriented, otherwise no number of excellent backlinks will save you from low ranks in SERP.
Personalization
In lieu of Google's preferences for natural link building, it is very important to include extensive outreach campaigns and build long-lasting relationships with other resources so that you can exchange links and promote each other to your mutual benefit.
Paid links
Good news is that Google is finally okay with paid links. As long as you mark them as such. Nofollow links don't count towards your rank per se, but help to drive traffic and increase your visibility, which eventually makes an overall positive impact for your profile.
Gray hat link building
Gray hat link building is gaining popularity as it uses aggressive and effective link building tactics that are not strictly white, but it manages not to get on Google's bad side. From the point of view of Google's guidelines, these tactics are a gray area.
Best Link Building Strategies in 2024
Keeping in mind that link building shifts to the side of link earning today, here are the best link building strategies to earn you valid backlinks that will boost your SEO efforts, not drown them.
Content Marketing
Not the fastest, but the safest way with Google. If you manage to engage your audience enough to make them want to share your content and recommend you to their friends and followers it's your best bet. It does take continuous effort and time, and creating engaging content is a hard task in itself, but it's nor just worth the effort. It will also help in all PR activities you pursue.
Using top-notch link building tools
If something can be automated without attracting unwanted attention from Google, you should automate it. Tools like Serpzilla allow you to significantly cut down the time and effort you spend on link search, analysis and outreach, and provide perfectly healthy, natural-passing backlinks.
Build strong relationships and community in your niche
Long-lasting partnerships with influencers, a loyal, warmed-up following, good outreach to websites with high-authority all take time to build, but once you do it, they start working like a charm with you only having to support these connections.
Increase your Social Media presence
Social Media support is a must today if you want to launch a successful SEO campaign. Take time to post regularly, to interact with your audience, and monitor your social signals. Invest in guest blogging, influencer collabs and media coverage.
Best Link Building Tools and Platforms
Today, if you want a wide-scaled link building campaign, it is almost impossible to launch it without the support from a variety of link-building tools and platforms. You will need tools to monitor your profile and the profiles of your competitors and gather extensive analytics, such as Semrusn and Ahrefs, you may want to look into AI-powered tools to help you with your content creation, you will absolutely have to use tools to manage your outreach, because your campaign will be extensive. You can also go for an everything-in-one solution, like Serpzilla, where you can automate your link building with ease and only pay for links and keep an eye on your entire campaign using several powerful instruments. 
Usually a combination of automation and analysis tools works best. 
Pitfalls and Big Noes in Link Building
As Google policies get stricter with each year, the price of a mistake in a link building campaign grows. One misstep and you can be excluded from SERP entirely for so long that most businesses who get into this situation have to begin their SEO campaigns from scratch. That means, with a new website, domain and sometimes even brand name. Here are some turns in your link building path that you shouldn't take.
Buying bad quality link bundles
If you don't want to see your brand name all over shady forums, out of place and context, and suffer subsequent Google punishment, don't do that. Not only will it ruin your SEO efforts, but your reputation will suffer as well as audiences learned not to trust such mentions.
Using Link directories and link farms
Google's crackdown on link farms is infamous by now, so you should avoid having anything to do with them. While link directories are safer, they are also a thing of the past. If back in the day they were a working way to provide backlinks, today Google gives literally no weight to them, so they don't really do anything for your SEO and not worth the effort.
Engaging in black hat link building
Another big no. If you think you can hide from the punishing eye of Google and get away with some black hat link building, you might want to reconsider. As soon as your pages start getting indexed, Google will check them for black hat link building as well, and the consequences will not be far behind. 
Understanding Link Penalties
Speaking of consequences, here's what can happen to you if you break Google's Search Essentials guidelines and get noticed.
If your backlinks are of noticeable poor quality and come from shady sources, Google will place you lower in SERP, with all that it entails: lower ranks for relevant keywords, decreased traffic, lower conversion rate.
Manual or Algorithmic penalties
Such penalties depend on the severity of your backlinking mistakes and each particular case. Remember that negotiating your way out of them usually takes a lot of time and strenuous effort. Such penalties can range from lowering the ranks to complete d-listing.
Bad impact on Domain Authority
Toxic backlinks can greatly reduce your resource's credibility and validity, leading you fewer websites, influencers and platforms wanting to exchange links with you and place your links in their content.
Continuous serious missteps and usage of toxic links can actually lead to your complete de-indexation by search engines. This is the case when you will have to start completely anew. 
How do You Know That Link Building is Successful?
If your link building efforts stay on the white-hat side and work for your benefit, the following metrics will tell you:
Number and Diversity of backlinks
The quantity of backlinks is not the only way to count. Your links should come from diverse sources and be of various types.
Number of organic links and social signals
If people mention and tag you in their social media and repost your content out of their own free will, it's a sure sign of success.
Both yours and the sites' that link to you is a good signifier that you're doing something right in your SEO efforts.
Google looks at a wide range of anchor texts as more natural and values it higher.
This metric tells whether a site is trustworthy using the quality of its backlinks as a basis. Websites with a higher trust flow usually tend to have a solidly working backlink profile.
A metric to measure the popularity of your resource using organic using the quantity of citations. While it shouldn't be used as a standalone metric, in a combination with qualitative measurements, it will tell you how popular your site is based on backlinks.
Keep this one as low as possible. It reflects the quantity of spammy and toxic links in your profile. 
Key Takeaways
Link Building is only getting more complicated over the years and requires innovative approaches, constant monitoring and smart tools. As Google keeps tightening the screws on SERP selection algorithms, link building strategies and tools continue to develop and become more diverse and inventive.  Is link building still a thing in 2024? Absolutely yes.