Welcome to yet another tutorial on how to use Serpzilla to get the most effective, best quality links.
Whenever we talk about efficient selection of websites from which to get backlinks, one of the most important factors is relevance. However, the definition of "relevance" can vary according to your understanding of SEO, the requirements of your link building campaign, as well as the pages you've chosen to promote.
What Are Relevant Links?
Some SEOs simply default to high-authority websites to buy links from. For them, relevance is synonymous with authority. This makes it a simple job. You simply specify a DR or DA range and Serpzilla will scan our 100,000+ sites within seconds to return a long list of URLs relevant to you in a few seconds.
However, things can get a bit tricky when you need to find thematically and topically relevant sites. Here is where SEO specialists run into a bottleneck.
We at Serpzilla have always advocated preferring trust or authority over topical relevance. But many SEOs want links from a very specific niche in accordance with their strategy or their clients' requirements. In this case, the "Topic" filter that we've designed (and talked about in our last post) won't probably be as effective as we'd like it to be.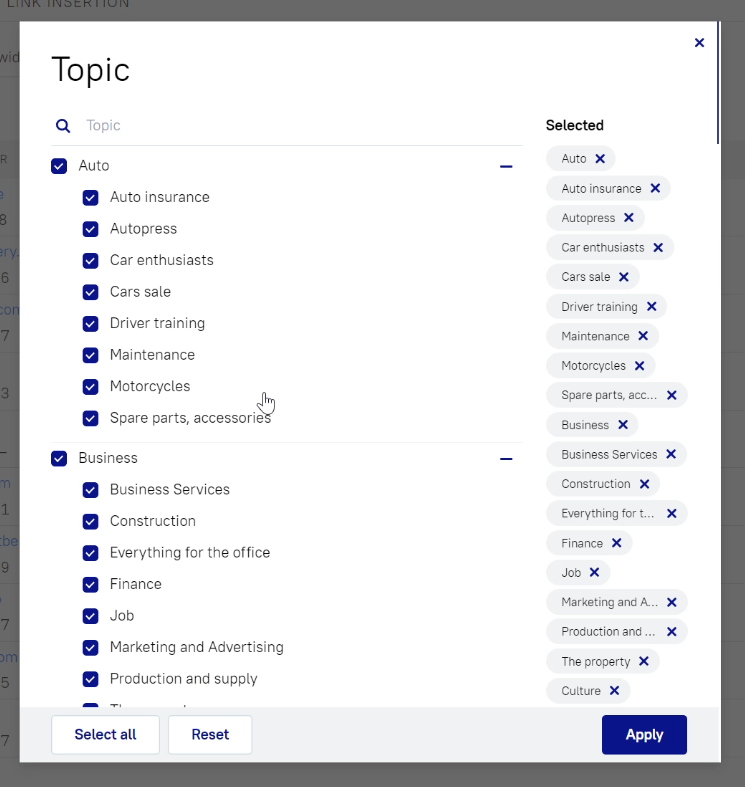 Say you're trying to promote a dentist's site and you want to build links only from sites related to dentistry. If you look for 100% specificity, it will be difficult for any database to come up with enough options – even ours with 100,000 sites in it. Why do we say that? Because we equate "enough options" to "hundreds of links," which is the minimum amount you need for a good, strong backlink profile. We've always advocated building all the links you possibly can without going too fast or resorting to spam.
So how can you find so many sites and get backlinks from them using Serpzilla's automation hacks?
Well, as you might expect, we have a couple of tricks up our sleeve…
Smart Topics
Our studies (and we undertake quite many of them) have repeatedly found that the topic of the site is not as important as the topic of the page from which you get a link. This opens up an ocean of possibilities.
Carrying on with our example, you don't need to find sites dedicated to dentistry – you only need to find a page on any site talking about an aspect of dentistry. Say if a site about pets has an article that talks about gum disease in dogs, then you just might be able to get a link for your pet-friendly dentist client from that page.
Serpzilla has just the right tool to help you find such "smart" links – and we call it Smart Topic. It's a filter option and it's 100% free – unlike other SEO tools that charge for premium features, you don't have to pay extra to use it (whether you buy links or not). Serpzilla has always believed in "free to register and free to use."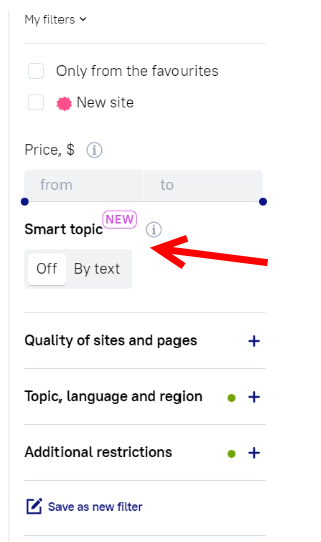 So what is Smart Topic? It is a machine learning (ML) system that scans your website, determines the important keywords, and then goes through our database of 100,000+ websites (with 1 billion+ pages) to find a list of pages that are closely related and super-relevant to your keywords.
What makes our system really smart is that it "scores" the relevance of the pages. It not only presents you a list of all the pages that have your keywords, but also sorts them by the usage of those keywords and related terms in those pages. If there is just one instance of a keyword on the page, the system understands that the page probably isn't very relevant and filters it out along with other non-matching results.
Let me walk you through how Smart Topic works. I simply enter my site or URL (I've chosen flipkart.com here) and press the "By text" button. It sets about listing out all terms that it thinks are your keywords in the box under this button.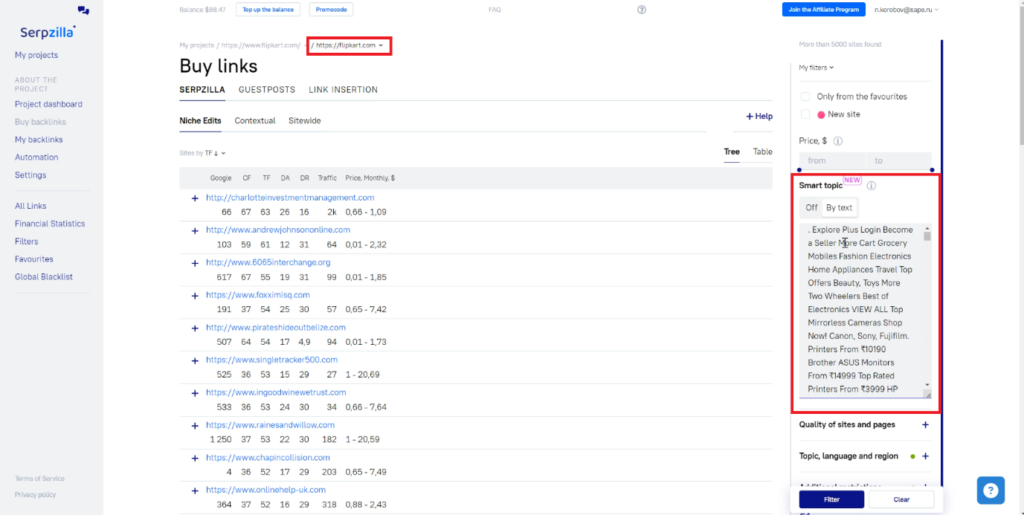 Since Flipkart is a huge site, Smart Topic has generated a ton of keywords. Plus, you can manually add/remove keywords from this list, which I recommend you should do as YOU are the person responsible for your campaign, ultimately.
You can also use this filter in tandem with the trust metrics. I wouldn't recommend combining the Smart Topic filter with the other Topic filter, because the actual topics therein have been chosen via a manual process – our team has manually categorized or used tools to allocate topics and sub-topics to the sites in our database.
Smart Topic is much more suitable by itself for finding topically and semantically relevant pages from which to build links.
In this example, it has found 228 websites. If these are too many for you, you can add more filters. Once again, recall that the page is more relevant than the site. Smart topic searches for specific pages from our database. Ultimately, you can click through to each of these pages, give them a quick scan, and use human wisdom and judgement to decide if they're relevant enough for you.
Coming back to our example, smartphones are a huge part of Flipkart's business. So not surprisingly, the system has found a bunch of pages from websites dedicated to smartphones.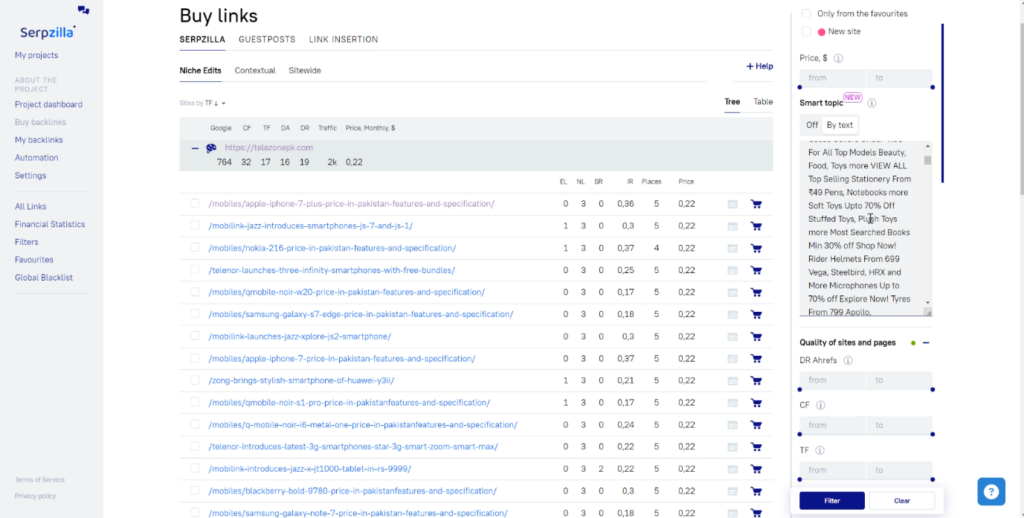 You can build links from one or more of these as you deem fit. This list gives you more variations and choice while being very relevant. So, if you're an ecommerce store looking to get links to different products in a certain category, this could be super-helpful to you.
What I do now is select all these pages and simply click Buy. As always, the backlinks will be automatically placed on those pages within a couple of hours. You need not bother to revisit or verify link placements – feel free to move on to your next important task!
If you think Smart Topic is a neat little thing to use, we've got another nifty filter as an additional bonus for you…
Domain Zone
Relevance isn't limited only to topical niches. Your niche might be geographically limited, and so you might want to build links only from websites registered in certain countries with content in certain languages. This is possible in some niches such as immigration, taxation, etc.
Serpzilla has just the right feature for you – scroll down the filter list and look for "Domain Zone":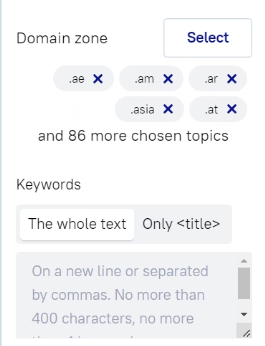 You will be able to select a CCTLD of your choice. Say, you want links only from domains registered in the UK so as to keep them super-relevant.
Simply unselect all the other TLDs except .uk: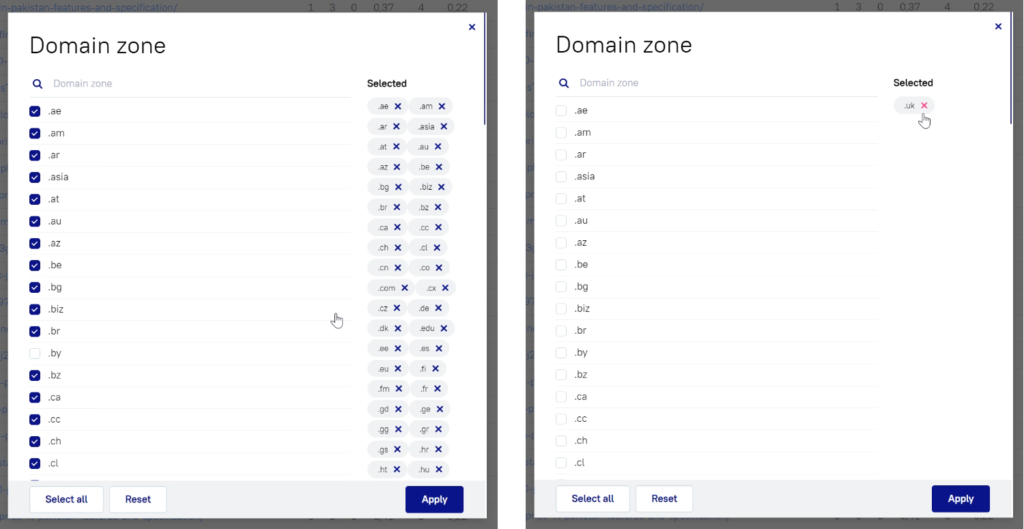 I did that in our Flipkart example, and dozens of good sites still remained. Good for the site if they're promoting or selling certain product lines only in the UK.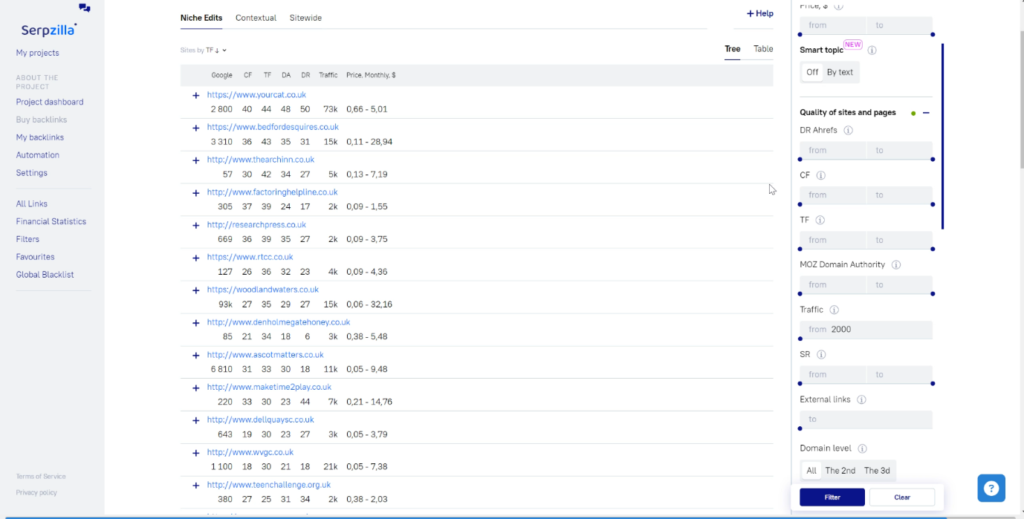 With that, let me hand over the baton to you.
All Yours to Play
Once again, I'd like to emphasize that you don't need to build only topically or geographically relevant links. The game of SEO is all about experiments… and sometimes, compromises. Of course, if you can get topically or geographically relevant links all the time, nothing like it. However, in your quest for more links, you should constantly look at the next-best-factor, such as trust, traffic, etc.
Serpzilla is a tool that gives you freedom to experiment with your link building tactics. We strongly advocate A/B testing in SEO, which is why we've made all these filtration options free to use. You can try different combinations of these filters, and apply more or less of them as you deem appropriate to test out your hypotheses.
The people who learn by trial and experimentation will ultimately win and gain true expertise in SEO.