In our previous article, we looked at how to analyze competitors and derive data from their link profile for basic planning. Now, when you're familiar with strategy development, we will cover link quality, primary link placement methods and expand upon the previous material.
By this time you might already be familiar with the concept of competitor analysis and how to tell how many links (and of which type) you have to build for the desired effect. The question at this point should be Where should I place them? How to choose the right resources? Is it just the referring domains that my competitors use or can I go out of my way to find even better donors? So let's get to how you should extract, compile and analyze data to do all this. It is a process much similar to strategy development, overviewed in our previous article.
Where exactly to place your backlinks?
1. The metrics you need to compile a list of donor websites
We, ofcourse, are going to resort to backlink analysis for the task at hand. And for that we traditionally go with Ahrefs. You can use it too, or any other service capable of providing the data we're looking for.
What metrics should we watch?
Backlinks (number of backlinks);
Referring Domains (the number of websites that refer to a competitor).
NOTE: the metrics may easily vary depending on the service you use for this job. The discrepancy between them is usually in the ballpark of 15-20%. So make sure you work with data from one source.
You should start just like you do with the basic link strategy development process: google a niche-related query and pick top 10 results that are relevant to your website. Keep in mind that you should avoid not just aggregators and websites that are irrelevant niche-wise, but also weed out competitors, which do not match the scale of your business.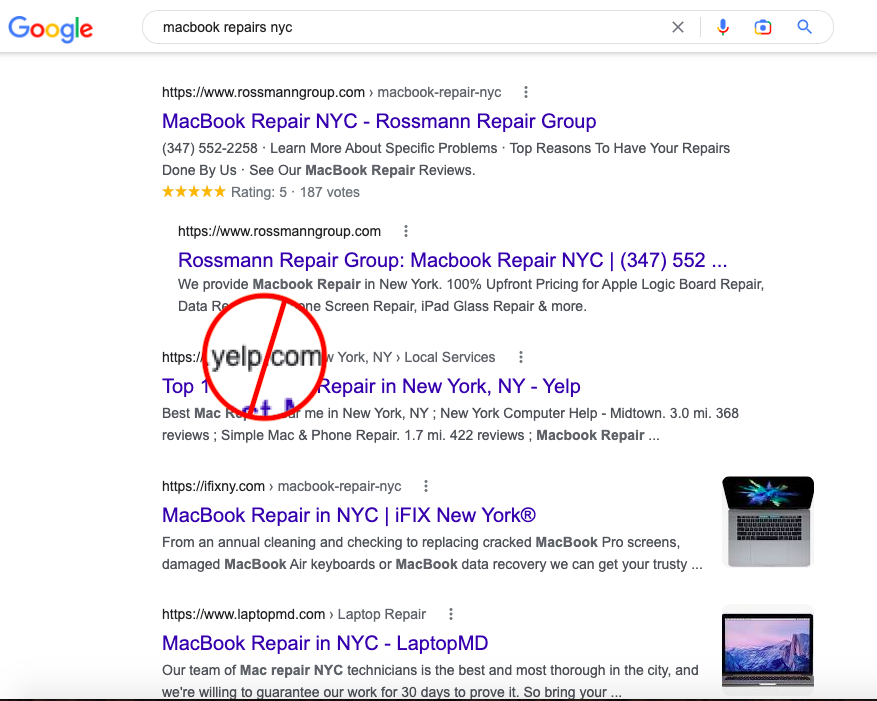 Now that you have a list of your top competitors (the more, the better for analysis), go to the "Backlinks" section and enter your competitor's domain name. Now you get to immediately see their backlinks and should have something to work with. All you need is to export data to a .csv file.
First of all, make sure you specified the region in order to get region-specific data: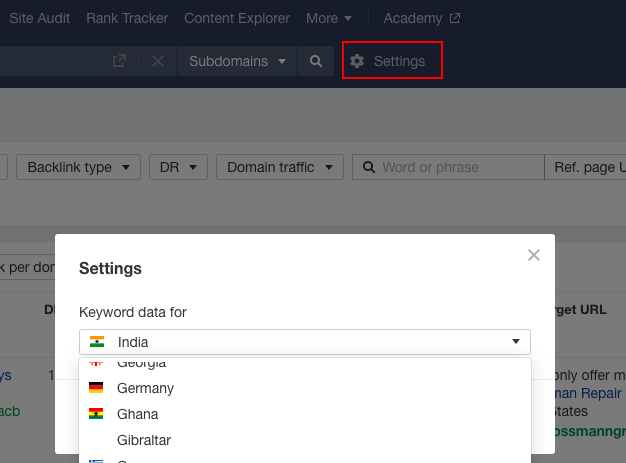 For convenient analysis, make sure you select One link per domain to display results: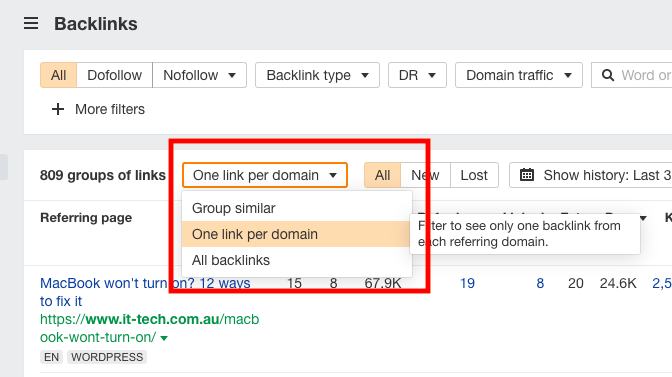 Also, make sure to enable the Exclude subdomains filter:

Export the .csv data for each competitor and then export it to an Excel/Google Sheets document. Sort the sheet alphabetically and by link donors.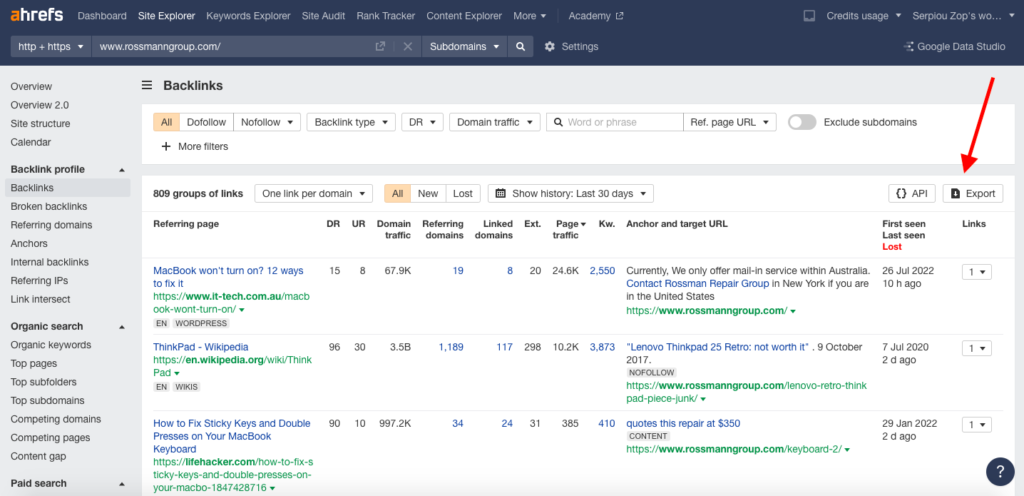 The sorting we do is important because different competitors often have links from the same websites. That's why we compile the data of all competitors in one sheet: to get rid of duplicates.
NOTE: if you find yourself being unable to fit all the data in one Google Sheets document due to some errors, it might just be that you have too much data. Just try Excel in that case. Excel has greater capacity when it comes to dealing with thousands upon thousands of rows of data.
2. How to analyze the quality of those websites?
#1.1
The major part of the game is Domain Rating (DR, also known as Domain Authority/DA). We would not recommend going below 10. So sort your spreadsheet by DR column from highest to lowest and eliminate all the rows below the threshold. Some might even aim at 70+, but there's a nuance.
The page may have low DR now, but it might grow overtime. So, to make sure you backlink placement on a low-DR resource take a look at traffic growth dynamics. If the referring domain is DR20 and its growth dynamics is positive, placing a backlink will be a great investment, since months later its DR may reach way higher numbers. Those referring domains with steady traffic numbers are worth your attention too. Only avoid domains with negative growth.
For better visual assessment, you might want to use a couple of features Ahrefs has to offer:
Domain Comparison service to see back-to-back comparison of up to five domains of your choice by primary metrics;
LInk Intersect service to see who links to your competitors
#1.2
Pay attention to URL Rating (UR). Because «…high UR pages tend to rank higher in organic search results», which is exactly where it promises to be beneficial for you. So, as a second step, sort whatever you have left (should be a lot, still) by UR. That should give you the idea of how to prioritize link opportunities from more to less efficient in their output.
#2
Study the sources. To do this, open each link and see whether it's in an article (a paid link), or it's a link in a guest-contributed article (might be an opportunity for a free placement), or in a forum post, etc. Create a separate column to mark down this data for later use.
Thus, you will obtain not only data on what sources to use, but how exactly you might use them to expand your link profile.
#3
Pay attention to the volume of traffic from search engines and its relevance, meaning the anchors the links use.
For example, the donor has a lot of traffic from Google, thus Google indexes it well and ranks it in the search for relevant queries. And if the key phrases of the page are relevant to your website, then its audience is relevant to yours. Links from such a website will drive more traffic to your website, so they're of higher priority at the task of link building.
Please, note that there's an aspect in which the referring page itself is more important than the referring domain. Why? Because it so happens that sometimes the domain might be irrelevant to you but the page itself can still be highly relevant, thus promising good output upon a backlink placement. Google pays attention to Referring Page<–>Target Page relevance rather than such between Referring Domain<–>Target Page.
3. Links and their placement
Now we've cleaned up, sorted and prioritized all the data, and we're ready to deploy links. Let's take a look at each type and the approach to its placement.
1. Contextual links (in articles, guest posts, etc)
These are links that are placed in the thematic surrounding text. If you find a competitor's link in an article and want to place yours on the same resource, the first thing you can do is check if the site is available on article exchanges. An alternative – absolutely free – option is to find email or other contacts, contact website representatives and find whether they're interested in guest contributions.
There can be two ways to go from here: they send you their price list with various content options, or they might be ready to do it for free if the content you have is of interest to their audience (=a good traffic driver for their website). Don't slack it when it comes to content: even major websites can agree to a free-of-charge deal if you show up with something useful.
2. Social links (on forum threads, social media, Q&A services, etc)
They work as follows: a person finds a relevant forum thread, and sees your company's post, gets into it, sees it can help solve the problem and goes to your website. However, building social links requires time and an expert who will actually participate in discussions and competently answer questions of potential customers. And one more thing: the time you invest should be directly proportional to the quality of backlinks you get. If you need to deploy backlinks in bulk, there's nothing bad in going for lower quality options.
IMPORTANT: if your links do not survive, i.e., do not pass moderation on a forum, this will negatively affect your website. That's why you need to be cautious and professional about your interactions within the forum environment.
3. Info Submissions
These are links placed to provide information about the website on other websites, that allow you to post user information. For example, links businesses place in Google Maps, on price aggregator platforms, discount services, etc. Do not place your links everywhere. Stick to quality donors.
This also includes job sites, by the way. Usually, when a job offer is posted, a company card is created. There you can specify your phone number, add a short description and a link to the official website. Employers often neglect these cards, and wrongfully so. Such links are indexed well by search engines, and those websites usually have great DR numbers.
4. Participation Partners Links
Have you participated in an event or exhibition? Make sure to arrange a link to your website in the list of partners, or wherever you might be mentioned. The advantage is that such resources are quite trustworthy and yield quality traffic.
5. Links in PDF files
PDF files are well indexed by search engines these days, so if PDFs are stuffed with worthy content, – from manuals and presentations to white papers – definitely place some links to the official website there.
6. Partner/supplier websites
For example, you have a store that sells products of different brands. Use the opportunity to place a link on the brand's official website. As a retailer you should be of interest, since it gives them an extra point of sale.
The main principles:
the number of links should always grow, and they should be diverse;
do not abuse unnatural links;
and remember that if your budget is tight, you can resort to rental links.
Before you go looking for new donors
Strengthen your link profile
There might be a point where you seem to have all your links and the next move seems to be «let's get some more donors». But don't rush it.
One of the effective approaches to strengthen your link profile is the use of Tier 2 and Tier 3 links, which is called «multi-level link building».
So, Tier1 backlinks link directly to the website. These are all the links we dealt with above. Now, to the Tier 2 links – they're the ones that lead to pages containing Tier 1 links. And Tier 3 links lead to pages containing Tier 2 links. This way you're strengthening the website's link profile indirectly, through the process of boosting the initial referring page that links to you. It often can be much more resourceful than getting another Tier 1 link, especially as gaining Tier 1 links might become more difficult at a certain point.
CONCLUSION: Link Building Checklist
Identify competitors, get the data, analyze.
Study the links quality of competitors and their sources with tools like Ahrefs.
Study competitors and their links to take the ideas as a basis for identifying possible new sources for placement: from directories and affiliate networks to digital publications.
Expand upon what you've built. Use Tier-levels approach to increase the weight of donors.
Expanding your link profile is a multi-faceted and never ending process. You need to constantly come up with new ideas for link placement, look for new donors, and not forget to check quality. Then analyze new competitors as they emerge, study them and work it out. Sometimes it is easier to buy a link than spend time getting it. Often, you'll notice that competitors in the top can have a lot of purchased links. So purchased links are not bad, and they work. Whatever it is you decide to do, don't neglect Google's guidelines and don't try to game the system – a really poor choice in the long run.