Introduction
A search engine optimization (SEO) strategy, tiered link building, is about creating backlinks structured into multiple tiers. Each of these tiers is meant to serve a specific purpose to enhance the search engine rankings for a website.
Tier 1 is all about high-quality and authoritative backlinks pointing directly to the target website. The rest of the tiers, that is – second and third tiers, help support and strengthen the first-tier links.
The Evolution of Tiered Link Building:
Back in the days, backlinks were all about quantity rather than quality. The norm was to engage in link-building practices that often involved spammy and low-quality links. As a result, Google came up with special algorithm updates that penalized such practices (remember the Penguin and Panda updates, anyone?)
Today, SEO professionals and webmasters use techniques such as tiered link
building to enhance their website rankings. This approach works because they can get:
Valuable backlinks
Diversified link profiles
Enhanced overall SEO efforts
It's a valuable strategy that delivers a more sustainable, long-term results.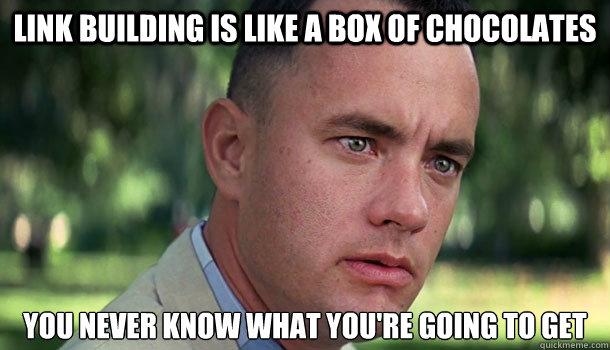 Understanding the purpose of each tier in link building
Learning about the specific roles of each tier is a must-need for any SEO professional and webmaster, who wants to implement it for the best results.
Let us take a deep dive into the role of each tier.
1. First Tier – High-Quality Backlinks:
The foundation of any tiered link building strategy, the first tier offers direct, high-quality backlinks from authoritative sources such as reputable websites in a niche or industry such as – Forbes, Entrepreneur.com, Vogue, and so on.
Benefits of the first tier is –
Boosting Authority: Get valuable link equity and build credibility along with authority on search engines.
Enhancing Visibility: Drive direct referral traffic to your website and enhance the visibility among your target audience.
Keyword Optimization: High authority and quality links helps enhance optimize keywords and key phrases.
2. Second Tier – Supporting Links:
The second tier can be considered as the supportive tier. While it may not contain links tha tare directly connected with your website, they help strengthen all the tier 1 links.
Benefits of the second tier is –
Boosting Tier 1 Authority: The links of this tier bolster the authority of your first-tier backlinks.
Diversified Link Profile: A variety of links from forums, community websites, social media platforms, blog comments, etc., helps build a unique and diverse link profile.
Buffering Anchor Text: The purpose of buffering anchor text in tier 1 links makes the link profile more organic to search engines.
3. Third Tier – Buffer and Indexation:
A buffer between Tier 1 and Tier 2, the third tier's main goal is to help index a site. This helps search engines discover the website and crawl the links more effectively.
Here are the benefits of Tier 3:
Indexation Support: Helps index the Tier 2 links, helping the indexing of Tier 1 links and making the crawlers notice the website.
Dilution of Low-Quality Links: Any lower-quality links should ideally be placed in the third tier. This minimizes the impact on the overall link strategy.
Enhancing Link Profile Depth: Including a third tier helps create an in-depth link profile. Websites having multiple tiers are on low risk of penalities
as they appear more natural to search engines.
Note: Regardless of the tier, your link strategy should align with the overall niche and theme of the target website.
To summarize, here are some quick pointers you need to know:
First-Tier Relevance: First-tier links need to be closely related to a website's content and niche. They should complement your conten and and enhance its authority.
Second-Tier Coherence: Tier 2 links are closely connected to the first tier, reiterating the relevance and context of the overall link structure.
Third-Tier Consistency: The third tier is primarily used for indexation and buffering. Yet, you need to maintain relevance to keep the link profile contextual.
Benefits of Tiered Link Building in SEO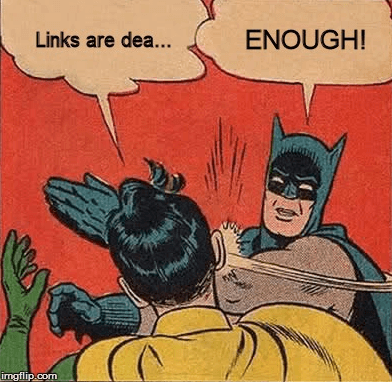 Enhanced SEO Rank: With a structured network of links, improve a website's authority and relevance.
Increased Organic Traffic: As your website ranks higher in the SERPs, its visibility increases for visitors, leading to higher organic traffic, and better opportunities for conversions and maximum ROIs.
Improved Link Diversity: By connecting different tiers of content, build a broader range of link sources. This creates a foolproof SEO strategy that's immune to algorithm changes and penalties.
Effective Link Equity Distribution: While your top-tier pages benefits from high-quality backlinks, the lower-tier pages help support and strengthen the overall structure.
Enhanced User Experience: As you create valuable, interconnected content across tiers, it enhances the user experience for the visitors this improves key metrics such as reducing the bounce rates.
Eliminating SEO Risks: Tiered link building minimizes the risks associated with SEO. The risk is distributed across various tiers, safeguarding your entire strategy.
Sustainable Growth: By following industry-leading practices webmasters and SEO professionals can achieve a more sustainable growth over time.
Competitive Advantage: Tiered link building gives you an edge in the highly competitive and volatile market. This helps outrank your competitors in search results.
Measurable Results: Tiered link building offers clear metrics for tracking progress of your SEO campaigns.
Cost-Effective Strategy: Compared to paid advertising, tiered link building is an investment in right direction that pays off in the long run.
Tiered Link Building Strategy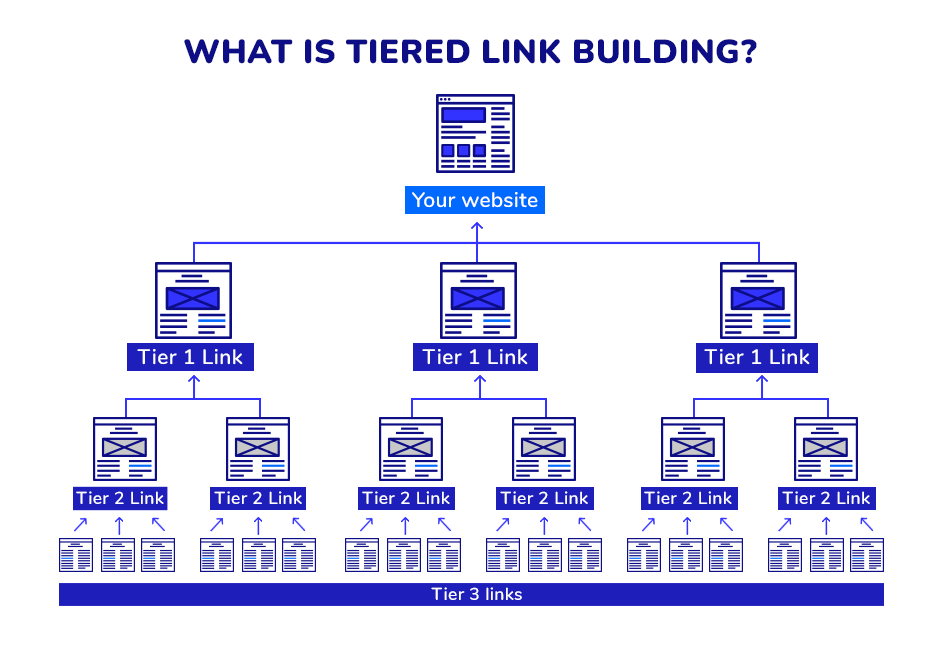 A robust tiered link building strategy involves a step-by-step process consisting of the following:
Valuable Content: High-quality, valuable content relevant to your target audience pays off for any SEO professional and webmaster. At the same time, you need to have a good mix of content formats. Don't forget to make it informative and shareworthy for the audience.
Zero In On Trusted Sources: Identify authoritative and reputable websites within your niche to secure direct backlinks. These are your Tier 1 links, and they should be from trusted sources only.
Focused Link Building: The next step is to add a second layer of backlinks to support your Tier 1 links. These secondary links should point to the websites that link to your content in Tier 1.
Beyond Tier 3: Depending on your strategy, continue building additional tiers of backlinks, each pointing to the previous one. Do maintain a strict quality standard to avoid spammy links in Tier 3.
Diversify Anchor Text: Ensuring diverse anchor texts makes your backlink profile appear natural. As a rule, use variations of keywords, brand names, and generic terms.
Keep a Close Watch: Monitor the performance of your backlinks using tools like Google Search Console regularly. Also, don't forget to remove backlinks that may harm your site's reputation.
Content Updates: Constantly keep updating and refreshing the content on your website to keep it relevant and valuable. It is an exercise that improves the backlinks' longevity.
Build Relationships: Rome wasn't built in a day, and the same goes for tiered link building. You need to foster organic relationships or partnerships with website owners, influencers, and bloggers in your niche. This level of networking leads to more link-building opportunities in the future.
Track and Analyze: Use the best tools to track the impact of your tiered link building strategy.
Update and Upskill: SEO is dynamic. Stay updated with search engine algorithms and upskill so that you can continuously refine your approach to stay relevant.
Tools for Tiered Link Building
Even the best of the best webmasters and SEO professionals need to use the best tool on the market for their link building efforts. Tiered link building is no different. Serpzilla for instance, stands out as a comprehensive SEO tool that can amplify your link-building efforts.
Some of the other tools and platforms that you can use in addition, include:
Serpzilla
The go-to solution for many SEO professionals, Serpzilla is a versatile platform for backlink analysis and tracking. It helps in high-quality backlink opportunities while closely monitoring your link-building progress. Along with that, Serpzilla offers a suite of features for keyword research and rank tracking, providing a well-rounded approach to SEO optimization.
Ahrefs
Ahrefs has a vast backlink database, making it a great resource in your toolkit for tiered link building. You can also use other features of this tool extensively to enhance link building efforts.
SEMrush
SEMrush, an all-in-one SEO platform, provides backlink analysis and invaluable insights into competitors' link-building strategies on its dashboard.
Moz
Moz is a tool that has been around for several years now. You can use Moz tool's metrics such as Domain Authority (DA) and Page Authority (PA), for assessing link quality. You can also use the Moz browser extension for this purpose.
Majestic
Majestic focuses on evaluating link quality, allowing you to measure the trustworthiness of potential backlinks. It also offers historical link data for a detailed.
BuzzSumo
BuzzSumo is great for conducting content research, and assists in better content outreach within your niche. Additionally, its social engagement data can guide your content promotion strategies.
Pitchbox
Pitchbox, an outreach platform, streamlines the process of contacting website owners for link-building purposes. With email templates, automated follow-ups, and personalized outreach options, Pitchbox simplifies the management of your link-building campaigns.
Mistakes And Risks In Building Tiered Link Structure
Quality Focus: Putting your focus extensively on the number of backlinks compared to their quality may earn you penalties from search engines.
Low-Quality Tier 1 Links: As mentioned above, it is okay to keep comparatively low quality links in the third-most tier. But if you keep them in Tier 1, it adversely affects your website's reputation.
Not Paying Attention To Relevance: Any and every link between all the tiers needs to be contextually relevant. A good practice is to inspect all the links beforehand.
Ignoring the Anchor Text: Don't over-optimize anchor text via exact-match keywords. Try to keep them as natural and organic as possible.
Link Farms and PBNs: Gone are the days of link farms and building tiered structure with private blog networks
Missing Link Diversity: It's a good idea to have a steady mix of links from dissimilar sources, such as guest blogs, forums, comments, among others.
Inconsistent Link Velocity: By bending a few rules here and there may help you achieve a spike in backlinks. On the flip side, this is considered suspicious by search engines. It helps to keep a steady, natural link-building pace.
Not Monitoring Links: It's critical to constantly monitor and remove toxic backlinks as these can harm your site's health.
Missing Algorithm Updates: Let's face it, Google's algorithms keep changing and as a rule of thumb, make sure you also update your tiered link building strategy.
Not Considering User Experience: User experience is more important than ever. It is a must to prioritize user-friendly content and implement best navigation practices as well across your website.
Ignoring Mobile Optimization: Ignoring mobile screens can thwart your link building efforts.
Black Hat Tactics: This is a no-brainer. Using unethical strategies leads to severe penalties from search engines.
Lack of Patience: A tiered link building strategy takes time and effort. It pays to be patient and let the efforts take their course.
The Wrap
Do you want to implement the powerful SEO technique of tiered link building? Supercharge your strategy and start building those tiers today for a brighter digital future! We're here to help you do the same by using the best of Serpzilla features and functionalities. Get in touch with us today!