Guest posting has been there for quite some time now, and every digital marketer, webmaster, and blogger, is familiar with it. While there are several guest blogging websites or platforms that accept posts, pitching your content to the right platform, the right way, and at the right time, is what makes a huge difference. It helps you form genuine, long-term partnerships and amplifies your brand's presence, and reaches the target audience. 
Your pitch to the third-party posting platforms, therefore, can make or break this effort. That said, let's dig in and figure out with the following pointers how you can make an effective first impression with every pitch.
How To Create Your Own Guest Post Email Templates: Format And Structure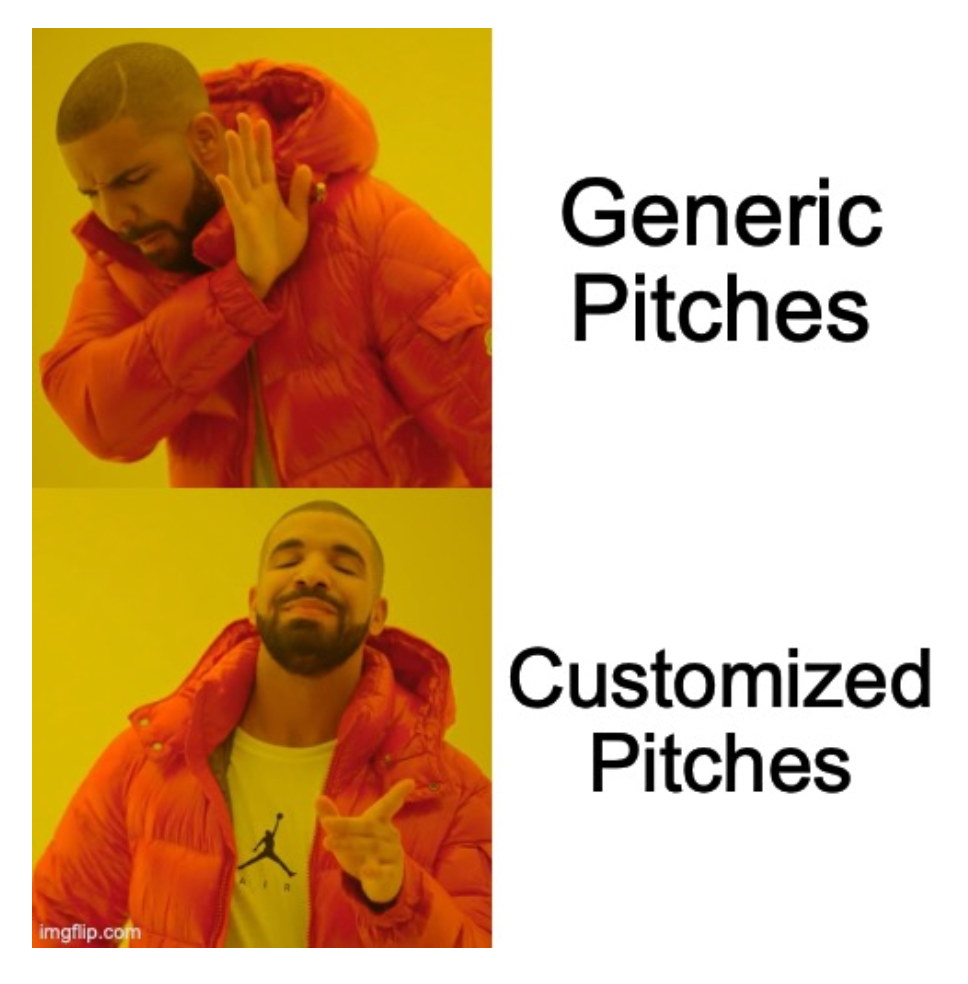 Guestblogging platforms generally have a team of editors, who review several pitches that are sent to them on a regular basis. With scores of emails in their inbox, getting their attention at the first attempt is an uphill task. But not when you know how to captivate them with an effective pitch. Here are some of the key components that make an effective pitch.
Craft A Catchy But Relevant Subject Line – Guest blogging outreach is futile if you don't end up getting your email opened in the first place. This is where you must ensure that the subject line you choose for your pitch is perfectly crafted. For instance, you can use subject lines such as –

A Blog So Perfect, Your Readers Will Keep Coming Back
Drive Value For Your Readers With This One Blog That Keeps Giving

Make The Greeting Personal – Ditch the generic – Dear Editor/To Whomsoever It May Concern as the greeting to your guest blog pitches. Instead, make it a point to address the editors by their name. This instantly personalizes the pitch, showing that you've already done some background research and know your thing!
Start With A Crisp Introduction: Briefly introduce yourself and express interest in contributing to their platform.
Throw In A Genuine Compliment and Relevance: Compliment the recipient on their blog or website, share why you liked a certain blog published there, and why. Continue with sharing why the topic(s) you're proposing is relevant to their readers.
Give Context – Talking about doing your research/homework, in your pitch, there should be a definite section indicating that you know the target audience of the guestposting platform. A quick way of doing this is to browse through their existing blogs and understand the kind of topics that the readers interact with. Using this information, choose topic or angle and present it to them showing that your pitch is curated specifically for their platform.
Highlight The Proposed Title With Summary – The title of your blog and its short outline is exceptionally critical and it needs to be relevant, inspiring, and give a snapshot of what the readers can expect out of the blog. Now, some guestposting websites may expect a more detailed summary than others. But ideally, title should be catchy, and the outline to summarize the topic in 2 sentences or 3, covering all the main points of the article. If required, explain briefly how the topic will make an impact.
What's In It For Them – When you share your pitch, don't forget to highlight the chunks of things that make it unique for the readers. It can be – a unique perspective, an ongoing trend, based on a recent research or statistics, and so on. Including these details will tell the editors how valuable your blog is. Keep it at the core of your pitch.
A Shining Portfolio Is Good To Add – Let's face it. Your credibility is as good as your digital footprint. If you already have some notable content published on various third party platforms, don't forget to include the same in the pitch. It's a good idea to customize the portfolio based on the platform you're pitching to.
Give Them Your Author Bio And Credentials – A good author bio works like a charm for guestblogging websites. It also helps the editors know you briefly, aided by any relevant credentials, certifications, or experiences, which add to establishing you as a subject matter expert. Or, an authority on the topic you're pitching about.
End On A Positive Note – Always make it a point to end the pitch by expressing your gratitude towards the editor, stressing the fact that you're open to feedback/ constructive criticism. The call to action (CTA) should be clear – whether it is hoping to close the outline, getting feedback, or pitching additional topics.
Signature Matters: End the email with your signature containing your full name, email, social handles. This will help them reach out to you via other avenues too.
EXAMPLES OF GUEST BLOGGING TEMPLATES
Example 1:

Subject: Guest Post Proposal – How To Create XYZ Like Marvel Superheroes

Dear [Editor's Name],

I've been following [Blog/Website Name] since (Number of years) and thoroughly impressed by the quality of content.

Your recent article on [related topic] inspired me to reach out with a blog idea titled – 'How To Create XYZ Like Marvel Superheroes.' In this article, I will delve into proven strategies, offer numerous real-life examples, throw in the latest stats, and more.

Let me know if you'd like a more detailed outline of this post .

You can find samples of my work on [Link to Portfolio].
With a background in filmmaking and a passion for effective communication, I believe I can provide valuable insights to your audience. I'm eager to contribute to [Blog/Website Name]'s exceptional content.

Thank you for your time and consideration. I look forward to the collaboration opportunity.

Best regards,
[Your Name]
[Your Email]
[LinkedIn/Twitter/Instagram Handles]

Example 2: Warm Outreach (With a Connection)

Subject: Guest Post Proposal – Exploring Sustainable Living

Dear [Recipient's Name],

I hope this email finds you well. My name is Jane Doe, and I am a passionate advocate for sustainable living. I have been following your blog, "Green Living Today," for quite some time and have been impressed by the insightful content you provide to your readers.

I'd like to propose a guest post titled "10 Practical Tips for a Sustainable Lifestyle." In this article, I aim to share practical and actionable tips that individuals can incorporate into their daily lives to reduce their environmental footprint. I believe this topic aligns perfectly with your audience's interests and would add significant value to your platform.

With a background in environmental science and sustainability, along with my previous contributions to publications like [Publication Name], I am confident that my insights can resonate with your readers.

I'm open to any suggestions or adjustments you may have and would appreciate the opportunity to contribute to your platform.

Thank you for considering my proposal. I look forward to your response.

Best regards,
Jane Doe
jane.doe@email.com
LinkedIn: [LinkedIn Profile]
Instagram: [Instagram Profile]
Example 3:

Subject: Guest Post Opportunity – Boosting Productivity in Remote Teams

Dear [Recipient's Name],

I hope this message finds you well. We recently had the pleasure of connecting at the "Remote Work Excellence Summit," and our discussions about improving remote team productivity were truly inspiring. Your work at "Workwise Today" has been an invaluable resource for professionals in the remote work space.

I'd like to propose a guest post titled "Maximizing Productivity in Remote Teams: Strategies That Work." In this article, I plan to explore effective strategies and tools that remote teams can implement to boost their productivity. Given your website's focus on remote work, I believe this topic would greatly resonate with your audience.

With my experience as a remote work consultant and contributions to leading publications like [Publication Name], I'm enthusiastic about contributing to your platform. Please let me know if this idea aligns with your content strategy, and if you have any suggestions or feedback, I'm open to it.

Looking forward to your response.

Best regards,
John Smith
john.smith@email.com
LinkedIn: [LinkedIn Profile]
Instagram: [Instagram Profile]
Twitter: [Twitter Profile]

What Makes A Good Guest Post Pitch Vs. What To Avoid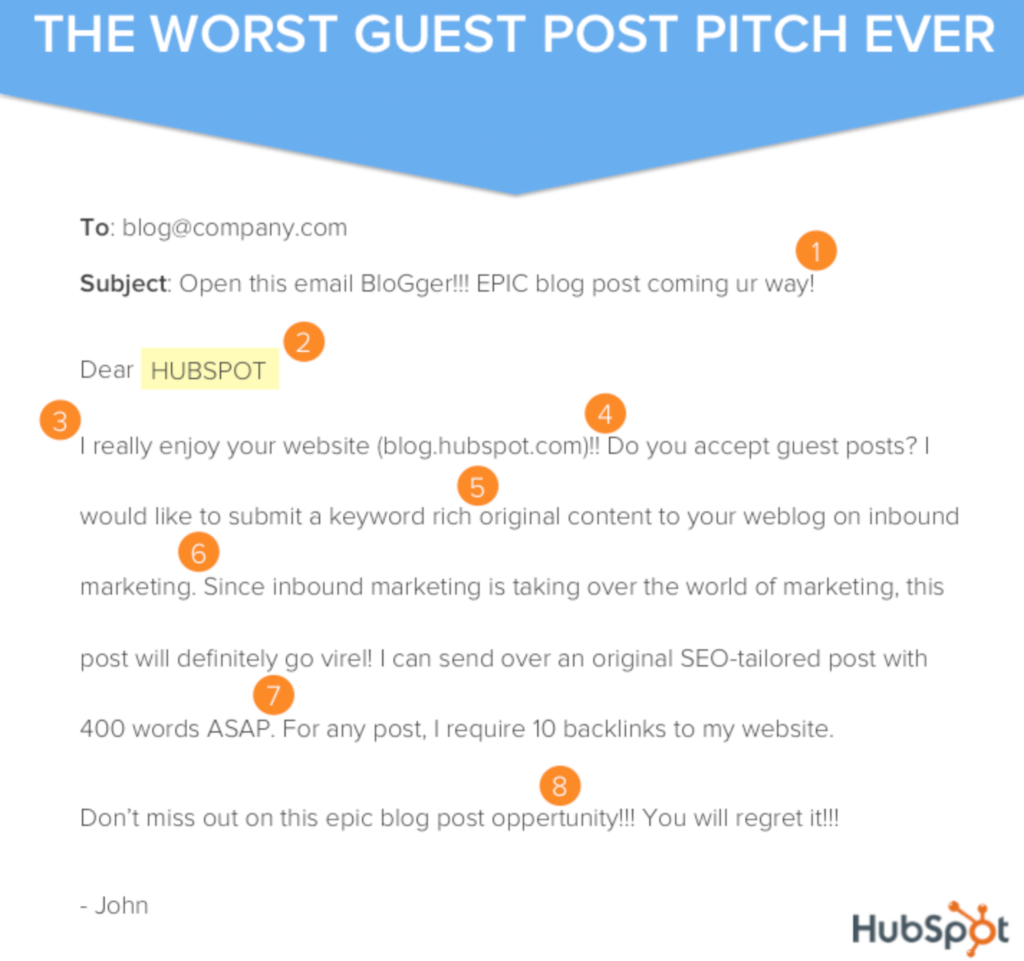 HubSpot in one of its posts, had shared the worst ever guest post pitch (as shown in the image). It is a clear indication of most things that can simply go wrong while you're crafting that perfect guest blogging pitch to third-party platforms. That said, let's look at some of the best practices and mistakes to avoid.
Best Practices For A Good Pitch
Relevance: Ensure your pitch aligns with the target website's niche, audience, and content.
Personalization: Address the recipient by name, show familiarity with their site, and explain why your pitch suits their platform.
Compelling Title: Present an attention-grabbing and relevant article title to pique interest.
Clear Value Proposition: Articulate the unique value your post will offer, such as exclusive insights, fresh perspectives, or actionable advice.
Concise Summary: Provide a brief but informative summary of your proposed article's main points.
Showcase Past Work: Include links to your previous guest posts or published content to demonstrate your writing skills and credibility.
Professionalism: Maintain a polite and professional tone throughout the pitch.
Openness to Feedback: Express willingness to make revisions based on the editor's suggestions.
Short and Succint Communication: Brevity really helps when you're establishing a rapport with the editors for the first time. It is a good practice to keep things as short and crisp as possible.
Mistakes To Avoid
Generic Pitches: Steer clear of one-size-fits-all pitches; tailor each one to the specific website.
Irrelevant Topics: Don't propose topics that are unrelated to the site's content or audience.
Lack of Personalization: Avoid using generic salutations or pitches that show no understanding of the recipient's platform.
Vague Titles and Summaries: Ensure your title and summary clearly convey the article's purpose and content.
Overpromising and Underdelivering: Avoid making exaggerated claims about the benefits of your post.
Neglecting to Showcase Past Work: Don't omit links to your previous writing, as it can diminish your credibility.
Rudeness or Pushiness: Maintain a respectful and courteous tone; avoid aggressive follow-ups or demands.
Ignoring Submission or Writing Guidelines: Always adhere to the site's submission guidelines; failure to do so can result in rejection.
Use Sepzilla For Guest Posting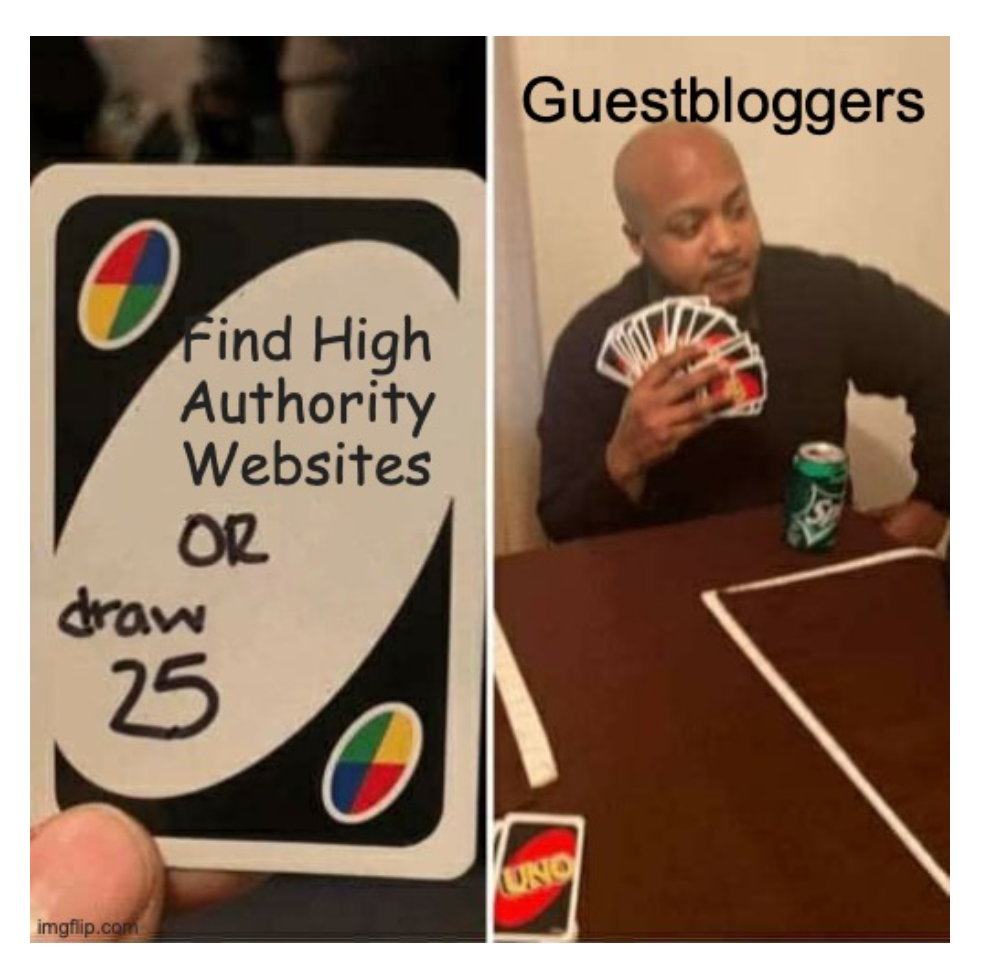 Serpzilla is a specialized platform that simplifies the guest posting process significantly. Instead of spending hours sifting through websites to find suitable opportunities, Serpzilla offers a curated selection of websites where you can contribute guest posts with just a few clicks.
Key Features of Serpzilla
Curated Website Collection: Serpzilla provides an extensive database of websites across various niches. Each website in the collection is carefully chosen based on specific criteria, ensuring that you gain access to high-quality platforms.
Efficient Search Functionality: With Serpzilla, you can easily search for websites that match your criteria, such as niche, domain authority, and traffic volume. This precise search capability ensures that you find websites that align perfectly with your brand and target audience.
In-Depth Metrics Analysis: Serpzilla offers a comprehensive view of each website's potential value through detailed metrics analysis. This includes insights into domain authority, traffic sources, and other crucial data points to help you make informed decisions.
Time Savings: Instead of investing hours or even days in searching for guest posting opportunities, Serpzilla allows you to curate your list within minutes. This time efficiency enables you to concentrate on creating high-quality content.
Why Choose Serpzilla for Your Guest Posting Needs
Enhanced Efficiency: Serpzilla streamlines the guest posting process, eliminating guesswork by providing all the necessary information at your fingertips.
Cost-Effective: Consider the hours saved by not having to manually search for websites. Serpzilla offers excellent value for your money by reducing the time and resources you would otherwise spend.
User-Friendly Interface: Serpzilla features a clean and intuitive interface, making it accessible even for beginners. You can easily navigate the platform and quickly identify ideal guest posting prospects to expand your online presence.
Best Guest Posts Marketplace
Boost your SEO results! Link building has become fast and easy with Serpzilla. Buy quality backlinks on authority websites with high DR.
Sign up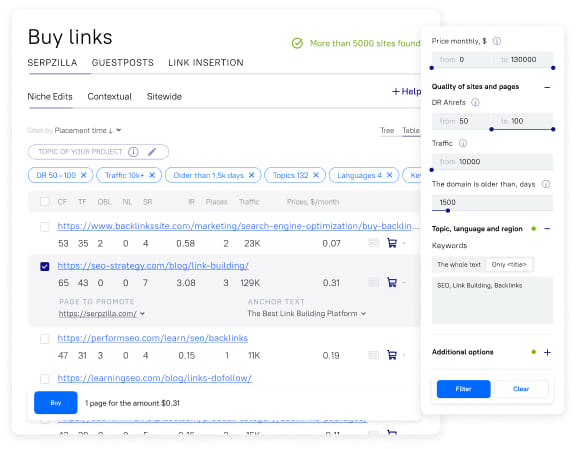 Conclusion
So these were some of the leading guest posting tips that we had to share with you. Do come back for more such in-depth topics for SEO. Cheers!