We have prepared for you a list of quality digital marketing blogs that are willing to host a guest post. Select the appropriate option and offer your article about marketing to the webmaster.
The Best Marketing Blogs That Accept Guest Posts
Boost your SEO results! Link building has become fast and easy with Serpzilla. Buy quality backlinks on authority websites with high DR.
Sign up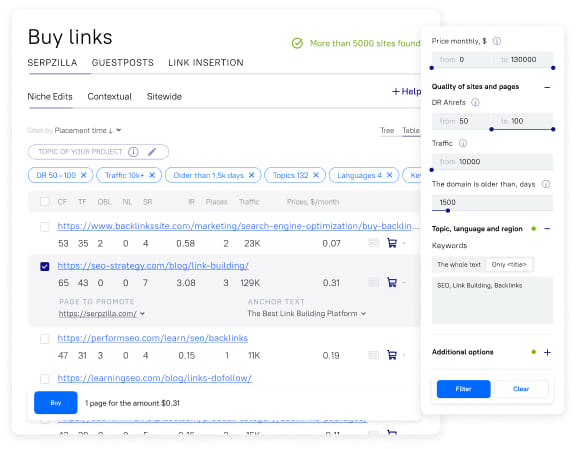 Where can I find a list of digital marketing sites that will accept guest posts with backlinks?
At Serpzilla.com you will find a wide selection of blogs on the topic of marketing. These sites are ready to accept your articles. We invite you to join our link building platform to help you find the right digital marketing blog.
How do I understand that a site is good and it's worth posting a guest post with backlinks to my website?
You should take into account the DR of the website, the volume of its traffic and the overall quality of the site. In this article, we took a closer look at how to select high-quality domains for your link building strategy.
With what tools can I quickly understand that the selected site is a good donor for me?
In this article, we told you what tools can make it easier for you to find sites for link building.
Can a webmaster reject my guest post?
This is possible if the webmaster believes that you have not met the requirements for his blog about marketing.
I want to receive a dofollow backlink to my site. Is this possible?
Yes, if you indicate this desire in the settings on Serpzilla.
Is it possible to add multiple links to one article?
The answer depends on the policies of the marketing blog you choose. You will find all the necessary information in the Serpzilla interface.
What level of uniqueness is required for guest article texts?
Typically, 90 to 100% uniqueness is required.