Are you looking for a travel blog to get backlinks to your website? We suggest to use our catalog of high-quality websites for your link building strategy. These sites are ready to host your guest post.
Find Travel Blogs That Accept Guest Posts
Boost your SEO results! Link building has become fast and easy with Serpzilla. Buy quality backlinks on authority websites with high DR.
Sign up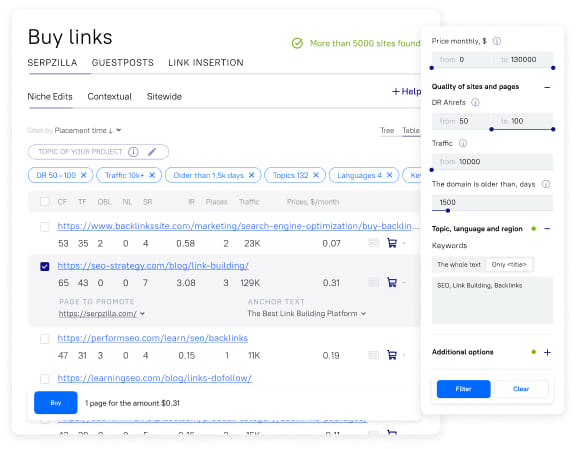 Where can I find blogs that will easily accept guest posts with backlinks to my website?
Serpzilla.com offers a large list of travel blogs ready to collaborate with you. We invite you to register on our link building platform and find the travel blog you need using the filter.
How to Choose a Reliable Blog for Guest Posting?
Pay attention to the site's DR, traffic level and content quality. In this article, we tell you in detail how to choose quality sites for link building.
How to make sure the quality of the backlink?
We suggest to use Moz or Ahrefs tools to check a site before placing a guest post with backlinks to your site.
Can my articles be rejected?
Yes, if the content does not meet blog standards.
Will dofollow backlinks be placed on my site?
Yes, if you specify the dofollow backlink in the Serpzilla filter.
Is it possible to add multiple links to one article?
Depends on the policy of the travel blog where you want to buy a link. This data from the webmaster will be indicated on our platform.
What are the requirements for the uniqueness of the text of a guest post?
Usually is 90-100% uniqueness.