How to determine which pages to place backlinks on?
How does Page Rank and backlinks work?
The concept of using links as a measure of a website's value has been popularized by Google's implementation of the PageRank algorithm back in the day.
Key to this concept is the notion that backlinks represent the "collective vote" for a web page they refer to. Search engines rely heavily on such "voting". Each link to a web page is seen as a vote. All pages are given an innate but very low PageRank score. Pages can then increase PageRank by getting backlinks from other pages.
In 2009, it was proposed to pass on 85 to 90% of a page's PageRank. So, if a page links to only one other page, it transfers all of its "free" PageRank score to that page. So if the referring page with a PageRank of 5 has a transferable score of 4, it goes all the way to that single linked page. But not anymore.
In the original formula for PageRank, the weight of a page was divided equally between the number of links on the page. Today it is done differently, Google's algorithms are not public and are not known exactly. The fact is that, having learned about the possibilities of links, some began to manipulate links using a variety of tricks. This created situations in which the value of the link ceased to be objective, and the algorithm had to be improved.
Nowadays, all link-based algorithms operate on the assumption that most of the backlinks are legitimate endorsements from the publisher that deployed the link to your site.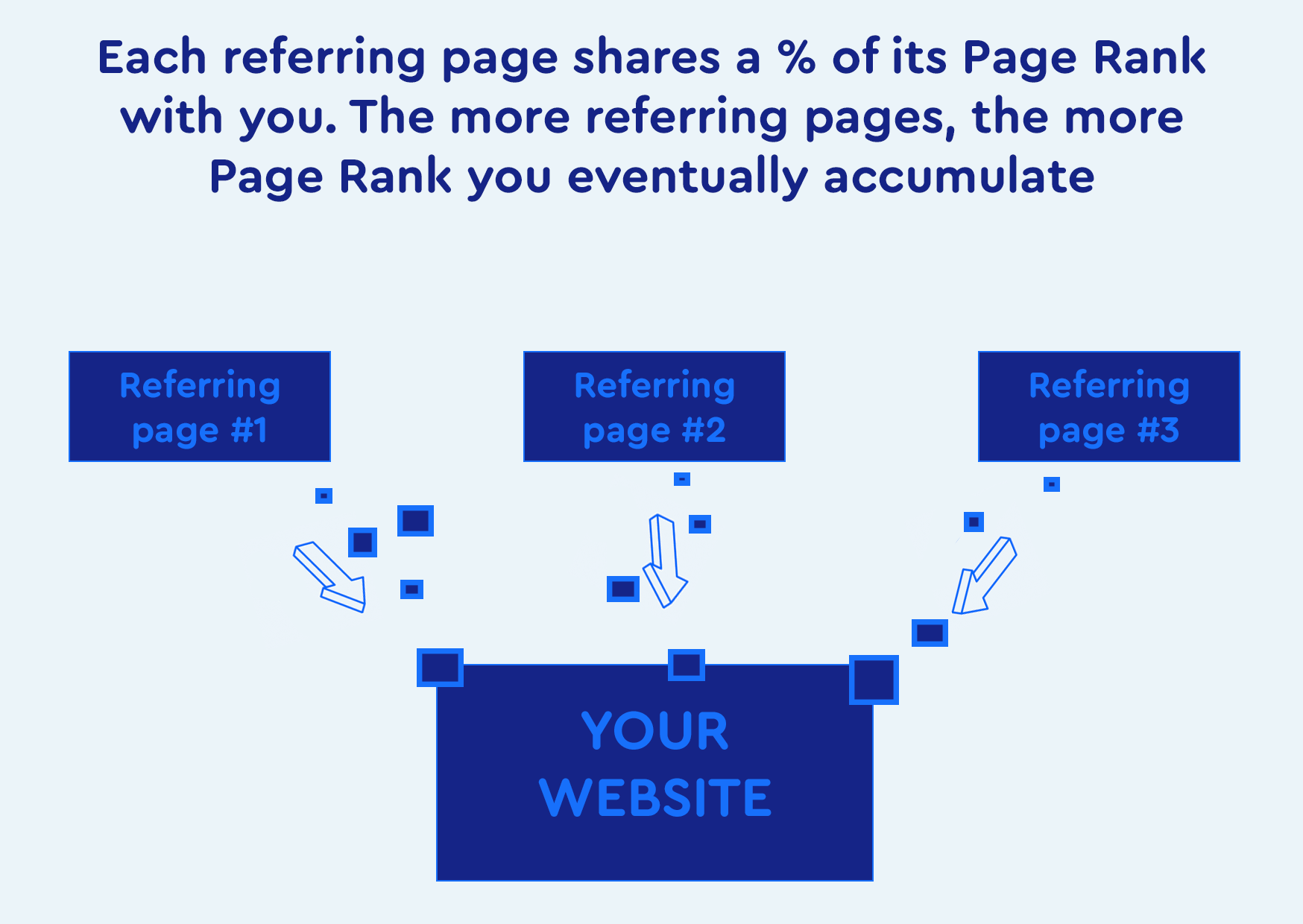 How much PageRank can a page pass on to other pages through links? Less than the rating of this page itself, since it will always keep part of the rating for itself. Page Rank, however, is not the only factor influencing backlink value.
Anchor Text
Anchor text is the part of the link that can be clicked on and redirect you to a different page.
For example, we have an article about banking services: what they are, how to use them, etc. We have a backlink in the article and its anchor text says "refinancing". The search engine uses this anchor text to figure out what the page that the backlink leads to is about. As a result, the search engine interprets this backlink as indicating that it leads to a page about refinancing, and therefore this page will rank higher in search results for this search query.
But here's where another problem arose in the algorithm. Relevance problem. An example of a citation index in an academic environment clearly states that a reference must be relevant. Many began to abuse anchor texts, and starting 2012 Google has introduced a relevance check into the algorithm – the way to check whether the backlink is "natural".
Relevance
Those backlinks that come from websites/pages of the same topic/niche as the publisher's website have more weight to them than backlinks from websites/pages of different, irrelevant topics.
The relevance of the backlink is evaluated in the context of the query entered by the user. If the user enters the query used cars, and the publisher has a backlink to a topically matching page, then such a backlink will raise its value in the eyes of the search engine, proving that this page really sells used cars.
Authority
The key concept is that each topic that a user can search on has authority websites specific to that topic. Authority websites in the used cars niche are different from those in the baseball equipment niche.
Thus, if a publisher has a website about used cars, they should strive to sell backlinks to websites that search engines consider authoritative in the relevant topic. However, search engines don't tell you which websites they consider authoritative, which makes the job of a publisher much more difficult. Considering this, be mindful to approach the choice of a publisher responsibly.
Trust
Trust is different from authority and has more to do with spamming and black-hat practices, rather than topical credibility. Authority alone does little to consider how easily spammers can infiltrate the domain (or page) that is linked to. And trust takes this into account.
Assessing the trust of a website involves looking at all of its "backlink neighbors" to find out what other trusted websites are linking back to it. More links from trusted websites creates more trust value and promotes the resource on Google.
The trust level of a website is affected based on the distance (number of "clicks") from the trusted referring websites. A website sitting at a distance of one "click" (Tier 1 backlink) from the trusted referring domain receives maximum trust, two clicks (Tier 2) – a little less, etc.
The accumulated Page Rank score (Anchor Texts, Relevance, Authority, etc) embodies the ranking system on Google. But backlinks are not the only ranking factor.
Ranking is affected by three major aspects of SEO – Backlinks, On-page SEO+E.A.T. and Technical SEO: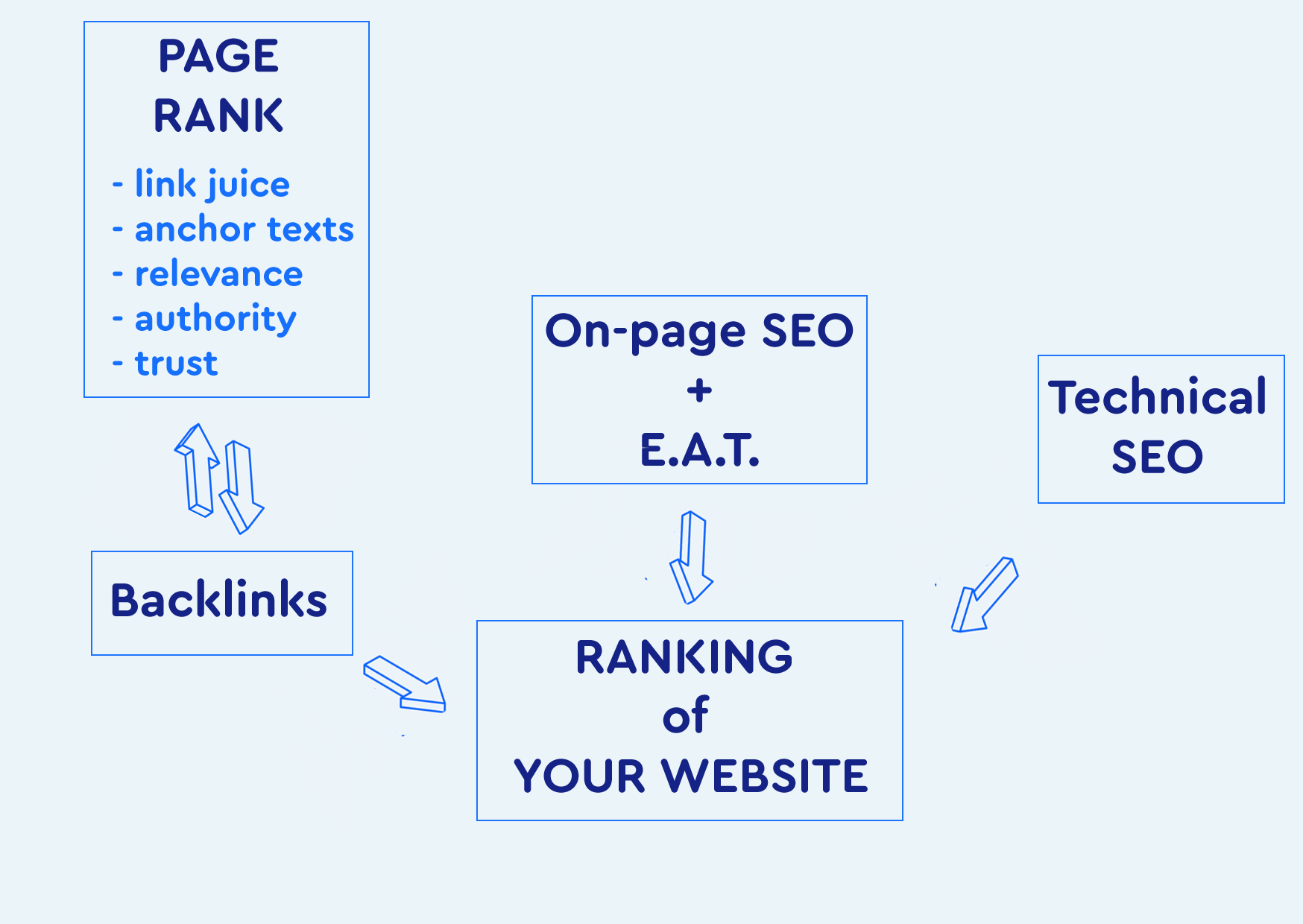 Backlinks, On-page SEO+E.A.T. and Technical SEO are groups, which include many factors on the website and outside of it. All of them need to be improved in terms of SEO.
And it's crucial to work on all of them, since working only on backlinks might leave you with zero results at the end.
Referring domains over backlinks
Getting an editorial backlink (through creating link-worthy content) from a third party website is always good. And it might seem that the more backlinks, the better. Then why not get a backlink from every page of the website? In theory, this is a good idea, but search engines reduce the weight of additional backlinks if they come from the same referring domain.
Yes, in the early days of Google, this worked. But once Google looked into what was happening, it became clear that multiple backlinks on the same website most likely represented one "vote". At the same time, many websites with one backlink on each obviously stand as multiple "votes". As a result, Google began to track such backlinks and made it so that each subsequent link came with a slightly lower and lower value.
In addition, over time, Google has become more aggressive in penalizing websites for using "bad" link building practices, such as excessive link buying, as well as placing backlinks on all pages of a referring domain, which by the way has a better alternative – use sitewide backlinks instead. So such an approach can be potentially harmful for your website.
For example, take guest posting, a legitimate promotion strategy, but it has also been abused at times. Imagine your website outreached a total of 100 websites. This is 100 guest posts for you to place. Perhaps 3 of them will be of high quality, another 5 will be quite good, and the rest will be already below average in terms of authority and trust. So, in order to publish, for example, even 50 posts, you will have to place most of them on frankly bad websites.
Even if your best posts are on the very best sites in your niche, Google will not necessarily view such content as more valuable. Google will give preference to those guest posts that have long been placed on the first three websites, which have high ranking.
You will get much more value if you get a small number of backlinks, but on highly authoritative sites. No need to guest post on a lot of low quality websites. Better establish a long-term relationship with reputable blogs and become their regular author for that matter.
The most budget-efficient way to build the bulk of your backlink profile is rental backlinks. Serpzilla can provide fully automated link building service which will save you a hefty sum of money with its white-hat link building, backlink placement and settlement control. So there will be no need to spend thousands of dollars trying to push the envelope with guest posts only.
How and when is region important?
Region is important for both your leads and Google. If your business operates in India, in the home market (or just in a specific region of India), then there is no point in placing backlinks on websites from other countries/regions. For your backlinks and your backlink profile to be natural, you should not break out of business habitat, where your direct competitors are, otherwise you may be subject to Google sanctions. However, specifically non-regional backlinks do not make you subject to sanctions, there's no explicit danger in doing this. It's the overall state of your backlink profile. The more organic it is, the safer you are.
An exception, of course, may be the case if you provide services/products internationally. Even if you operate locally and the most striking example here is hotels and the tourism niche in general.
Conclusion
The most important conclusion from the above is the importance of the correlation between a Referring Domain and a Website, according to the following points:
Topical relevance;
Regional relevance;
The Referring Domain must be authoritative, live, and non-spam;
The quality of the content on the Referring Domain and Website should be on the same level and contribute to the growth of Trust and Authority.
How to choose the best pages for backlinks?
To find the necessary pages, it is best to use specialized analysis tools. In our case, this is Ahrefs, one of the many online services for SEO analysis of domains, pages and links.
Use keywords to find relevant domains
Type in your relevant keywords to find relevant domains/pages (your competition) and take some top pages. You can do this right in the Ahrefs service. You will be able to find links from pages that are already in the top 50, top 100.
Next, you analyze the competitors and look at their backlink profiles. We recommend taking 5-7 competitors. Take all their backlinks and import them into one Google Sheet. First of all, look at those backlinks that coincide between the competitors. Go with them first, use those referring domains. Then choose from the rest purely according to the parameters – are they suitable for you (traffic/DR/etc)? One of the options is to go for the backlinks that will be the easiest to get.
Let's now take a look at how to actually get backlinks on those websites. There are options like outreach, link exchanges, manual prospecting and automated prospecting.
First, let's cover the subtleties and nuances of outreach (communication methodology, services and applications).
Outreach
There are some online outreach platforms. You can use those. These are services through which you can send letters and receive answers from publishers. Something like a CRM platform for communicating with potential backlink providers.
In case you decide to do it manually, here are some important takeaways:
You can't just go with ready-made content to some good website. All because, most often, you will be refused (be prepared for that) and such websites usually have their own guidelines, which must first be studied. After that, you need to think about your possible options – the topics. First propose the concept of the article to the publisher. Only after that, if the concept is successful, can you start negotiations on the date of publication, cost of publication and whether it's permanent (in most cases) or time-limited.
Be sure to study the publisher's website and find the contact details. It often happens that on the contact page it is separately specified who you need to write to post your content, up to the point of what subject of the letter must be indicated when you hit Send. Otherwise the letter will surely get into the spam folder. Many publishers filter spam this way, allowing only certain letter Subjects to pass through.
Consider who you communicate with. Your communication style can have a big impact on the final result. Some sites are very informal and are open to any communication with authors, while there are also those where communication is formal and business driven. Communication skills and business etiquette come in handy here.
Be careful in website selection. Sometimes there you might post material, and after a month your backlinks or even the material itself may disappear. This needs to be monitored. So stick to trustworthy publishers.
Link Exchanges
We recommend looking at the white lists. Or according to the parameters that are already determined on the basis of Competitor Research (DR, traffic, etc). In general, we recommend looking for DR 10-30 with the necessary traffic volume. Alternatively, you can set up automatic link building.
How does it work on Serpzilla?
Relevance and Smart topic. For starters, it's worth mentioning Serpzilla's Smart Topic feature, which works on the basis of machine learning and helps you find ultra-relevant pages by examining their text content. Once you get the relevant stuff, you can start filtering it for better results.
Page quality filters
Serpzilla runs a proprietary system that operates based on several key parameters it pays attention to: NL (nesting level), SR (Serpzilla rank), IR (internal rank), and OBL (outbound links).
NL (nesting level). You can set the desired nesting level, thus getting a selection of Main Pages only for your backlink placement. That way you'll be able to find yourself a backlink on a page with a larger backlink profile and get more link juice.
Serpzilla Rank (SR) is mostly a traffic-related metric. It is based on a technology for predicting the value of referring domains for search engine promotion. Based on machine learning, the SR metric is calculated for each page of the website added to the SZ system. The metric accounts for over 10 parameters, which affect the page promotion, some of which are:
the number of unique visitors to the pages of the site;
page views;
clicks on links on the page,
etc.
IR (internal rank) reflects the internal backlink profile of the domain and its pages. Thus, a page with a whole category of different goods, if we're talking about online retail, is likely to have higher IR and will bring you more link juice.
OBL (outbound links) is pretty straightforward as it shows you how many backlinks the page already has on it. Less backlinks, more profit to you (provided the page is worth the placement).
All those features let you seek out relevant, traffic-rich, top-Tier, high link-juice pages with suitable metrics and maximize your link building potential. And remember, choosing the right referring domains can save you up to 30% of your backlink budget.