Good rankings on Google depend on three things: quality of links, quantity of links and quality of content. PageRank specifically depends on the number and value of backlinks your website has.
Though Google strongly discourages artificial link building to prevent ranking manipulations, there are ways to do link building within Google's guidelines.
There are also tools that can help you manage, improve and automate your link building process. Serpzilla is one of them. In this overview you'll learn how to optimize your link building with Serpzilla.
Meet Serpzilla
Serpzilla is a white-hat solution and a link building automation tool aiming to help with contextual, relevant, and valuable links for your SEO efforts.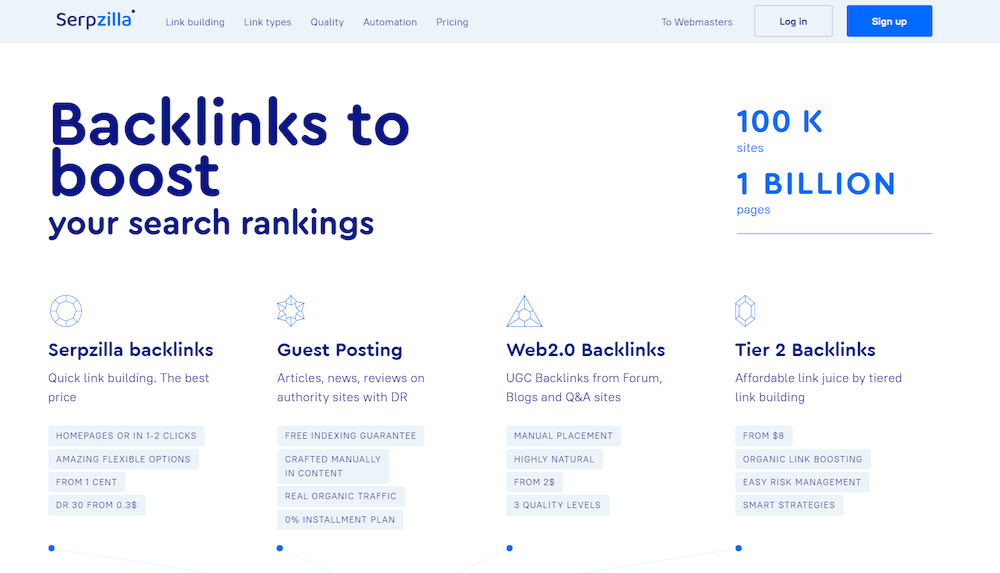 Serpzilla is also unique since its link building process is scalable and the platform works as a CRM for the link profile with real-time link monitoring.
Getting Started
Now let's walk you through some steps to help you get your project going:
1. Your dashboard is probably empty.
2. Specify your legal entity and allocate your budget for the campaign. Click "Balance" at the top-left above "My projects".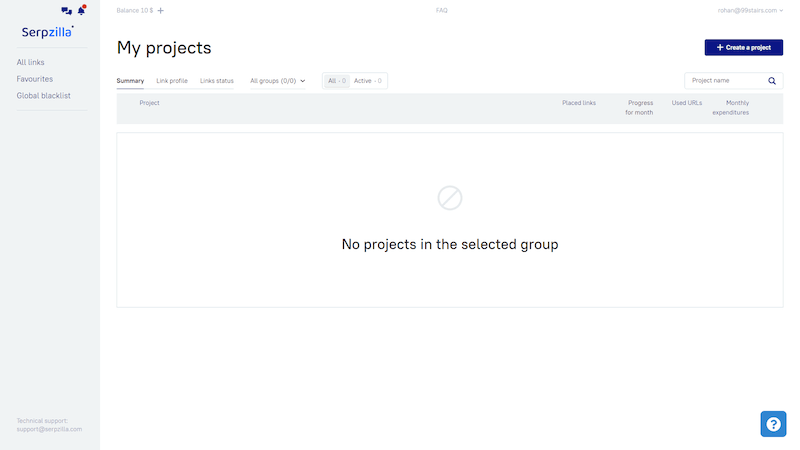 3. We have budget options for solopreneurs, affiliate bloggers, or agency employees — whoever you are. The wizard will take you through the process.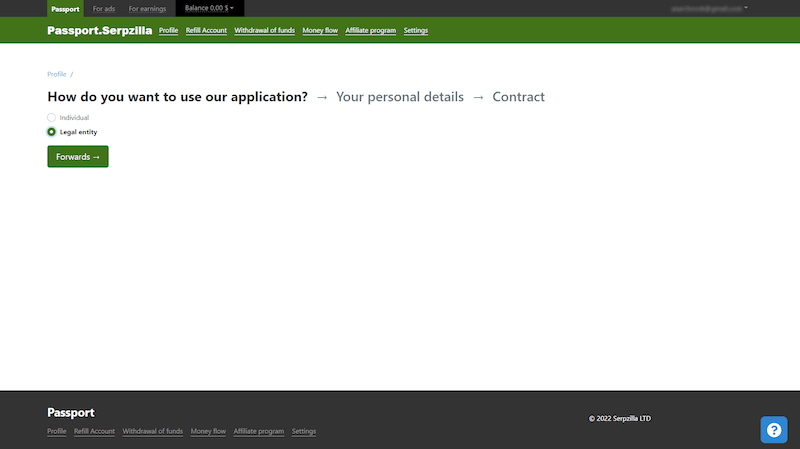 4. Once you top up your balance, create a project.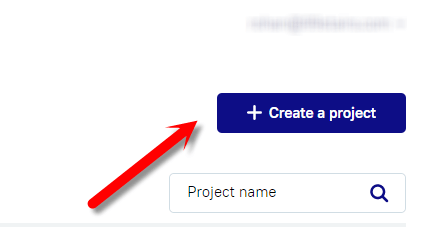 5. Now set your goals. Visibility, ranking, traffic, etc.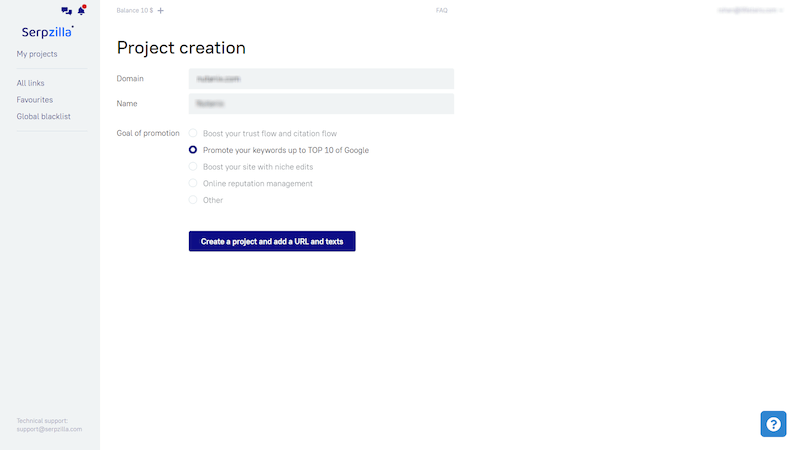 6. See the next screen asking you to add URLs and the associated anchor texts.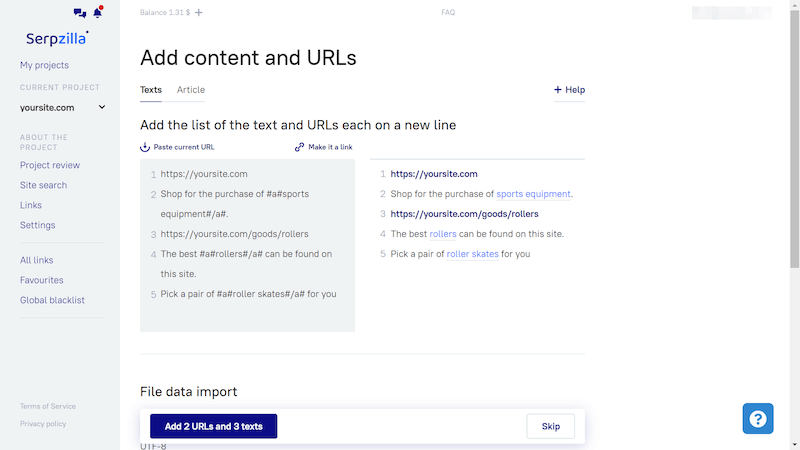 7. You'll then see a dashboard with the project and all the pages you added. Each URL has statistics provided — budget, keywords, content pieces and links.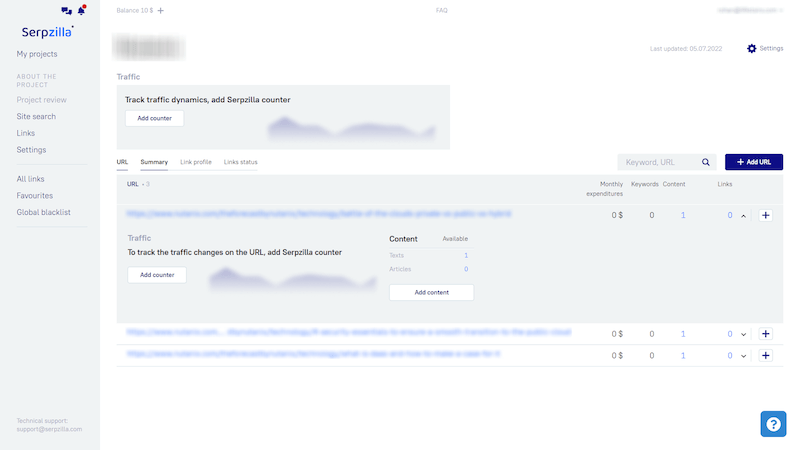 8. Click the link you'd like to work with. Serpzilla gets you a list of relevant websites. You can then rent links monthly or buy links. The list of websites for each option may differ. You choose whether a link is worth it based on authority metrics available via various tools like Ahrefs and Moz.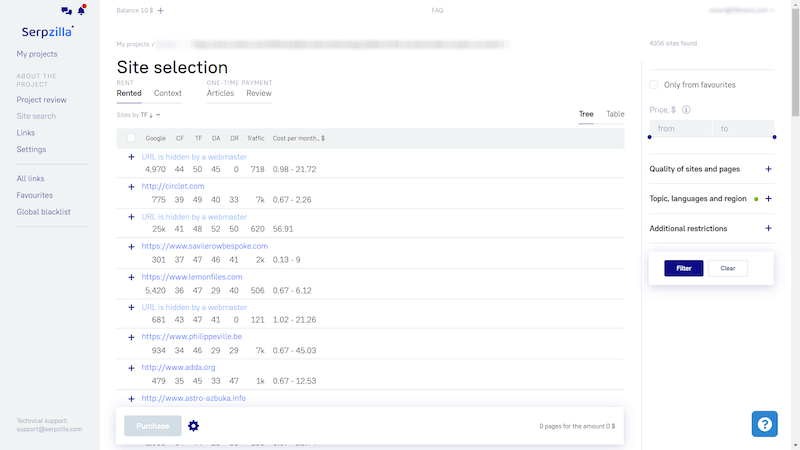 9. Now it's time for targeting. You can filter site parameters by quality, authority, relevant topics, top level domain, price range and other metrics.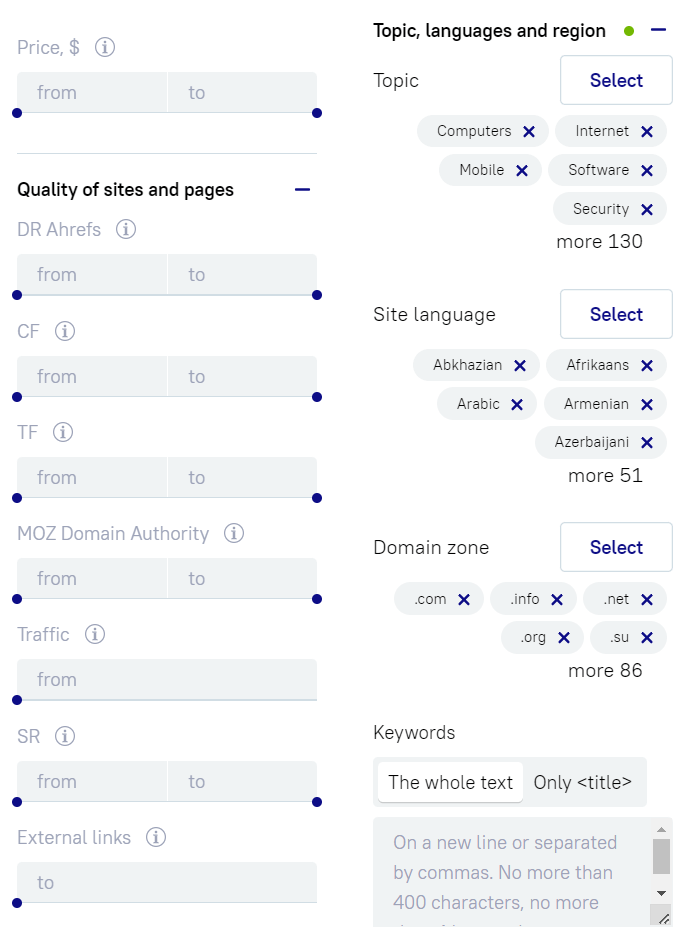 Once you've tweaked all the targeting settings as needed, Serpzilla will commence its link building.
Now let's look at the advantages of Serpzilla over conventional link building.
Link Building Automation
The explosion of martech has led to every facet of marketing being automated. Why should link building be left behind?
The paid link building is usually long and drawn out process:
Find relevant websites where you can get the link.
Reach out via email.
Negotiate the price and terms.
Make changes in content for better context.
Wait for the publication. Follow up regularly.
Meanwhile, you'll also have to:
6. Make payments.
7. Wait for Google to (re)index the content.
8. Monitor the site to see if the link is still present.
9. Manage all your links, websites, and clients, probably using spreadsheets.
Serpzilla can automate most of this.
Your link building work ends once you've pressed the "Buy" button. With Serpzilla over 90% of link building requests do not require any manual intervention. Serpzilla even tracks whether the site you chose retains its quality and metrics it originally had: Moz's Domain Authority (DA), Ahrefs' Domain Rating (DR) as well as Trust Flow and Citation Flow and Serpzilla's own Serpzilla Rank (SR).
Link Placement and Monitoring
Link monitoring is Serpzilla's built-in service designed to ensure rented and purchased links last. Serpzilla checks on your links four times a day. If Serpzilla can't reach your link, the link isn't paid for.
If over 5% of all links from a target website can't be reached, Serpzilla deactivates the website until the webmaster publishes the links. Otherwise, they won't be able to earn from sponsored links.