If you're an SEO professional, you somehow get the feeling that there is a great disconnect between what the client tells you their goals are, and what they really want the outcome to be, right?
This is true for all SEO campaigns, however small or big. The secret of SEO success and a long association with your client is managing expectations and delivering consistently.
How do you do that? This article explains that in two parts.
First, we'll look at the fundamentals that all SEO should stick to and how to interact with clients.
Then we'll see how to deliver SEO milestones in the real world and how Serpzilla can help SEO specialists implement their day-to-day tasks.
Let's dive in.
Educate Your Clients
The first priority for SEO specialists as well as SEO salespeople is to educate the client as much as possible. Many SEOs just assume that the client knows the technical terms in SEO as well as understand how it works. This is a grave mistake.
SEO is a constantly changing world – even people who have been in the industry for many years find it difficult to keep up with the changes. So, laypeople – even if they run a large organization, or even if they're very smart – can't be expected to know the ins and outs, components, processes and outcomes of SEO.
Yes, if the client already has an in-house SEO department, the chances are that your point of contact will know quite a bit – or at least the basics about the processes. In this case, your job is easier. But don't miss to educate them on your strategy and why you think it's better than alternative courses of action.
At the very least, you need to correctly explain
How search engines crawl and index websites
Ranking factors and algorithms
Why links are important and how links are the basis of the ranking algorithm
What constitutes high quality content
The need to match search intent
How artificial intelligence impacts SEO
How buyer behavior and marketing is changing
Create Realistic Milestones
Since clients don't understand SEO, they think it's just like any other field where you put in the efforts and see the outcome. This is not just possible in the SEO space. In fact, it takes many months before SEO gives visible results.
How do you deal with this problem?
If you have educated your client well, then the next step is to create a roadmap with realistic milestones. Tell them clearly what you'll achieve in 3 months, 6 months and one year, in terms of outcomes as well as business objectives. Say, you can reasonably expect to have 50 keywords in the top 20 results in 6 months' time.
Always remember that this roadmap and milestones should be actionable and achievable in the time that you allocate to them. Further, your point of contact at the client's place should be able to present your roadmap to their higher-ups or top management easily, clearly and convey the same message that you intend without any repercussions.
Interacting with Clients and Prospects
When you prepare your roadmap and discuss with your client, it's natural that they will ask questions. They will even compare you to other agencies they've used before or challenge your prices with "market rates."
You need to go to great lengths to make them trust you. On the whole, the SEO industry has a Net Promoter Score (NPS) of 0. This means clients are not likely to recommend their SEO agency or provider again. This is because the industry as a whole is doing little to gain and keep the trust of businesses that engage them.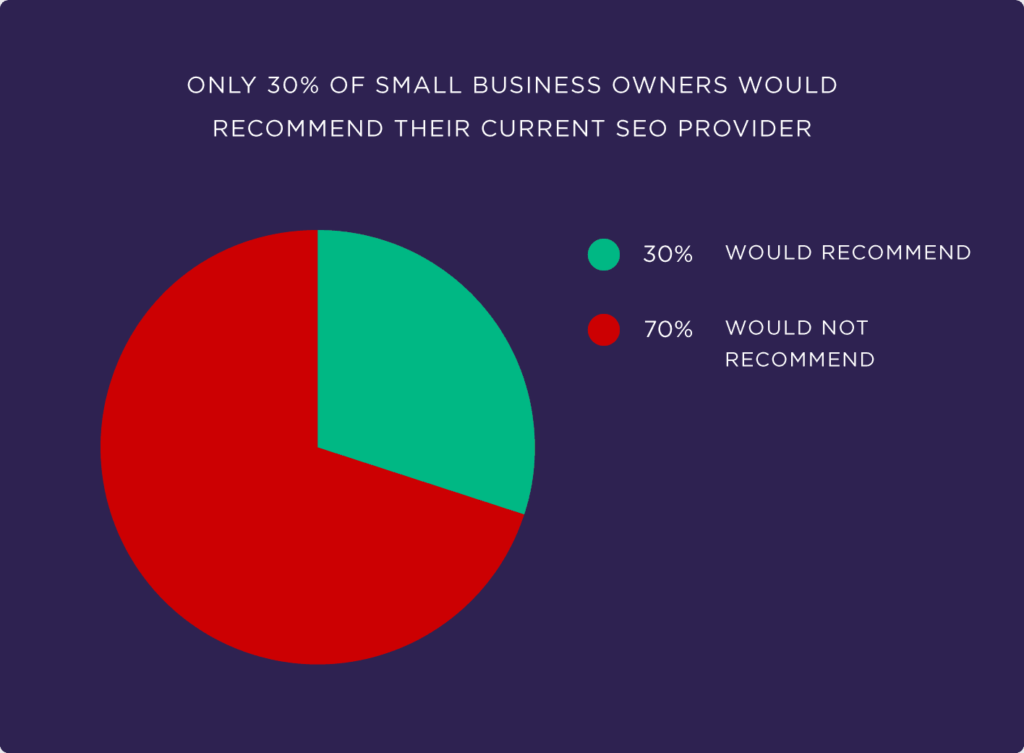 You need to provide verifiable case studies and examples from the same industry in order to prove beyond doubt that you're the right person for their business. If you're really confident of your work, don't hesitate to provide contact details of your previous clients so that potential clients can verify your work and expertise with them.
Also make clear to your potential customers what kind of reporting you will provide. Show them a sample of your report so that they know what to expect from the start.
Reporting
There are some clients who want to know everything you do and bug you for an update every two days. There are others who never bother with your daily activities or tasks as long as they're happy with the results you deliver.
Whether or not your client asks you for updates, do give them a detailed report at least once a month. This shows them that you've taken responsibility and accountability for progress.
The simplest but most effective SEO reports show three things:
The budget you used
The activities you did or the tasks you completed
KPIs and results
Results are the most important. How many links were built this month? How much did your rankings improve? How many leads did the company get? How many converted?
If SEO positively impacts the client's business objectives, that is the proof that it is working.
Give Your Client What They Want
From the very beginning, understand what your client wants and keep that in your sights. Clients in different niches want different things. But they all have certain business goals that are important to them. They are probably engaging your SEO services in order to achieve this goal.
Ask your client what they want. Rankings? Leads? Sales? Traffic? According to most surveys, the primary thing that most businesses want from SEO is more traffic to their website.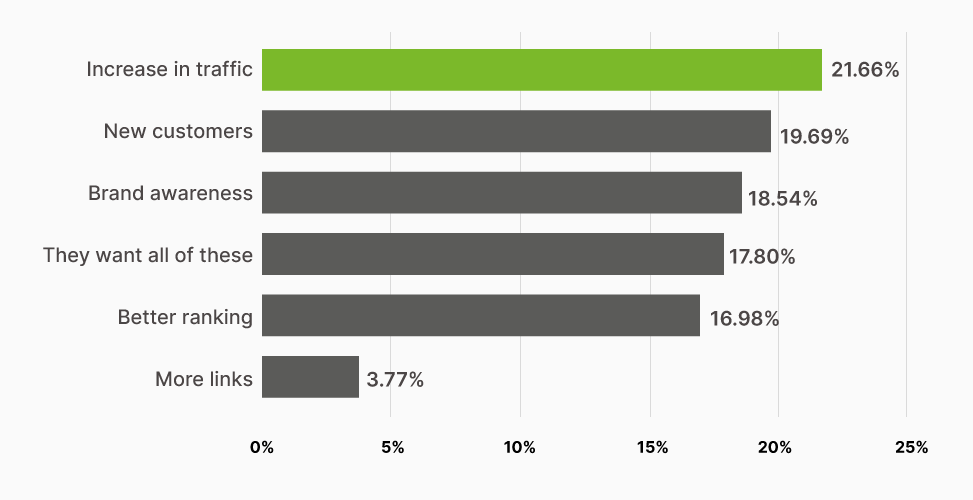 Again, be aware that these goals are subject to change based on various factors such as the nature of the business, how the industry and company itself is evolving, which stage of growth they are in, which department calls the shots, and so on.
How Serpzilla Can Help You Meet Your Client's Expectations and Goals
Here is where the second part of this article starts. We talked about various stuff such as educating the client, setting realistic goals, reporting, etc.
How do you actually do this? What tools do you need to do this?
Ideally, you would need an assortment of SEO tools such as Google Search Console, Google Analytics, Semrush and Ahrefs to build the big picture and show every facet of the SEO campaign to your clients.
But Serpzilla can be a critical part of your educating and reporting efforts by helping you share the crucial efforts that you put in towards their campaigns.
For example, during your weekly/monthly call or reporting session, you can quickly share your screen and walk your client through the status of their project. This will show them you're being transparent and reinforce the trust they place in you or your agency.
Show the client the specific project that you've created in Serpzilla. On the dashboard itself, they'll be able to see the budget you're spending for them as well as the URLs your targeting for link building.
You can decide how much in-depth to go, depending on the expertise and curiosity of the client.
If your client has multiple sites, you can sort them into different groups. You can also provide an update on the status of each link – whether it has been successfully placed, if it is in progress, or if it is in "sleep" mode (which means you want a link from the target site, but are waiting till you have enough budget). For the links that are already live, Serpzilla even shows you further details such as whether the page is indexed or not.
Finally, if you're a bit lazy like me Serpzilla offers a stealth "auto mode" for building links on autopilot. Auto mode is a smart algorithm built by Serpzilla. It starts out by asking you to specify your preferences and metrics for links. Then it scans all the links in the database and presents you with a list of sites that meet your requirements and are relevant to your target URLs.
You can take a quick look – or ask your client to accept or decline these links while walking them through this list. This way, they will feel more involved in your workflow and get a sense of worth for SEO activities as a whole.
Once you find that auto mode is consistently returning target URLs that you like, you can stop checking closely and trust it to build the best links for your client.
Full Steam Ahead
With a combination of education, trust and proof, you can build your reputation as a good SEO agency. More importantly, your clients will rest assured that they're getting what they're paying for. They will understand that good SEO is not cheap, but with a little patience, consistency and your help, they will surely get the ROI they are looking for!