In the world of online marketing, there's a powerful strategy that can help your business stand out: location-specific authority content. This is a way to make your website more visible on the Google, especially to people in your area. But what does it involve? Let's dive in and explore.
What Is Location-Specific Content?
Location-specific content is essentially content that is crafted with a particular geographical area in mind. The main goal is to produce content that will be useful for the people living in that specific area.
For instance, it could be a blog post detailing the top coffee spots in Delhi, a handy guide to the best hiking trails in France, or a news piece covering a local SEO event in Ahmedabad.
Using Local Keywords
46% of all Google searches are local (city, department, district, etc.). If you run a local business and want nearby customers to find you through search, you need a local SEO strategy to increase traffic as well as set yourself apart from your competition.
If you run a business in a particular area, you can use local keywords to help people find you. What are local keywords? For example, if you own a pizza place in Chicago, you might use keywords like "Chicago pizza," "pizza place Chicago" or "best deep dish in Chicago."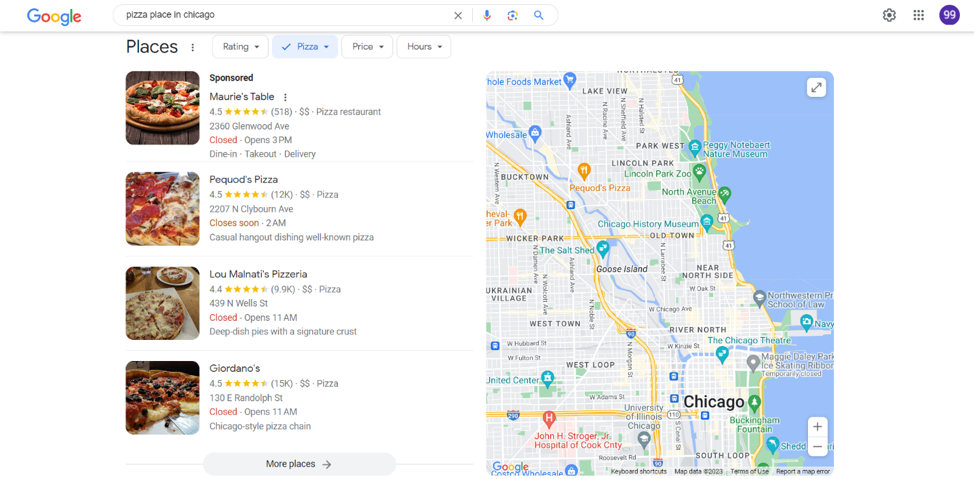 When people in Chicago search for pizza, these keywords can help your website show up in their search results. This is the power of local keywords – they connect your business with the people in your area who are looking for what you offer.
Building Local Links
Another important strategy is building local links. Imagine that other websites in your area are like your neighbors. When these neighbors link to your website, it's like they're telling everyone in the neighborhood that your website is worth visiting.
These links, known as local links, are a signal to search engines like Google that your website is valuable and relevant to people in your area. The more local links you have, the better your website can rank in search results. This can help more people in your area find your business.
Implementing Schema Markup
Schema markup is a bit of code you can add to your website content or pages to help search engines understand more about your business. For example, you can use it to share your location, hours, services, or FAQs to show in the people ask section.
Another example that's related more closely to your business or organizational operations: A dentist's office in Seattle might use the local business structured data markup to help search engines understand their location, hours, and services.
Search Intent
Search intent is the outcome that people have in mind – or the answer that they expect to receive – when they do a Google search. There are four main types of search intent: informational, navigational, transactional, and investigative.
SEO specialists adapt their content and keyword strategy to meet search intent. This not only helps improve the visibility of the website and attract relevant traffic, but also gets visitors to convert into customers. Let's briefly examine all four types of search intents:
Informational:
When a user searches for data or guidance, but does not necessarily intend to make a purchase, you can call it an informational search. The searcher is just looking to get knowledge. Optimizing your website and content for these queries can establish your business as an authority in your field.
Example: what is digital marketing
Navigational:
Navigational searches imply the intent to visit a specific place or web page. A significant part of these searches are directly related to local SEO as we shall see in more detail later.
Example: bbc website
Investigative:
These searches involve looking for instructions or guidelines to perform a specific action. You could consider them to be part of informational searches, but the answers are usually more actionable.
Example: how to change a flat tyre
Transactional:
Transactional or commercial searches represent a clear intent to make a purchase. If your local SEO is effective, your business will be the first choice when customers are ready to buy.
Example: buy 55 inch tv
Types of Local Searches
The different intents that we saw above are also classified as types of searches. Obviously, you'd expect the intent and the search to match.
When it comes to local searches, there are two main types: pure and mixed.
Pure local searches refer to queries that include a specific location and are certain to be resolved locally by the search engine (and show a local pack or Places SERP feature).
Example: marketing agency in dubai
Mixed searches refer to queries that include a specific location but the search engine may or may not resolve it locally.
When a user performs a search with a geographic term from a different location, Google uses different signals to resolve the user's intent and determine the best results to show. For example, if you live in Mumbai, but you're searching for "things to do in Sao Paulo" or "pizza places in Prague" then Google knows better than to show results that are geographically close.
Google will consider various factors like the language of the query, current regional and language settings of the user, the language of the web pages it returns, as well as other data such as the device's IP and search history.
Based on this information, it will try to provide relevant and personalized results for the user, taking into account both the search term and the relevant geographic location.
What Does a SERP Look Like for a Local Search?
The local search engine results page typically includes a directory unit first, followed by an ads unit, followed by the local pack (results from local businesses), and then local organic results.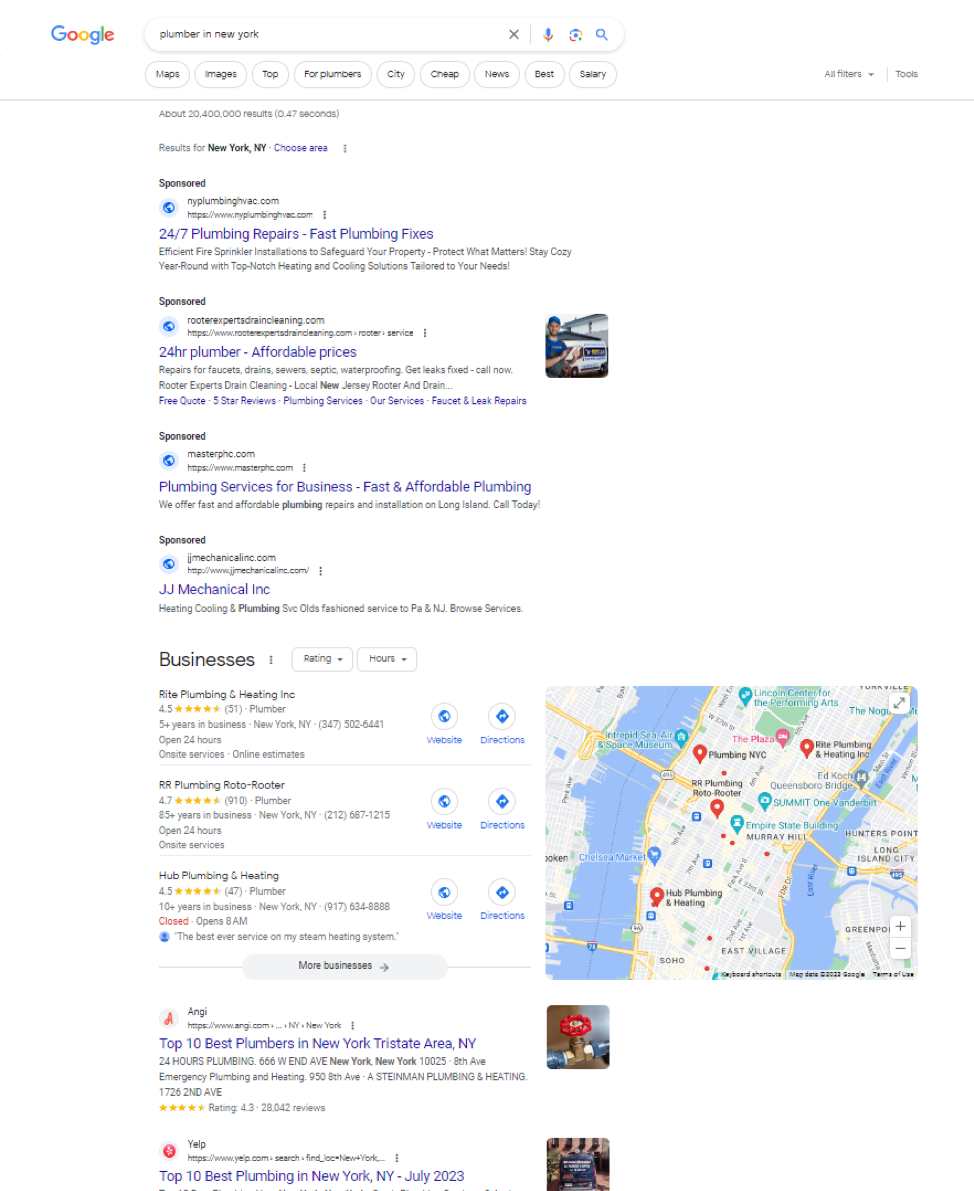 Factors That Influence a Local SEO Strategy
There are several key factors to consider when optimizing for local SEO and they are crucial to improving visibility on geographically relevant searches.
These factors focus on optimizing the presence of a business at the local level, allowing it to attract nearby customers. They include things like local directory presence, customer reviews, geo-keyword optimization, and consistency of contact information across different platforms.
Site authority: Authority refers to the online reputation of your website. You can increase it by building high-quality links, generating positive reviews, and creating relevant and useful content.
URL: It is important that the URL contain the name of the place for you to rank for the target keyword.
Business Location: The location of the search user plays an important role in local SEO.
Popularity: Popularity refers to the number of people who visit or search directly for your business. Customer reviews and mentions on social media also help increase your popularity.
Reviews: The number, quality (detailing), and frequency of reviews matters.
Links: The links and mentions you get from local listing sites as well as third-party sites in the same region make a huge difference.
Listings: Similar to organic results, relevance on Google Maps is determined by how much your business is mentioned by industry-relevant websites. Geo-located images, keywords, NAP, all matter here.
Closeness: The distance from the user's location to your business is important. And if you're located in the city center or where most businesses in your niche are located, that makes a huge difference. Make sure your location information is up to date to appear in proximity-based searches.
The Impact of AI on Local SEO
Artificial Intelligence is revolutionizing content and SEO. Local SEO is no exception. As we navigate the digital age, AI is becoming an increasingly important tool for businesses looking to optimize their online presence and reach local customers. In fact, over half of all marketing leaders say AI has significantly changed how customers interact with their businesses.
Over to You
In conclusion, location-specific authority content is a powerful tool for boosting your website's visibility on the internet. By using local keywords, building local links, engaging users, using Google My Business, encouraging reviews and ratings, building a host of local links, and using structured data and schema markup, you can help your website stand out and attract more customers.