Best practices to ensure that your business appears well on Google
Business owners are provided with a free platform where they can effectively promote their business. They get the option to add, manage and optimize their business with just a single platform known as Google Business Profile. So, If you are a business owner and want to promote your business through Google, making a business listing is the first step.

However, it will need constant optimization and management of the profile to achieve better search visibility of relevant keywords by the customers near your business.
Several advantages of claiming and optimizing your Google Business Profile:
Increased online visibility: Providing accurate and up-to-date information about the business will increase the chances of the business profile appearing in more Google search results, Google services and Google Maps. This in return will increase the business' online visibility.
Improved search engine rankings: Optimizing the Google Business Profile will lead to better search engine rankings which will help you get discovered by more potential customers.
Increased customer trust: Building trust in a business is crucial and that can be done by providing complete and accurate information about the business in the Google Business Profile. This helps potential customers with information about the business, its functions, working hours, etc for better decision making.
Free advertising: Since Google My Business is a free tool, the opportunities are endless and a lot can be done to promote your business without spending a huge chunk of money.
Customer engagement: Google My Business is more of an interactive tool where you can respond to customer reviews, post status and updates about your business and create special events and offers for more engaging customer experience and building a relationship.
What makes Google My Business so important?
With the schedules getting busier with each passing time, customers rely more on Google search results to locate business locally and globally. This has raised a need for a tool that can help it do better in more ways than just one.
Here comes Google My Business Tool – You as a business get the chance to create a dedicated business profile that should outshine those of your competitors to have a cutting edge over them. It helps you  make your business profile achieve higher ranks in search results and earn some accolades which positively impact your bottom line.
Using traditional business practices was something of the past and not using Google My Business (GMB) is one of those. These days, businesses have changed and knowing the game right, Google My Business comes in handy. Having a lacked sign board or unlisted phone number are akin to a business in the past but not anymore. Any business would like for the customers to know how to locate them and how to reach them to get more business.
Leveraging on GMB, as a business owner and customer, I believe there are two main reasons why any small/medium-sized businesses should optimize their GMB:
The visibility and discovery of the business increase when potential customers search for relevant business locally.
The process of locating and comprehending the business increases when customers can run specific searches and get suitable results.
Google My Business Vs Google Business Profile
Before proceeding further with the complete tutorial on setting up Google Business Profile, it is important to know that Google Business Profiles & Google My Business are two separate things.
Google My Business – A free tool/platform provided by Google that helps you to manage one or multiple business profiles with ease alongside various useful features.
Google Business Profile – A local listing that appears in the search results when potential customers search on mobile as well as desktop websites and also in Google Maps. It comes with relevant business information needed by customers.
Step By Step Guide To Your Optimize Google Business Profile
Creating Your Google Business Profile
As a new business, the very first activity is to claim a Google Business Profile for the business through Google My Business. Sign in to your Google Account, and manage/add new business from right here.
For already added businesses, the information will already be available that was filled previously.
So, when you sign in to Google My Business, either your existing Google Business Profile will appear OR you will get an option to add a new business profile.
So, when you opt for 'Add A Business Profile' – the very first thing they will ask is to check if the business profile already exists with that name, if yes, then you can claim the listing and make changes accordingly and if not, then create the listing from start.
So, adding your business to Google will be our very first step to boost our local presence.
So, now Add Your Business To Google: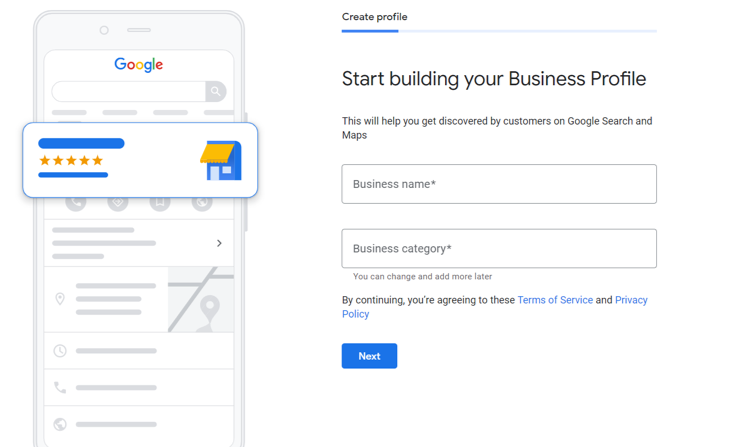 Business Name – Do you know your business name on the Google Business Profile should be the actual name of your business and not the "optimized" keywords version of the name.
In the guidelines to represent your business on Google, it has specifically mentioned that –
Represent your business name accurately. This will be of major help for your customers to effectively recognise or find your business. The business name should be something that reflects the real-world name of your business. Something that is used consistently on your website, shopfront, stationeries or merchandise or well-known to your customers. Only include information to your business name that is necessary.
Setting Business Category
Selecting appropriate categories aids customers in discovering precise, targeted results for services that interest them. Choosing categories that are both precise and representative of your main business is the game changer.
Some of the business categories are straightforward, and on the other hand, it isn't easy to choose the main category. Let us see this by example:
If you are a dentist, then the main category will be dentist / dental clinic.
If your business serves food, then your main category will be restaurant!
Quite easy, isn't it?
Now, let's say you are a lawyer, then you might have different categories to choose from:
– Lawyer
– Divorce Lawyer
– Criminal Lawyer
– Family Lawyer
– Legal Services
– Law Firm
If you are a lawyer dealing with just the divorce cases, then it is better to choose 'Divorce lawyer' and not the generic 'Lawyer' category. Google advises to be more specific in the selection of the business category while creating business profiles.
On the other hand, if you are a law firm who deals with a variety of legal services, then the best option here would be – 'Law firm', 'Lawyer' or 'Legal Services'.
So the major difference here is the kind of services provided – specific or all inclusive. You can use Google's SERP to check out the related searches and businesses listed in those categories.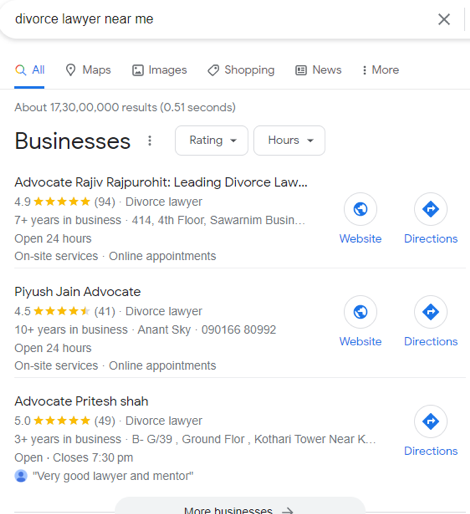 If you are unable to locate a category that suits your business, go with a more general one. Google can also identify category information from your website and from references to your business across the web.
Expert tip: Investing some time in setting up the categories for a Google My Business listing is highly beneficial, as they determine the keywords for which the listing will appear. This involves conducting research on the categories used by competitors and performing an audit of the Google My Business listing.
Selecting Business Type
Google categorizes businesses into three main types:
Service-area businesses, which deliver or visit their customers and clients but don't serve them from their business address. Examples include – electricians, handyman, plumbers, janitorial services, and home chefs.
Storefront businesses, solely serve customers and clients at their business location. This category includes businesses such as salons, retail stores, laptop repair shops, grocery stores etc.
Hybrid businesses, that serve customers and clients both at their business address and by visiting or delivering to them.
Let's say – a restaurant – it can provide both dine in and online delivery services. So the business owner has to decide its type: if the restaurant just provides a dine-in option, then the business type selection will be – storefront business and if it offers just the delivery option, then the selection will be – service area. But if the restaurant offers both the options, then the business type will be considered as a hybrid business.
Do you know in service area based businesses, where the address is mentioned in the service area; it can influence where the listings are shown. Due to the fact that proximity is considered as a ranking factor, areas beyond a distance of 15-20 miles from the verified address are unlikely to provide significant advantages.

* Infographics showcasing the business type of particular business: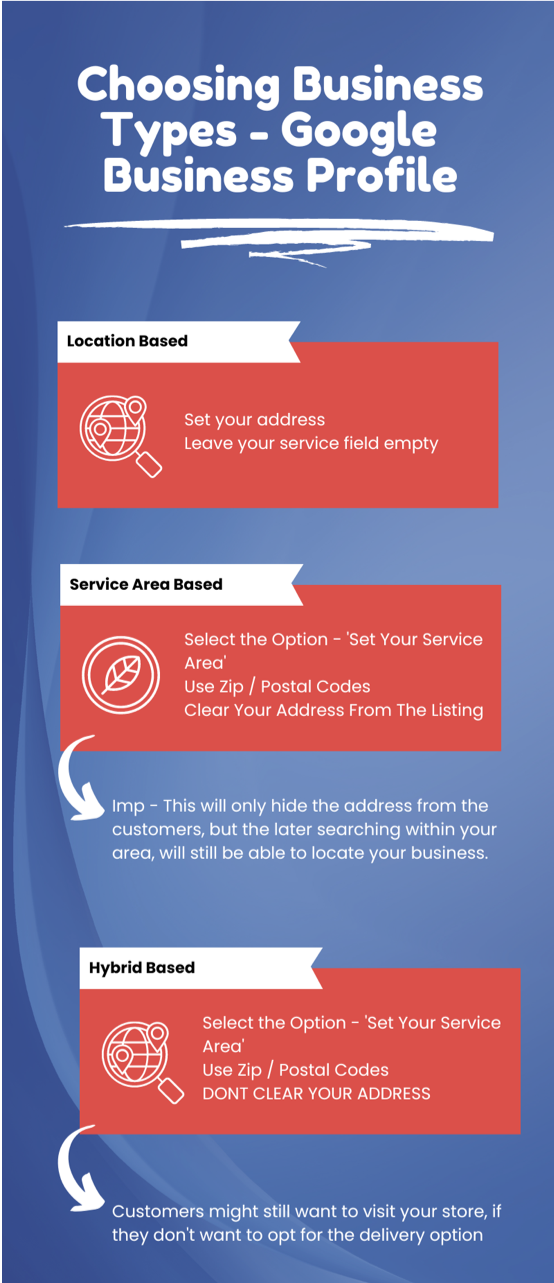 Adding Business Hours
It is crucial to keep your customers in the loop about when you are available and when you are not, which is why it is highly recommended that you add your business hours to your profile. Surprisingly, many Business Profiles lack this vital piece of information.
Be sure to include your standard operating hours for when you are open to the public. During certain times of the year, such as the holiday season, you can use your current seasonal hours as your regular hours.
Additionally, you have the option to provide special hours for specific days, such as holidays or other special occasions.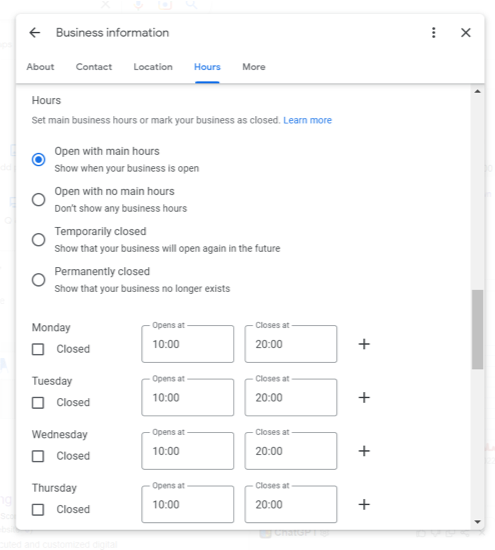 You can always add main hours to show when your business is open, and you can select the time on different days – weekdays and if time varies on weekends *or closed. If you close and then reopen later in the day, then there is an option to 'add hours' to another row.

Save your customers from the hassle of making a trip to your business only to find out that you are closed for a public holiday. Not only is it inconvenient for them, but it can also lead to negative feedback that might hurt your local rankings.
You can do that by adding 'special hours' to your business profile.
Go to the dashboard, and add 'holiday hours'I would say if your holiday hours are still the same as regular operational hours, it is always recommended to review the holiday opening hours and make necessary amendments.


Failure to provide your business hours, particularly on public holidays, could result in potential customers seeing a warning on your listing. Don't risk losing business simply because you neglected to update your profile with your holiday hours.
Filling Out Complete Contact Details
To ensure customers can reach your business easily, be sure to include a phone number that leads directly to your specific location or a website that represents your individual business location. This helps customers avoid any confusion or frustration when trying to contact or locate your business.
Google says – 'it's best to use a local phone number for your business instead of a generic call center helpline number'.
This helps customers feel like they're directly connecting with your business and can improve their overall experience. Plus, a local phone number can enhance your local search engine optimization (SEO) efforts and increase your visibility in local search results.
Add – contact number, website, and business description
Watch Out – You will be required to verify your listing. You will get verification code from Google on your postal address mentioned, which later needs to be fed in the profile.
Adding Products/Services
As a retail business owner, you can showcase your in-store products to nearby shoppers by adding them to your Business Profile – and the best part? It will not cost you a thing! This is an excellent way to attract potential customers and give them a sneak peek of what they can expect when they visit your store. So, do not hesitate to take advantage of this free feature to boost your visibility and attract more foot fall.
All the products submitted to Google Business Profile must adhere to Google's Guidelines.

When adding your products and services to your Business Profile, ensure that you provide all relevant details, such as the name, category, price, description, and a link to the corresponding page on your website.
To expedite the process, you can import the content and details from your website. This is completely acceptable and will not result in any duplicate content issues.
By providing as much information as possible, you can give potential customers a better understanding of what you are offering and encouraging them to visit your store.
Advice: If you are not completely sure about what keywords are to be targeted, then try to do competitor analysis and identify what kind of keywords they are using, and use that particular information to create your own strategy.
Adding Photos
Adding category-specific pictures can improve your online presence and help attract more customers. When customers search for businesses on Google, they often look for pictures to get a sense of what the business looks like and what products or services they offer. By adding pictures that showcase your business's unique features, you can help customers make informed decisions and stand out from your competitors.
To add category-specific pictures to your Google My Business listing, you can follow these steps:
Click on the "Photos" tab in the menu on the left-hand side.
Choose the category you want to add photos for (e.g., "Exterior," "Interior," "Products").
Click the "Add Photos" button.
Select the photos you want to add from your computer or phone.
Click "Upload" to add the photos to your listing.
Make sure to choose high-quality images that accurately represent your business and its offerings.
Make sure to choose high-quality photos that accurately represent your business and its offerings.

Google values businesses that consistently publish new content, and adding photos is an easy and effective way to achieve this.
To ensure that your business is getting the most out of your Google My Business listing, be sure to regularly add new photos that showcase your products, services, and unique features.
By doing so, you can improve your online presence and increase your chances of appearing among the top search results on both Google and Google Maps which attracts more customers to your business.
Posting Updates
Google My Business offers a great feature that allows businesses to share updates, offers, and events with their customers through posts. These posts function like status updates and appear in a carousel near the bottom of your Google Business panel.
Using posts is a great way to keep your customers informed about what is happening with your business. Whether you want to promote a sale or share news about an upcoming event, posts are a quick and easy way to get the word out.
Plus, because they appear in a prominent location on your Google My Business listing, posts can help attract more attention to your business and encourage customers to engage with your brand.
Go to the dashboard,
You can choose the type of post you want to create (e.g., event, offer, product), add images and text, and set an expiration date if desired.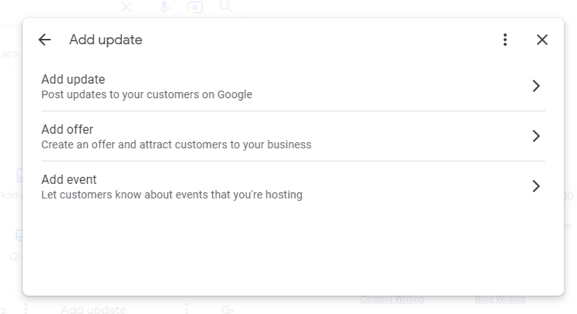 Once your post is published, it will be visible to customers who visit your Google My Business listing.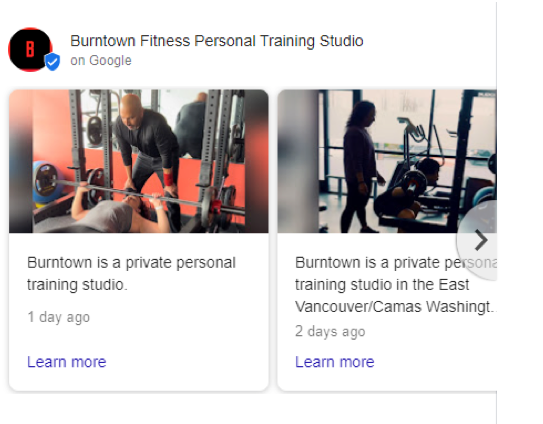 Some of the tips, I would like to share that you can keep in mind while posting updates on Google Business Profile:

Keep it concise:  When creating a post, aim to keep it sweet and crisp. Avoid using long paragraphs and instead focus on getting your message across clearly and concisely.
Use high-quality images:  Using high-quality images can make a big difference in how your post is perceived by potential customers. Try to use images that are clear, and well-lit, and show off your products or services in the best possible light.
Be consistent: Regularly adding updates to your Google My Business profile can help keep your customers engaged and informed. Try to create a posting schedule that works for you and stick to it as much as possible.
Include a call-to-action: Encourage customers to engage with your business by including a call-to-action in your posts. This could be as simple as asking them to visit your website or stop by your store.
Target your audience:  When creating a post, consider who your target audience is and what type of content they would be interested in seeing. This can help you create posts that are more relevant and engaging to your customers.
Monitor engagement:  Keep an eye on how your posts are performing by monitoring engagement metrics like views and clicks. This can help you understand what types of content your customers are mostly interested in and adjust your posting strategy accordingly.
Pro Tip – Creating Offers can effectively promote new or existing services and serve as a remarkable idea for a company post, resulting in more traction for the business. Moreover, offers can prove to be advantageous for search engine optimization as they prompt customer action, resulting in increased clicks, calls, and valuable conversions that may not have been possible otherwise.
Getting Reviews
Having reviews on your Google My Business profile can be a powerful tool for attracting and retaining customers, improving your online reputation, and growing your business over time.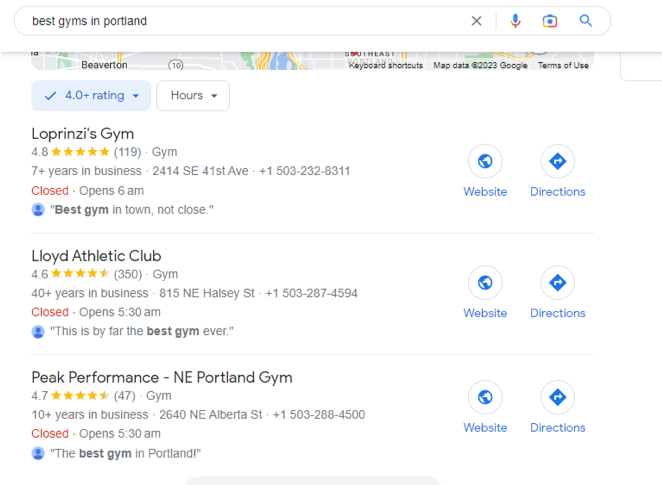 It is worth noting that Google also emphasizes reviews that contain relevant keywords from a user's search query. This means that if a customer searches for a specific product or service and sees reviews that mentions those keywords, they are more likely to click on and engage with those reviews.
Having reviews that contain relevant keywords can also help your business appear above in search results for those specific queries. This is because Google's algorithm considers the relevance of the reviews to the user's search query when ranking search results.
Some quick tips to keep in mind on getting more reviews to help your business grow:
Ask your customers: The easiest way to get more reviews is to simply ask your customers to leave one. You can do this in person, through email or social media, or by adding a call-to-action on your website or receipts.
Making it easy: Leaving reviews should be made easier for the customers as much as possible. Please provide them with a direct link to your Google My Business profile, or add a review widget to your website that makes the process straightforward.
Follow up: If a customer has agreed to leave a review, follow up with them to ensure that they do. Send them a friendly reminder or thank-you message to show your appreciation and encourage them to follow through.
Responding to reviews: Responding to reviews has a great impact. Reviews, both positive and negative, should be responded to properly. This will help customers to know that their feedback is valued and as a business, you are dedicated to providing excellent service and meet the bar.
This can encourage more customers to leave reviews and build trust with potential customers who read them.
Expert Advice – It is important to note that offering incentives to customers in exchange for reviews is not allowed by Google's terms of service. Thus, businesses should avoid using such tactics like offering discounts or freebies to customers for leaving reviews.
Setting Up Messages
By enabling messaging on your Google Business listing, you can provide an additional avenue for potential customers to reach out to you. This feature adds a messaging button to your Google Business profile, allowing searchers to send you direct messages and inquiries about your products or services.
Messages can also help you build stronger relationships with your customers and address any issues or questions they may have.
To enable messaging on your Google Business listing:
simply go to your Google My Business dashboard navigate to the "Messaging" tab.
From there, you can set up messaging and choose how you want to receive and respond to messages from customers.
Responding quickly to messages can help build trust and increase customer satisfaction, while slow or unresponsive messaging can have the opposite effect.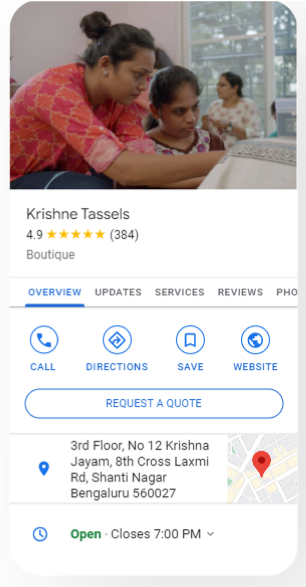 Conclusion
It is important to review your profile periodically to ensure that all information is accurate and up-to-date. Monitoring the profile every few months should be great to start with, not to forget posting timely updates on the profile.
The purpose of a Google Business Profile is to provide potential customers with accurate and useful information about a business when they search for it on Google. This means that your profile is most effective when searchers are looking for businesses, products, and services in their local area.
By understanding the limitations and strengths of your Google Business Profile, you can optimize it effectively and ensure that it complements your broader SEO strategy.
Managing your GMB account requires ongoing efforts and cannot be just done once and leave it aside. Dedicate some time each week to respond to feedback, upload new images, confirm accurate business hours, and share updates with your audience.
By expanding your knowledge and refining your optimization strategies, your online presence will be more prominent and attract a larger pool of potential customers who will be more inclined to choose your services.