Content and links are the two pillars of SEO. While we have covered a lot of link building tactics and strategies you can follow in 2023, you need to back it up with great content on your site.
We are going to do exactly that in this article, but mind you – this is not just a regurgitation of the same old tips under the heading of 2023, but actual content marketing strategies that we use here at Serpzilla as well as those recommended by experts in our community.
Let's dive in.
Leverage ChatGPT
Obviously, this is the biggest development. Towards the end of 2022, ChatGPT took the world of SEO and content by storm. But we suspect it is only the first in a long line of AI-enabled tools for copywriting and engagement.
For those of you who don't know, ChatGPT is a conversational tool. The implication is that you can ask it any question and it will not only give an answer, but also carry out certain tasks for you when prompted correctly.
For example, if you ask it to "write an article on the top content marketing tips" it will do exactly that. Well, my suggestion is that you shouldn't use ChatGPT to write an article because nobody knows for sure how Google will consider or react to this content – it could penalize or devalue your site as a whole.
What I do recommend is to use ChatGPT for on-page optimization, meta data, conversion-related copy and content structure. If you're a marketplace or retailer, for example, you could use it with great effect to finalize the structure and sections of your blog posts. Here's a query showing how ChatGPT can write subheadings for your topic: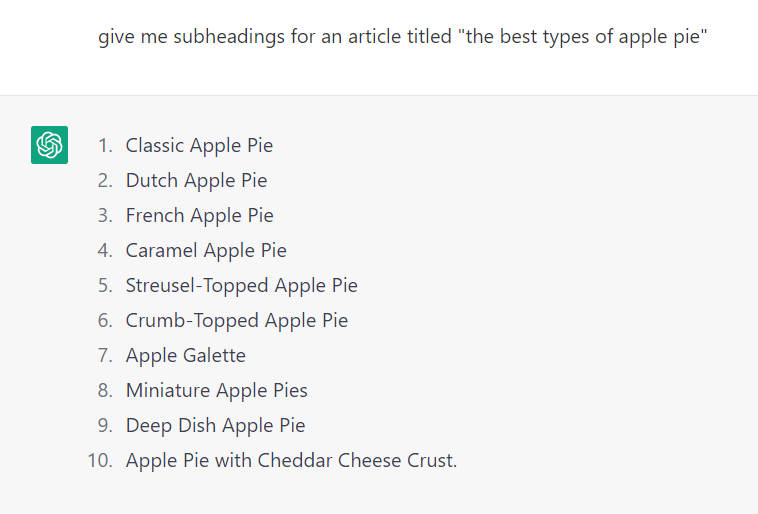 You can also use ChatGPT for
Generating snippets of content that you can reword and use within each section.
Changing the tone of these content pieces to suit your brand.
Writing meta descriptions for your posts.
There are a host of other tips on using ChatGPT for content marketing which Jaydip Parikh described in this post.
Look at the SERPs to optimize your content
Have you ever wondered how Google assesses the quality of your content? How does it know whether an article you've written or a blog post you've published is an exceptional (or mediocre) piece of content on that topic?
Google has a "seed set" of highly authoritative sites that it trusts to provide accurate and useful information on the topic. More often than not, these are the ones it is already ranking for the keyword.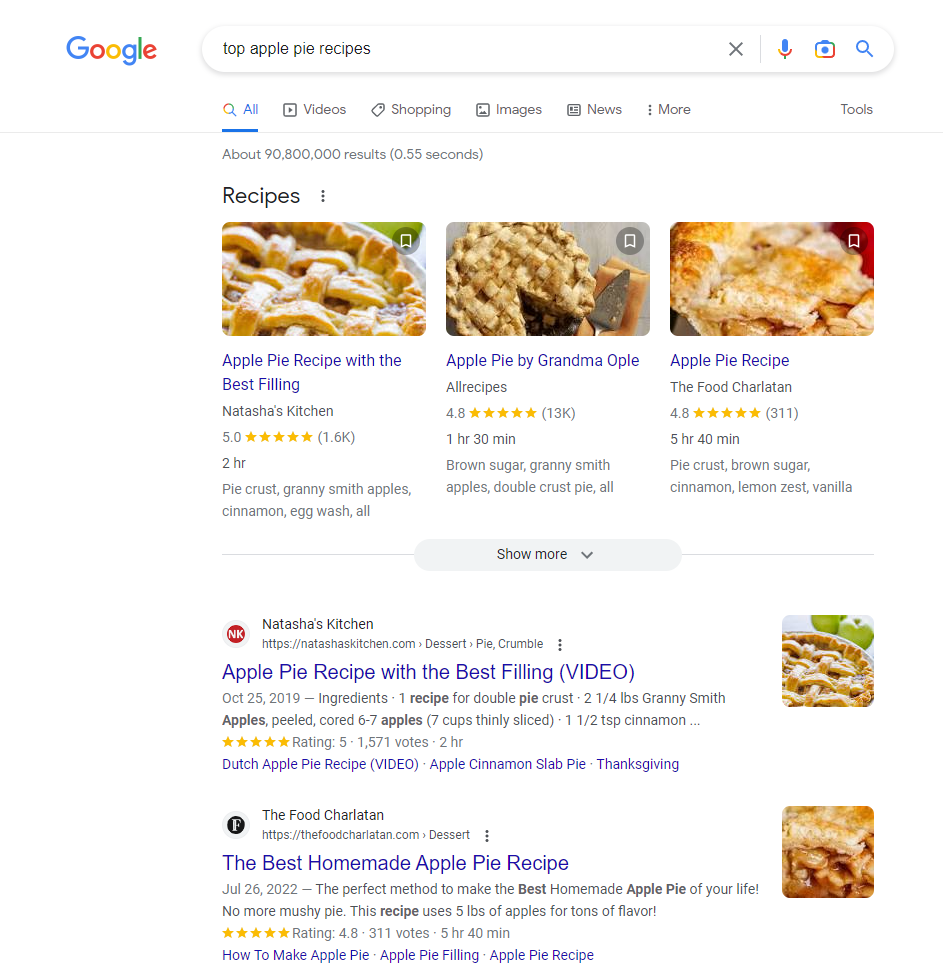 You can manually type out the query in Google and go through these articles one by one to better understand what it is that Google likes about them. Pay attention to:
How are they displayed in the SERPs – normally or with a rich snippet or sitelinks?
How many words is the average length?
What pictures or videos do they include?
How are their meta descriptions, alt tags and structured data written?
Which pages do they link out to and with what anchor text?
Which sites are linking to them and with what anchor text?
Armed with all this information, you can go back to your article and optimize it accordingly. Remember, you need to make your post significantly better than all these articles to have a realistic chance of outranking them.
Build topical authority
Suppose the article you just wrote was the first one on your blog. You did everything right, you did your basic research, you looked up your competitors' content and links, you went back and optimized your post (leveraging ChatGPT in the process) – and yet you fail to move the needle. Your post isn't getting the impressions or clicks you expected it to. Why?
The answer is simple: topical authority.
The sites you're looking at – that are hogging the top of the SERPs for your keywords – likely have a ton of articles on the same subject. And on every topic and subtopic related to it. Continuing with our apple pie example, the top sites will probably have articles on pies, plums, fruits, salads, cakes and other related stuff – all written over the past few years.
The lesson for you is that consistency always wins in content marketing. When you reach a critical mass of articles on a given topic, you will start to see spikes in the visibility and rankings of these articles. This is a sign that Google has begun to trust your content.
You need to start by doing your keyword research, defining your content themes, choosing topics and subtopics, and then creating a content calendar for your blog.
Brainstorm with your team on how to create these topic ideas, prioritize them, categorize them, and spread them out over the next 12 months. You can also get ChatGPT to help you of course.
Finally, don't forget to build links to your best pieces of content.
Use tools to help you build high quality links
Links are the currency of trust in Google's ranking algorithm. You're probably already using Ahrefs, Semrush and Google Search Console to monitor your backlink profile and track your visibility in the SERPs.
Here, I'd unabashedly recommend Serpzilla – the world's favorite marketplace to buy links within your budget and at a pace you are comfortable with. Not to mention the varied types of links you can build: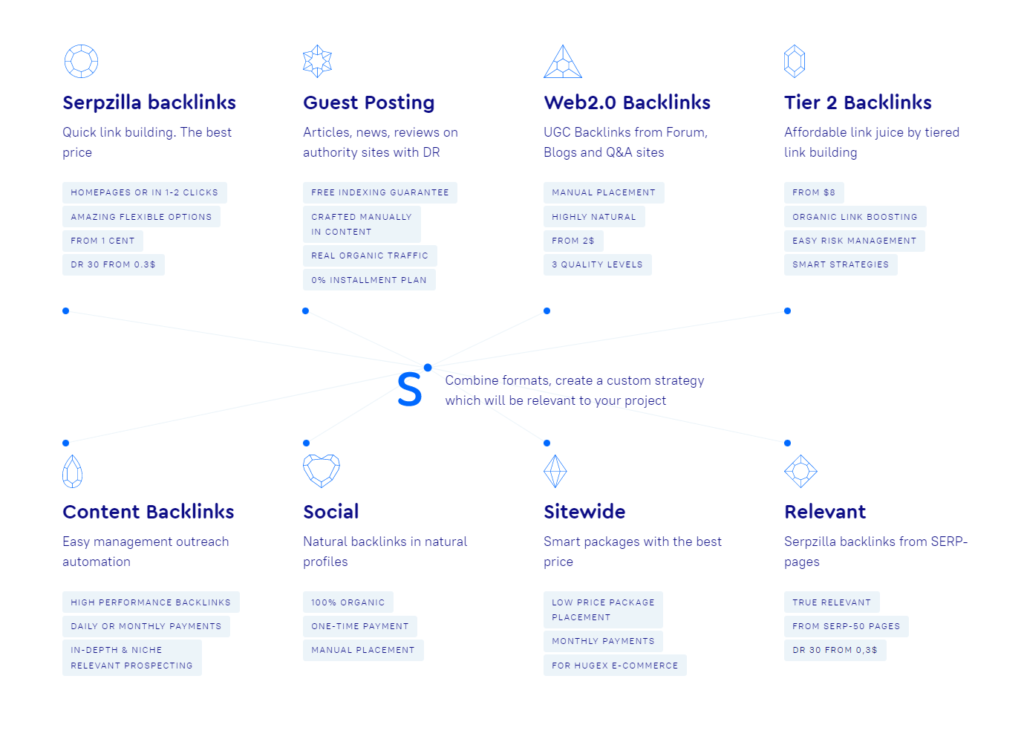 Again, if you're just starting out, matching your entrenched competitors' backlink profile would seem like a mountain impossible to surmount.
Here's where Serpzilla can help you out. You'll be surprised at the number of good links you can buy for as little as $1. Not only that, if you like a very high quality site but don't have the requisite budget, you have the option of renting a link from them. In essence, if you need a thousand backlinks to match up to the Goliaths in your industry, you can get them for a couple of thousand dollars.
Link building with Serpzilla not only saves you a lot of money but also a lot of time. Link building is an arduous process – you reach out to webmasters, request (or plead) them for links, give them content, keep following up with them to make the link live, send payment via a method of their choice, check back regularly to see if they haven't removed your link, and so on.
Serpzilla makes short work of this process by automating each of these steps. You can scale your link building like crazy with us.
Over to You
What are your tips for content marketing in 2023? How are you dealing with the explosion of AI-generated content? How will you differentiate your content from your competitors? What kind of links are working for you? Let's discuss in the comments!