There's an opinion circulating that the best backlinks are backlinks you deploy on homepages, since it's these pages that provide more link juice and authority. It all drives the narrative across the community that you should try and work exclusively with homepages. Should you, though, and are homepages really the go-to best choice for backlink placement? That's what we are going to talk about in this article and it turns out figuring out what's real is not that complicated after all.
There are two distinct aspects we have to consider as we approach the topic: where our backlinks refer to and where our backlinks can be deployed. So it all boils down to nesting levels on both sides – the target page and the referring page.
1. Where should backlinks refer to?
Let's first take a quick look at how the PageRank algorithm works: how does Link Juice get passed via backlinks. When a backlink is deployed on a referring page, it passes some of that page's value (link juice) on to a target page on your website. This link juice is then either fully added to the value of your target page, or passed on further and equally distributed among other pages via the links that sit on the target page. The more links on the target page, the less noticeable the effect of backlinks will be for such a page. All because the link juice will be dissipated.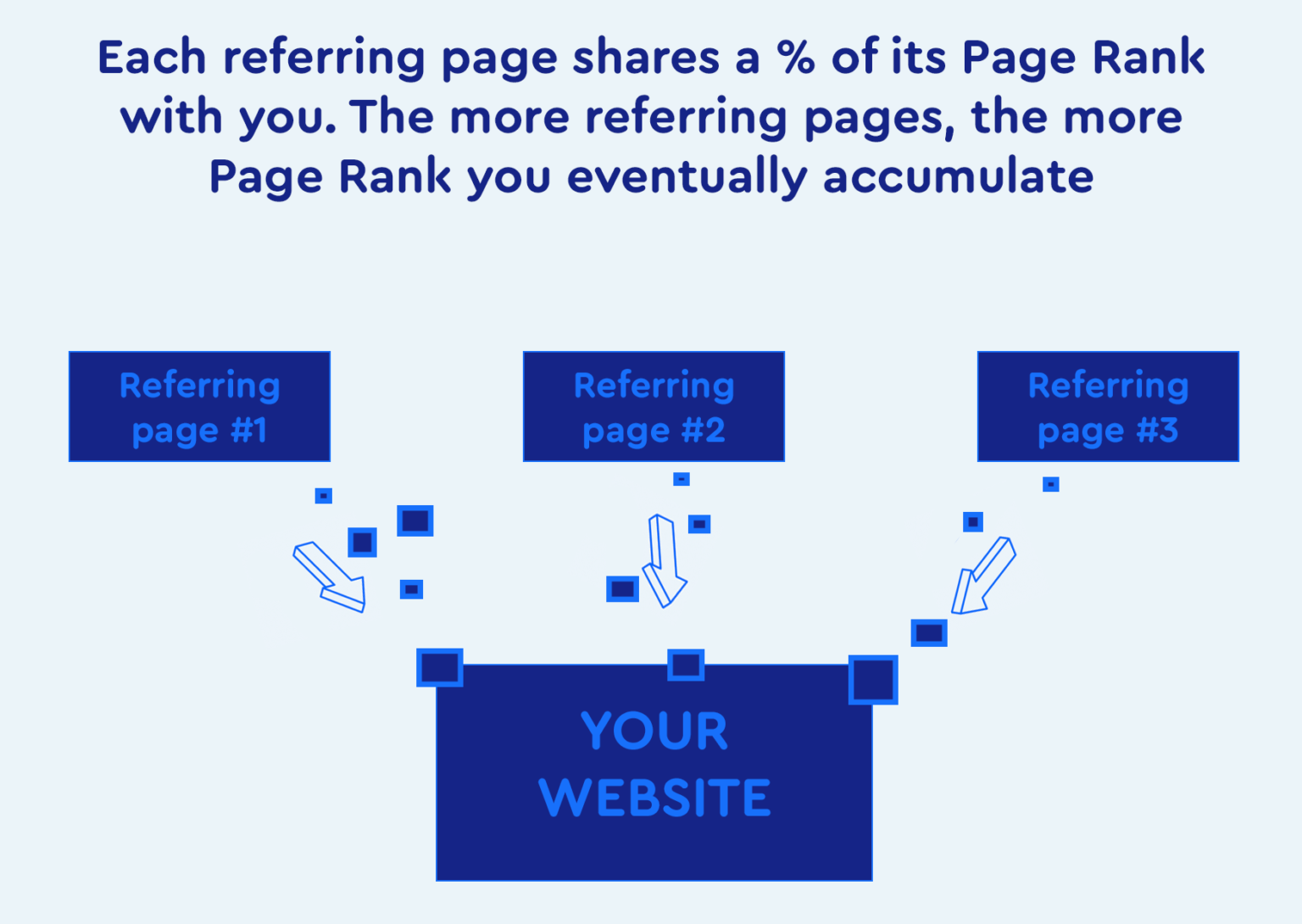 As we develop our backlink profile, it is important to take into account two things: how PageRank works and the link content of individual pages, especially those that are important for us to bring to the top of the SERP. Therefore, what's most important for us is to see that we keep as much link juice as possible on the page we target. That's where the perspective starts to change, as you realize it. The nesting level of the target page is somewhat secondary in the grand scheme of things.
To understand which pages to direct LinkJuice to, it is important to understand that everything works based on user intent. You can't make a website with just a homepage and pour all the LinkJuice there through all user queries.
So, how to figure out your target pages? First of all, collect a proper semantic core, then cluster it, and after that assign a page for each cluster. NOTE: avoid splitting the semantic core into too many categories and focus on user intent first.
Here is a brief example of user-intent oriented approach and how deviating from it might hurt you:
Here's how you do bad. Imagine a user who wants to buy a kitchen sink. The website owner is expected to make a landing page for this query. But instead the owner goes a tad too far in clustering the semantic core and creates individual landing pages for each manufacturer's brand. Google will regard this as manipulation: after all, you could implement the same thing using a brand filter on one page. There is one intent, but there are many pages. Search engines may decide not to include such pages in indexing.
Here's how you do good. Airline companies serve as a good example here. Their tactic is to create separate landing pages for specific flight destinations. Each flight destination refers to its own query cluster. By flight destination airline companies mean both the points of departure and arrival, which makes sense since these are what users look for most often. E.g.: "plane tickets New York – Austin". Therefore, it makes no sense to split your semantic core by groups of destination/departure cities only.
What's the general conclusion? Target intent, keep the pages relevant!
How can you work with page relevance?
Whenever we talk about homepages or internal pages on the websites, it is important to follow the principle of relevance. How can we signal the search engine that the pages are relevant? The easiest we can do is add key phrases to the text on the target page.
However, there is a limitation. We cannot overdo it and add too many key phrases. In this case, the search engine may consider it as spam. At a bare minimum, such a page may be denied indexing, and in the worst case scenario, the entire website may be penalized by Google for manipulative practices.
Therefore, the best way is to increase relevance by publishing backlinks with anchor texts relevant to your target page (of course, the referring pages must be also relevant). You can do this at scale, but not to infinity. Be careful, since once you go far beyond the limits of your competitors' metrics, there will be a considerable probability of getting penalized.
If your competitors have bought an average of 100 backlinks, buying thousands of backlinks is a bad idea. Keep a balance.
2. Let's figure out nesting levels on Referring Domains
The main thing to understand is that it is important for us to get the largest number of Link Juice from the referring domain, whether it is just one or several of its pages. The best strategy for getting the maximum Link Juice, logically, is to publish backlinks on homepages of referring domains. That, however, is a negligent approach to choosing a referring page. Internal pages on referring domains can also be of high quality if they have high link weight/high traffic and yield high results for the promotion of your target page.
If you have your doubts, you can easily check all of this using analytics tools like Ahrefs: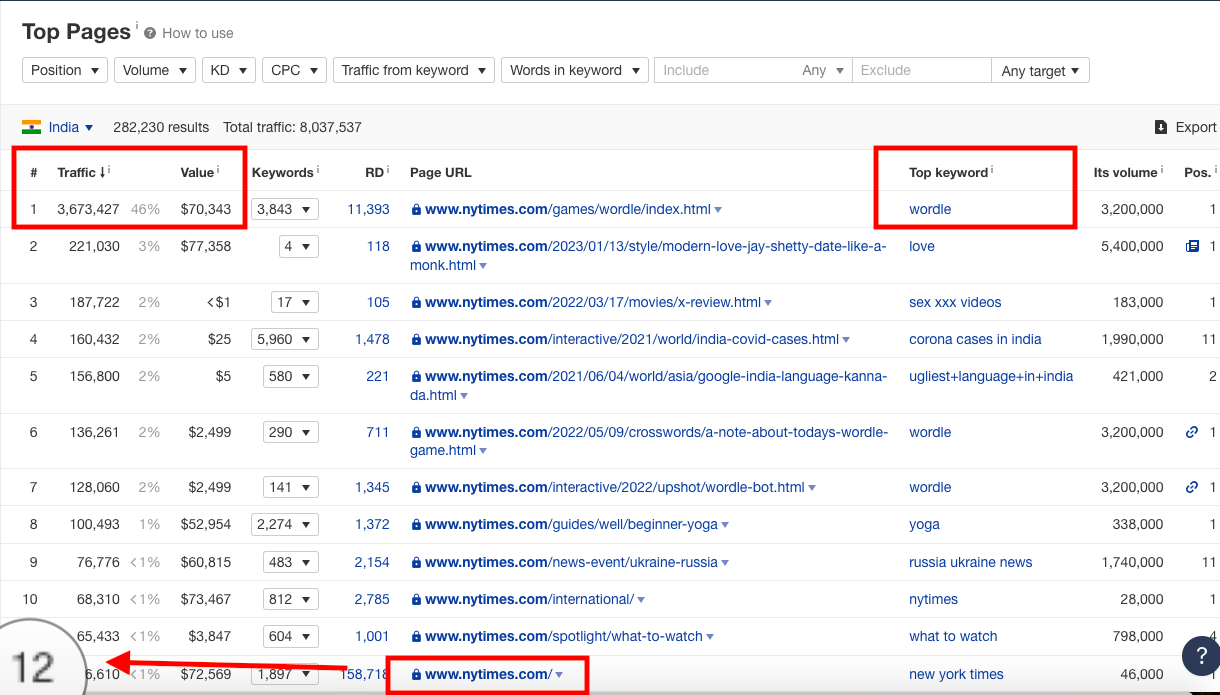 Oftentimes the homepage is not the only page with great link juice for you. As you can see, for example, NY Times' homepage is not even in the top-10 by traffic.
That is one more reason to never forget about thorough research before you act upon something.
Serpzilla as a tool
Indeed, one of the common strategies that our users can implement is to get backlinks exclusively from homepages. Serpzilla allows you to select backlinks according to whichever parameters you need. From nesting level to DR/AR, traffic volume, page age, etc.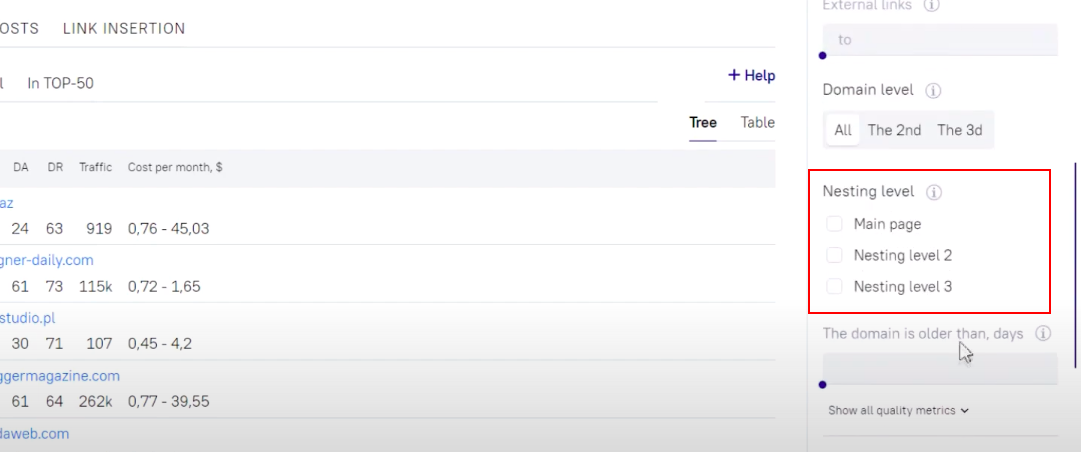 If you buy exclusively from homepages, pricing will be noticeably more expensive, but such pages have an undeniable advantage – they are guaranteed to have more link weight. These pages are also the most frequently indexed.
Buy Homepage Backlinks from High DA Websites
Boost your SEO results! Link building has become fast and easy with Serpzilla. Buy quality backlinks on authority websites with high DR.
Sign up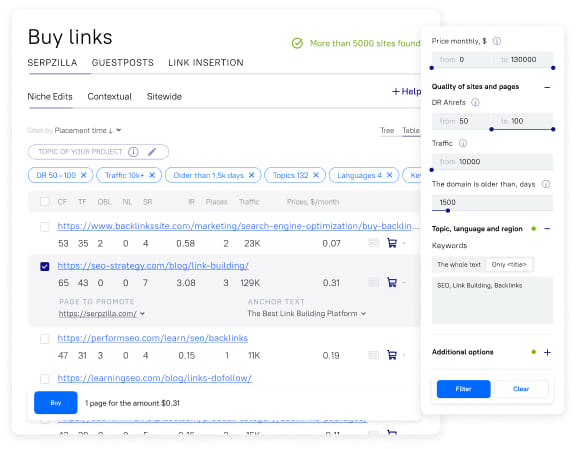 With our filters, you can turn your attention to internal pages as well. You'll see their value and traffic all the same. The absolute metrics will differ from Ahrefs or Moz, for example, but you will still get the general idea – is this page worth it?
Conclusion
As a rule of thumb, homepages are reliable and traffic rich, but they're not necessarily the best.
Nesting level often has little to do with traffic volume.
High traffic yield comes from focusing on user intent, quality content and relevance.
Keep the relevance high and achieve it off-page, through backlink anchors (on relevant referring pages, of course).
Stay within your competitive boundaries, don't buy way more backlinks than your peers.
Your job is not to publish a backlink of the most traffic rich page, but to get the most link juice out of it. Therefore, pay attention to the link mass of both the referring page and the target page.