Even if you have only dipped your toes in the SEO world, you have heard about link juice. The idea is fundamental for today's SEO. Understanding it and learning how to use it to your benefit is essential. Let's talk link juice, what it is, what it does and what you, as a SEO marketer do with it.
Link Juice Basics
Link juice or link equity is a certain value or acknowledgement that a link from one web resource passes to another web page. But the most important thing is that search engines base their evaluation of the linked resource by the amount of link juice they receive from other pages.
When we say the 'amount' of link juice, we do not mean that it can be counted or even has a certain unit of measurement. It's more complicated than that. Link equity is based on the domain authority of the page that passes it. So, we can say that the higher domain value pages are that link to your page, the more link juice it receives. As a result, its own domain authority grows as well.  
Alternatively, think of it this way. One of the major goals of any SEO activity is to get more link juice flowing to your page.
Of course, the quantity of link juice is not the only factor that gets your resource a higher SERP place, but it plays a very significant role. Let's delve into the details of how link juice impacts the SEO efforts and overall health of a website.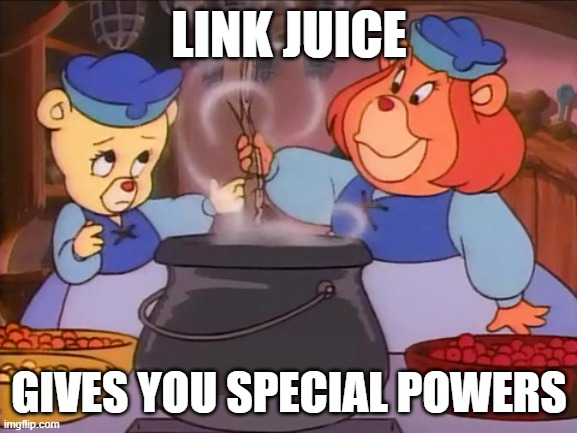 What does Link Equity Do for your SEO?
In a very general sense, link juice is how the Internet on the whole and your customers in particular are seeing and discussing your resource, your content, your brand and what you are marketing. As a SEO marketer, your task is to make your site visible, accessible, favorably received and having a solid weight in your niche. Link juice reflects all of that.
Increase your PageRank score
The most obvious thing. Google's PageRank calculation mechanics use link equity as one of the significant PageRank factors. Pages with higher passed link equity tend to produce higher SERP results. That is why generating a bigger flow of link juice is among the goals of any SEO marketing campaigns.
When someone is calling for an exemplary representative of your niche, it's always nice to hear your brand name as the answer. Being considered an expert in your field or a paragon of quality in your niche is no easy feat to achieve and the one that does wonders for your publicity and PR. Higher amounts of link juice usually mean that people cite you often and willingly whenever your domain is being discussed. Even if some of the citations (or many of them), are artificially crafted, they still work to make your brand name heard more often.
Being cited often and relevantly always means people will be generally in the know about you and your brand
If your link juice comes from veritable, high-authority pages, even a single link can boost your visibility greatly and improve your SERP results. Maintaining a good number of high-authority backlinks is one of the best SEO tactics still.
Having your resource's domain authority rise is a coveted SEO achievement and it is also something a good amount of link juice can do for you. Let's not forget that link juice can be external as well as internal. If your main page has a good domain authority rate, linking from it to your new pieces of content will be extremely beneficial for their separate ratings. To say nothing of the fact that it will be free for you.
Faster Crawling and Indexing
Pages with a good amount of link juice get indexed and crawled faster and more often, so improving your link juice values will have Google re-visit your site and re-think your SERP results faster. And time is of matter in SEO as we all know.
What is the Process of Passing Link Juice Like?
In other words, how does it work? In short, it's passed through hyperlinks. A web resource places a link to your page and this makes it pass link juice to you. Of course, it's not that simple. A lot of factors play a role in how much link juice is passed and how good the link's quality is. Let's take a look at the most important of these factors:
This is when you place a link from one page of your site to another. It's great when you already have a page with a high SEO value, domain authority and link equity. For example, your main page or news page or main blog page. Links to new pages within your site, placed on such a page, would pass a good amount of link juice free of charge.
This is when another website links to you. Placing a link is essentially endorsing this content in the eyes of Google, and it always shares some link equity. Depending on the domain authority of the host page, the amounts of passed link juice can differ greatly.
Yep, search engines have a way of checking if the link placement for relevance to the target page. In fact, highly irrelevant links will do more harm, and a sufficient number of them can cause Google to strike the target page completely out of its SERP.
Backlinks that look organic in pages with user-generated content tend to pass more link juice, because in the eyes of Google UGC is more trustworthy. That's also the reason why influencer integrations and guest posting are good for your SEO.
Link types can also affect how link juice is passed. If a link has a nofollow attribute in it, for example, it doesn't pass any link equity directly, but can still favorably affect your page's visibility, drive traffic and increase its overall performance.
Link Depth reflects how close the linking page is to the main page. The closer it is, the more link juice it will get. Link depth is also a factor you should consider while structuring your website so that link equity is distributed between the pages somewhat more evenly and doesn't accumulate at one page only.
So, How Do I Increase Link Juice that Flows to My Pages?
Here are some practical things you can do to extract more link juice from your backlinks:
Create Quality Content
Content marketing is the best way to develop organic, freely given backlinks that people share just because they like you.
Guest Blogging
Guest posting has a good combo for producing nice quantities of link juice: it's usually high-quality, user generated content on a page with a good domain authority.
Fix 404 Links
Broken links can stall the flow of link juice to your site. You should always monitor your backlink profile for broken links and fix them ASAP.
Optimize Internal Linking
In a perfect SEO world, link juice should be distributed between all pages of your website equally, but it's usually not the case. Still, you should see to it that all the link juice of your website isn't concentrated only on the main page, and internal links boost some more obscure corners of your resource.
Maintain a Diverse Backlink Profile
Use as many link types as you can. Aim for a good combination of dofollow and nofollow links, several link source types, user generated content and regular content.
Reclaim Lost Links
If you see a page that links to a similar content you have which no longer exists, you can reclaim it and take the link juice it gives for your own.
Avoid Link Dilution
A web page with too many outbound links will tend to give less juice, even if its domain authority is high. Sometimes, the quantity of backlinks is so big, the amount of juice each receives is negligible.
Use Social Media
User generated content galore, that's what social media is SEO-wise. It also gives you a great opportunity to promote your content and generate organic backlinks.
Reclaim Expired Links
Sometimes, websites will remove a link to you after a time for a number of reasons. Try to reach out and have your link reinstated, monitor for missing backlinks regularly, preferably, with specific backlink monitoring tools.
Avoid Spammy Backlinks
If you've read this far, you already know that buying spammy backlinks in bundles does more harm than good because they seldom provide the relevance and the domain authority you want. Rather sooner than later Google discovers such schemes and penalizes them.
Monitoring your Backlinks for Link Juice: How To
Here is a list of good tools that will help you check the link equity that is being passed to your pages at any given moment of time.
Google Search Console: This is a neat free tool. It will not measure your link juice per se, but it will give you a good layout of who's linking to your site. You will be able to extract a lot of data about potential link juice from that information.
Moz's Link Explorer: One of the most popular SEO tools out there. Its "Domain Authority" (DA) and "Page Authority" (PA) metrics can give a good estimate about how much link juice you're getting.
SEMrush: Another industry favorite, SEMrush additionally allows users to view the authority score of referring domains. This will also give you a good picture about the link equity being passed to you.
Ahrefs: A great and popular backlink monitoring tool, it has many metrics that will help you get a very comprehensive idea of your link juice quantity and quality.
Majestic SEO: Its "Citation Flow" and "Trust Flow" metrics do not measure the link juice directly, but give a clear indication of the quality of your backlinks which in turn helps you to understand how much link juice is passed.
Checking Nofollow Attributes: Nofollows don't pass link juice, so checking for them can help you understand if a backlink is only working for visibility and recognition.
Inspecting Redirects: Using tools like Screaming Frog SEO Spider, you can identify redirect chains. Abusing redirects can decrease the amount of link juice passed.
Link Juice Calculator Tools: An important note here. Like we said in the very beginning, link juice doesn't have its own metrics or measure units so it can't be measured directly. If you see someone claiming they can do this, there's a good probability it is a scam.
Conclusion:
Link juice is the lifeblood of SEO. An elusive substance that cannot be measured directly but greatly affects your SEO results, activities and the general direction of your SEO campaigns.
Although it is not the only sign that your site is doing well, a healthy quantity of link juice from high-quality pages means that people see you often, hear your brand name, talk about you and that Google looks favorably upon you. It means your promotion efforts are working!