Using the right link building strategy can significantly improve your Google rankings. However, not only regular backlinks are useful for this, internal backlinks are also something you should not ignore. Internal backlinks connect pages and pieces of content on your website and allow Google to get a good idea of ​​the hierarchical structure of your website. In this article, we will guide you on how to correctly build a strategy for working with internal backlinks.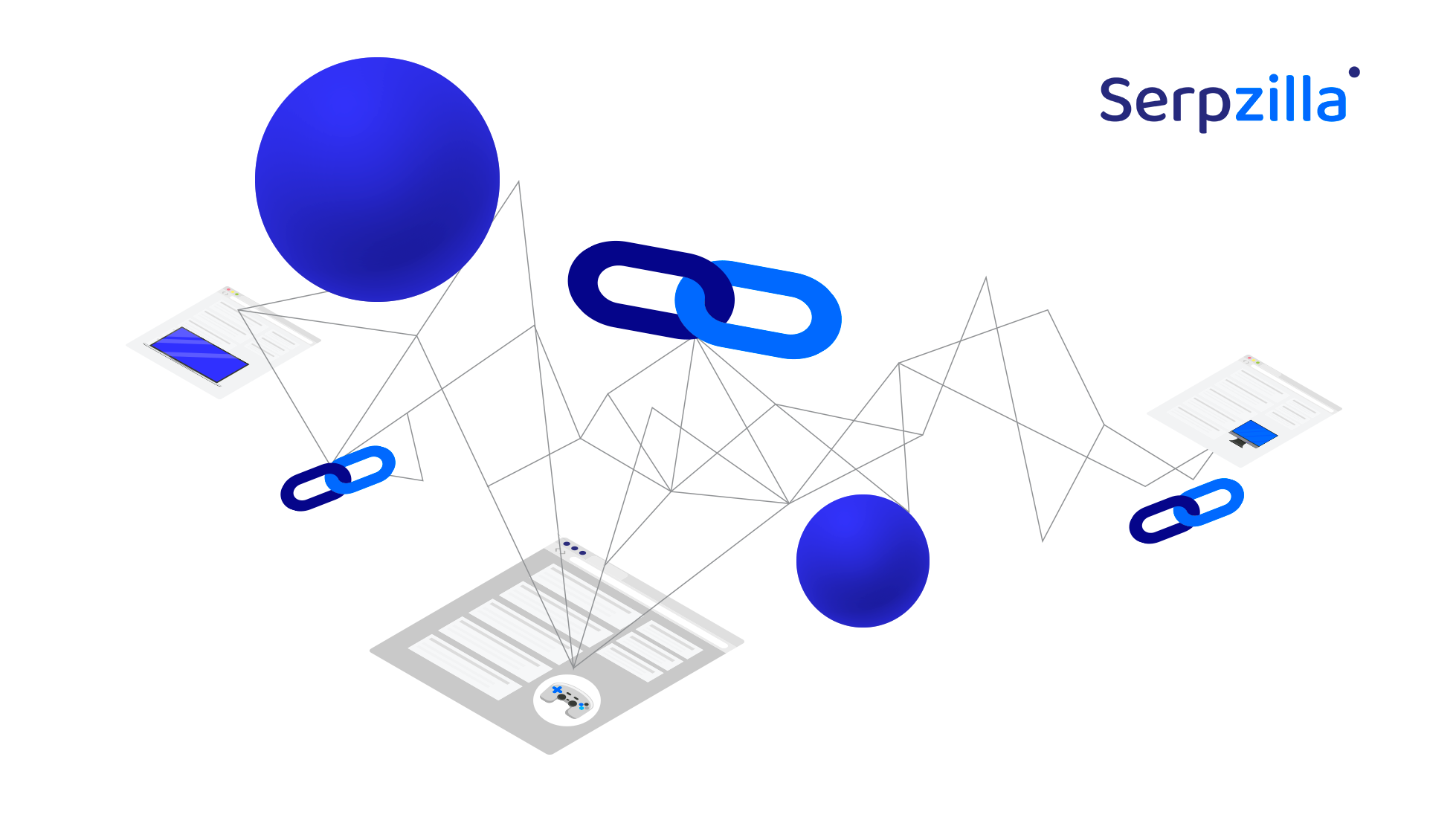 Internal backlinks are links that link one page on your website to any other page on your website. With their help, users navigate your website in search of content, and search engines analyze your navigation structure.
Internal backlinks play an important role in SEO promotion. They allow search engines to know how the pieces of content and pages on the website are related to each other and determine their value. The page with the most links leading to it, gains higher value and it should rank higher on SERP.
Google treats internal backlinks the way a real person treats a table of contents in a book or restaurant menu. The advantage of internal backlinks is that this is something that is completely under your control. With the right internal links, you gain the ability to direct your visitors and search engines to the most important pages of your website.
Pages that are not linked to by other pages are called orphan pages. With such pages, you need to do the following: either delete them, or close from indexing, or place backlinks leading to them so that Google bot finally notices them.
1. Internal backlink weight
Google divides a share of link juice between all links on a web page. For example, the homepage of a website almost certainly has the most link juice because it likely has the most backlinks to it, both internal and external. But the link juice of a single link to Tier 2 page will already be divided equally among all the links to Tier 2 pages. Etc.
So keep in mind that, for example, new posts on your blog will get more link juice, if you link to them from the main page. And such placement will help Google find those posts faster. And in general, the more links to a post, on- and off-site, the greater will be its value for search engines and the higher the chances of boosting its ranking.
2. Building an internal backlinking strategy
By placing internal backlinks on your website, you provide Google with the following information: the relevance of the pages, the value of the pages, and how they relate to each other in terms of structure.
To build an internal backlinking strategy, there are several aspects you need to consider. It also depends on the nature of your website and specific goals, but the main steps you need to take are universal.
First, structure your website
At the top of the hierarchy, of course, should be the homepage, and then a few tiers down go, for example the product categories pages, then product cards/blog posts, etc. Ideally, the navigation menu of your website should clearly present this structure. This one is primarily important for your visitors.
Do not forget to highlight the most important content
This is the content you want people to find when they search for topics or products that you specialize in. In other words, it's the content that, in one way or the other, reflects the very essence of your business, as much as possible.
In order for Google to know that this is your key content, you need to add a lot of backlinks to it. Let's say we want to highlight your best product and it has a great product card page, with detailed description, great photos, etc. Such content can be linked to from a lot of places: a blog post covering the product in-depth, an item in the navigation menu (like "new product"), a link placed in the "relevant products" section on the page of a similar product you sell, etc.
Take time to implement contextual backlinks
Once you have accumulated a number of blog posts on a particular topic, it is time you link them to each other. This will show Google and your users that these articles are related and are worth checking out. You can embed contextual backlinks within the text of a post, or add backlinks at the end of it.
Also, you want to show Google posts representing your pillar content: your most comprehensive posts on various topics you are expert on. That's why you must add a link to such posts in all posts relevant to the topics. And don't forget to link back from the pillar post to other similar posts.
Link your pages according to the hierarchical structure
Link pages according to the hierarchical structure of the website: parent pages to their child pages and vice versa. Also, don't forget to link pages of the same tier to each other. A good website structure means that such pages are linked in a meaningful, relevant way.
Do not forget to interlink relevant posts/products
Add a separate block to the pages on your website, where relevant posts/products will be displayed. It is usually done in the footer of the page. This is a good way to show your posts and products to more visitors. In this case, linking can be done both manually and using automated solutions.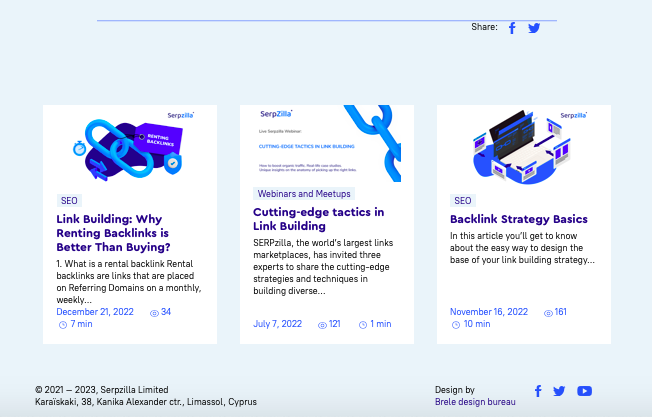 The footer of our blog, at the end of the article on backlinking in 2023, featuring relevant articles
Care to add navigation backlinks
In addition to linking to relevant content and relevant sections, you can increase the authority of your content (mainly the pillar content) by placing links to it on the homepage. You should mainly do this for the pages that are most important to your business.
Care to add backlinks to new posts and products
A positive effect on the authority of the content will be the placement of a link to it on the homepage of your website. It is even more worth it to place links to new content, both on the homepage and on other pages relevant to it. This can be a new product, a new service or a new blog post.
The process may seem like a hassle, especially if the content of the website is updated regularly, but it's worth it. Adding such internal backlinks ensures that search engines can index these new pages properly upon placement.
Do not forget about your top pages!
Creating internal backlinks for the most visited/high-ranked pages (for blog posts, products or services) is also something you should do. It is preferable to place such links in a separate block, in the sitewide sections (sidebar/footer/header) of the website, so that they are displayed on all pages. It will be easier for visitors to find them, which will increase traffic, and the increase in traffic will have a positive effect on Google rankings and sales, since there has to be a reason the pages are your most visited ones.
3. Attributes of internal backlinks
NoFollow
Adding a NoFollow tag does not mean these pages cannot be found in Google search results. If you don't want pages or posts to appear in search results, you should also tag them with "noindex". The noindex tag means that Google should not render the page and should not give the content a place in Google's SERP.
Then why even use this tag?
Because you might have links that are not important for SEO. For example, is there a link leading to a log-in section on the main page? This page does not need to rank high in the search results, or rank at all for that matter.
Anchor texts
After you figured out the links, you need to deal with anchor texts. "Anchors" are clickable text-pieces containing, which represent the link and which visitors see as clickable parts of content.
Anchors are best filled with keywords/keyphrases, but the main thing here is not to overdo it. Google is well aware that the content around the anchor text says more about the relevance than the anchor text itself. There is no point in thoughtlessly dishing out keywords. Make sure that the anchor text looks natural from the person's point of view and doesn't look odd or forced in the grand context of both the sentence and the whole text. And do not use the same keywords in anchors of different links.
Brief Summary
Internal backlinks mostly follow the same rules as regular backlinks.
Structure and hierarchy first! These are important not only in case of internal backlinking. It is a key aspect of Technical SEO.
Link as much as you can.
Do not abuse keywords for anchor texts, keep it organic.