"You shouldn't be creating links to your site in general."
This is what Google's John Mueller has categorically declared – among a host of other assertions from Googlers against the effectiveness and practice of link building.
But that's clearly not an option for SEOs, is it? Read the replies to the tweet above for a few laughs!
Because everyone knows that link building is the lifeline of SEO.
Why Links Matter
Let's start from the basics. How are backlinks supposed to work? And how do they actually work?
Google has its own collection of bots that crawl the internet, analyzing URLs, cataloging them, and making sense and structure of all the information out there to keep their search results fresh and accurate.
How do they do that? Googlebot comes to your website every now and then to check the usefulness, quality, structure and usability of your pages and allocates a set of scores to them, based on these parameters.
Let's say Google ranks an important page of your website on page 7 of the SERPs for your target keyword on the basis of these set of scores. But you haven't done much SEO on it yet. How can you improve your position?
By doing different kinds of activities that increase the trust and authority of your site.
While we don't know how exactly Google measures "trust," we know that they use links, the relevance of those links, and the source of those links to measure it. Google doesn't provide a metric for trustworthiness or authority of a site, but tools like Ahrefs and Moz have done that with their Domain Rating (DR) and Domain Authority (DA) metrics.

Link building is one of the most straightforward ways to increase your trust metrics. As Googlebot crawls the web, it sees that some websites are linking to you – this implies that they trust your content. These sites also have a trust level of their own. When Google sees decent domains referring to your pages, it assumes your website to be influential and authoritative for that topic to a small degree.
This is the long and short of how Google has been working since its inception.
When Google trusts a site more, it ranks its pages higher in the SERPs. This results not only in more traffic, but also better qualified leads.
The simple logic is that the higher you appear in a given search result, the more likely it is that your page is very relevant to the query. This means you match the intent of the searcher closely. Consequently, any and all visitors that click through to your site for that query would be primed to convert.
This is the clear-cut path from link building to revenue.
Is There a Problem with Link Building?
There has always been a huge controversy around building backlinks. Many Google updates – ranging from the infamous Penguin that brought "shock and awe" to SEOs in 2012 to the more recent Link Spam update in 2022 – are directed squarely at link building.
These updates are not aimed at making SEOs' lives harder, rather they are necessary to keep link building credible and to weed out spam.
Google is not against SEO or link building. They just want links to be useful and link building to be natural and responsible. John Mueller himself clarified in response to the above tweet that it was a bit too hasty of him to say it.
Google is not against paid link building either. Not that long ago, Google gave SEOs an additional tool to label paid links – the rel="sponsored" attribute. We'll talk more about this shortly.
All said and done, the fact remains that backlinks are a double-edged sword. You can't afford to mess it up. If you overdo it, you'll be penalized sooner rather than later and you'll have to deal with little-to-no traffic for an indefinite period of time.
Buying too many backlinks in a short period of time is called "link explosion" – as the name suggests, it's a highly risky activity. It might bring you rankings and traffic in the near-term, but Google will soon get wind of it and blow you away, so to speak.
There is no way to build hundreds or thousands of backlinks naturally. Google knows that as well as we do.
So what are the ethical, accepted and non-risky ways to get enough backlinks to build the trust and authority your site needs?
We'll examine three strategies deemed to be trustworthy in Google's eyes that you can use to maximize your results without getting penalized.
The rel="sponsored" Attribute
As stated earlier, Google isn't opposed to the idea of paid link placements. To clarify their stance, their guidelines state that they recognize link buying as a normal part of the economy of the web:

We at Serpzilla have done some internal research. We found that using the "sponsored" tag works almost as well as dofollow tags in many cases, because it tells Google you are being upfront with your intentions. You are effectively conveying to Google that you have a trusted brand in the real-world, which makes the link credible.
The opinions of some other experts corroborate our findings as well.
Of course, this doesn't mean you go on overdrive and mark all of your links sponsored. You need to distribute your links smartly among the various tags and attributes that Google has defined. There is no ideal ratio. You can analyze your competitors' backlinks to get a rough idea of the ideal ratio in your industry. The usual tools will help you do that: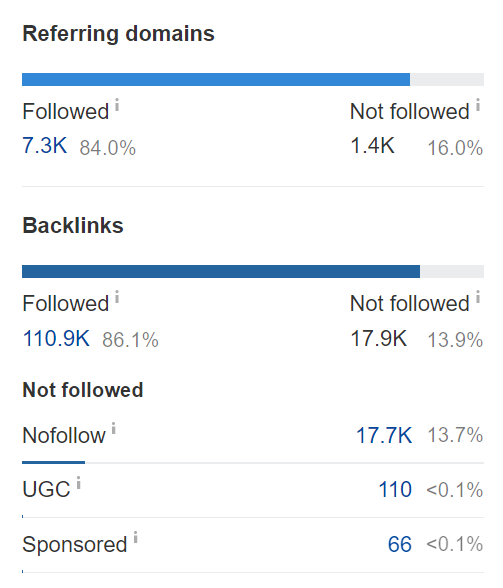 A good rule of thumb is to have 30% to 40% of your links followed. The rest can be a mix of nofollow and sponsored. This will tell Google your link profile is organic and trustworthy
Quality and Placement of Backlinks
Many SEOs buy or build backlinks only from high-DA, high-traffic and high-performing pages in order to build up their trust factor quickly. However, you're putting all eggs in one basket by doing that – this practice is clearly unnatural too. Isn't it strange that only the best sites are linking to you? Google's machine learning systems will recognize this inorganic pattern, just as it would if you buy all your links from PBNs.
You need to buy backlinks with the full range of DA/DR scores. Further, you also need to make sure they're placed on different kinds of pages, in different sections of the page (like body content, footer, sidebar, etc.) and within different formats of content.
Once again, it's a good idea to check what your peers and competitors' backlink profile look like. Remember to check only the "good" competitors and not any newbie or shady operators.
Another rule of thumb is that about 60% of your links should come from home pages, landing pages or high-performing blog posts, while the other 40% can be built from lists, category pages or profile pages. These shouldn't be too many clicks away from the home page, though.
Further, 60% of your backlinks should have DR 40 or lower. A "natural" backlink profile mandates that you have more low-authority links compared to high-authority ones. Buy lesser high-DR links and structure your DR/DA ratio like a pyramid.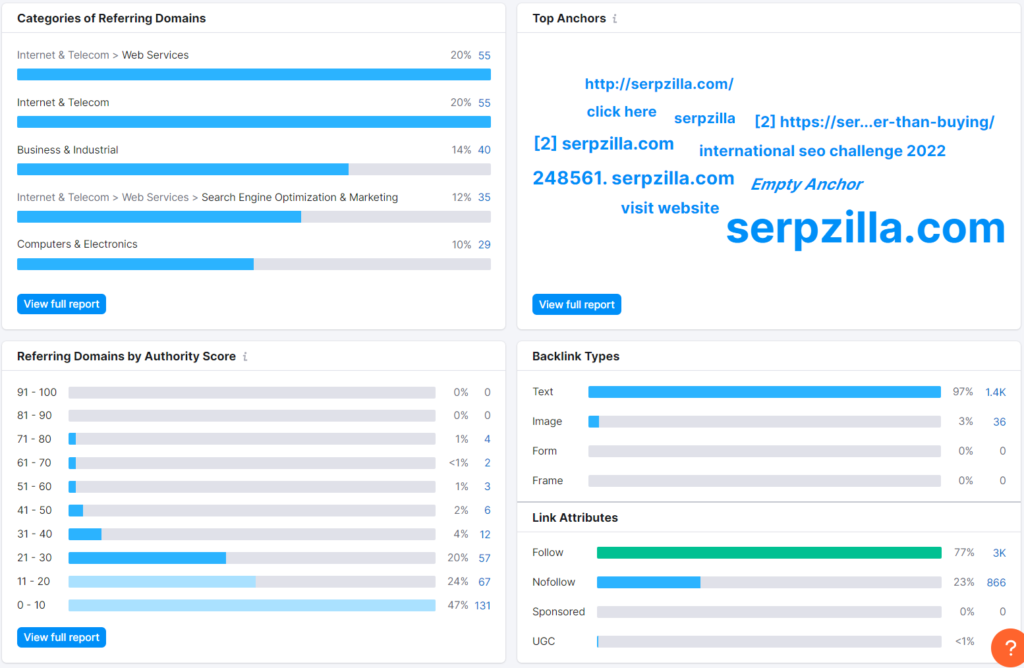 This strategy might sound counterintuitive at first, but it truly works. It's what we've tried and tested for our customers.
Throttle and Vary Your Link Building
Some people focus on getting free backlinks with good content, others prefer link exchange schemes, still others prefer building links through online PR activities.
If you have a huge website and competition is high in your niche, you need a lot of backlinks – these could run into the thousands or even hundreds of thousands.
Here's where you can use tools to automate your process. Serpzilla can help you buy a lot of backlinks in seconds but make them go live at a regulated pace. We have a great feature called "auto mode" – it uses ML to learn your link building preferences and buy and place backlinks automatically.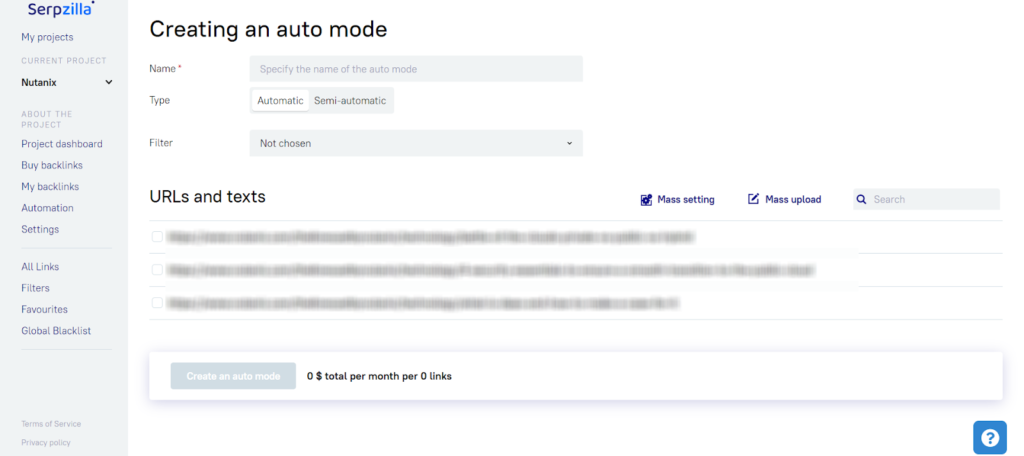 The auto mode is smart – it always, always stays within your budget. It also has built-in limits on the number of links to build within a specified period – it will increase your link mass incrementally based on the number of backlinks you have currently. For example, if your site has 500 links at the moment, it won't buy 5000 in the next month; it will start with 10 in the first week, 20 in the next, 50 in the week after that, and so on.
Google's own ML systems are super-tuned to recognize unnatural link building behavior as well as trashy websites that sell links. Auto mode is our humble attempt at countering AI with AI.
The Verdict
Links are the fundamental measure of site authority. Without a smart link building strategy, there is no way you'll rise to the top of Google. The keyword here is "smart" – you need to get a sense of how Google's algorithms qualify and quantify links, and tweak the number, form, pace and quality of your links accordingly. Good luck!