If you're spent any amount of time doing or managing SEO for your site, then you know that link building is a critical part of any successful SEO strategy. But why do high-quality links remain so important more than two decades after Google was born and even after its PageRank patent itself has expired?
The simple reality is that the more links you have pointing to your site, the higher your ranking will be in SERPs.
In this post, we'll discuss one of the most effective link building strategies – one of the few that Google doesn't consider to be spammy: and that is digital PR.
How Link Building Has Evolved Over Time
In the early days of link building, a lot of techniques such as web 2.0, blog commenting, article syndication, private and public blog networks, backlink exchanges, widget/theme backlinks, etc. flourished. These were labeled as "black hat" and progressively devalued and penalized by Google, first with manual and then with algorithmic penalties. Over time, these unnatural links lost their intrinsic value – the squeeze is no longer worth the juice. There are many ways to recover from Google penalties and identify unnatural links that look spammy and suspicious.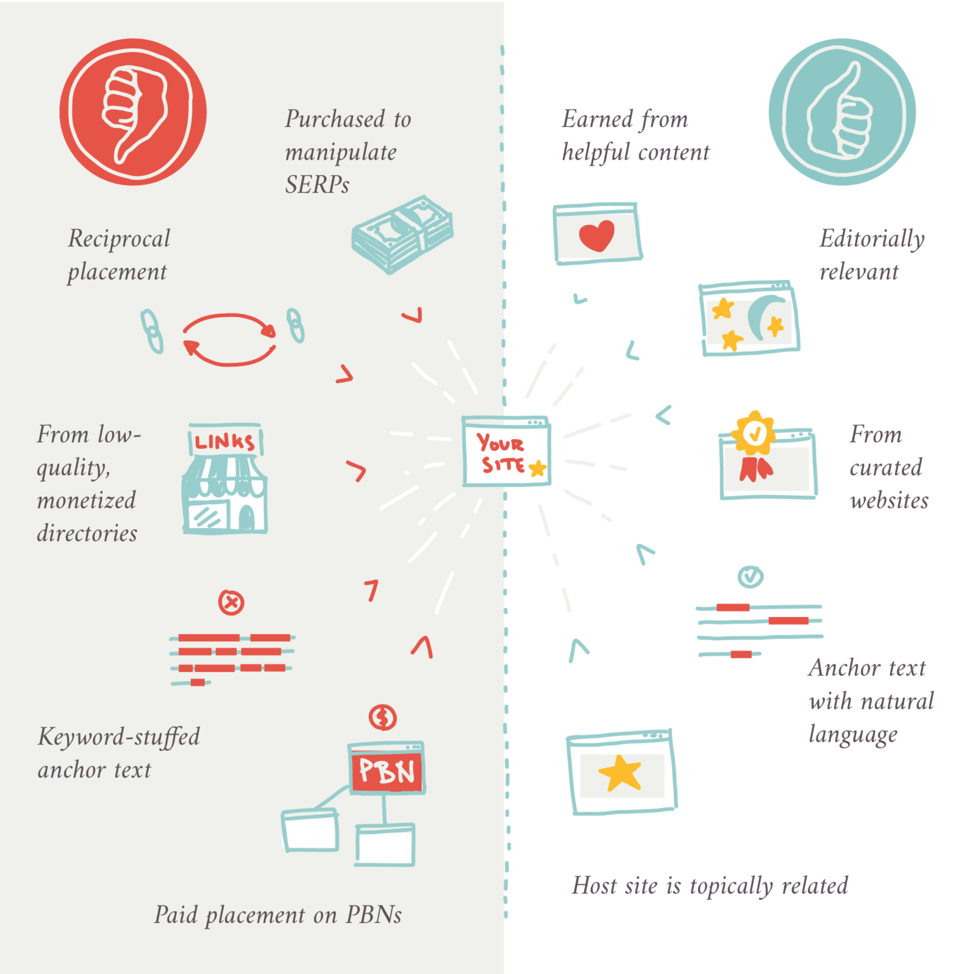 Source: https://victoriousseo.com/blog/bad-links/
These days, some of the effective link building tactics are:
Guest posting, which involves writing articles for other blogs or websites in your industry, so that you can get a proper citation or mention along with a link to your profile or site.
Digital PR, which involves publishing thought-leadership content on high-authority publications that then links back to the page on your site that is relevant to the article or post.
By using such safe and above-the-board linking strategies, you can create a strong link profile that will help improve your SERP visibility.
What is Digital PR?
Digital PR – or public relations – is the process of promoting your brand or product online through digital channels such as social media, blogs, video clips and industry news outlets. It's about generating positive buzz and exposure for your company – with the goal of building relationships with customers and prospects, and ultimately boost sales. If you're able to keep up engage your community and demonstrate brand leadership, digital PR will help your business scale exponentially.
Digital PR vs Traditional PR
Traditional PR relies on media outlets to get the word out. This means that there always needs to be a third party vouching for your message. However, traditional PR can be comparatively expensive, and it can be difficult to track the results – you only know the reach of the media; you never know how many people actually saw or engaged with your content.
Digital PR, on the other hand, is more affordable and easier to measure. There are simple metrics that track how many views or clicks your content actually got you.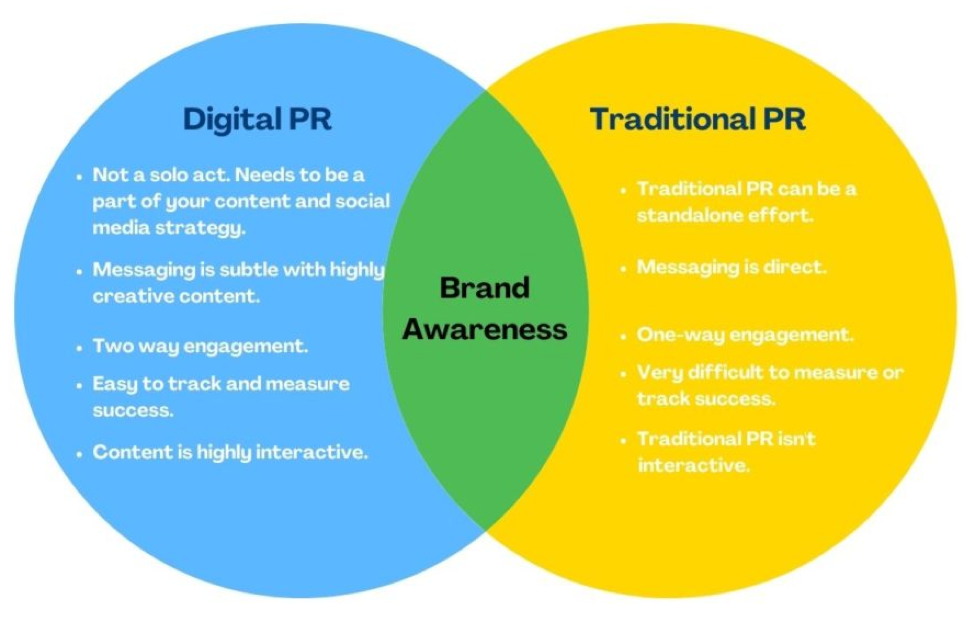 Source: https://socialanimal.com/digital-pr/digital-pr-vs-traditional-pr/
Digital PR allows you to directly engage with your target audience – in real time, when they are online – making your message more relatable. In the end, the best approach is to use a combination of both traditional (for trust) and digital (for engagement) PR.
How Digital PR Benefits Your SEO Strategy?
Digital PR tactics have become an increasingly important part of any SEO strategy. By building relationships with online publications, bloggers and influencers, you can earn high-quality links as well as drive traffic to your product or service pages.
Here are some benefits that directly or indirectly boost your SEO efforts and search visibility:
Increase Brand Awareness
It's a no-brainer that a business should have a strong social media presence. Some social channels are being touted as strong competitors, if not alternatives, to Google. Digital PR is an effective way to create and maintain a positive image for your brand. It can help you reach a wider audience through social and other online channels. By creating compelling content and engaging with customer segments and influencers online, you can build trust and credibility for your business.
Improve Organic Traffic
By getting coverage on high-quality websites and blogs, you can generate valuable interest in your product – supplemented by a direct link to your website – that brings in more referral as well as organic traffic (by way of ranking higher in the SERPs). Digital PR can also help build brand and site authority, both of which are important (even if indirect) ranking signals. Investing in digital PR is a great way to boost your organic traffic and improve overall visibility online.
Generate Natural Links
Digital PR can help you build relationships with key influencers and thought leaders in your industry. By creating compelling content targeted at specific audience segments, you demonstrate subject matter expertise, which in turn gives you the "credibility" to earn natural links from high-quality websites.
These links don't appear "forced" or plugged into the text just for the sake of mentioning your brand. On the contrary, the whole article – or at least major parts of it – are speaking about how awesome you are.
Increase Sales and Revenue
While digital PR is generally considered top-of-the-funnel content, it generates direct interest in your brand. A simple link from an article to a landing page can turn that into middle- or bottom-of-the funnel content in a single step.
Data from Google says that 9 out of 10 consumers conduct online research before making a purchase decision. Consequently, any brand that has a credible online presence and reputation is far likely to see a positive impact on sales and revenue.
Social media or industry publications give you immediate access to their large reach – compounded by the inherent trust in the mention. This means that a reader who clicks through to your site is already half-convinced of your credibility. You could call them true marketing-qualified leads (MQLs).
Build Relationships
Content marketing, influencer campaigns, media placements – all of these are not just means of doing high-quality link building. They help your brand to build relationships with your target audience as well as industry thought leaders, and establish your company as a trusted source of information along the way. The more relationships you have, the more your brand authority, and the easier you'll find it to get editorial links from other publications. It's a virtuous cycle.
With so many benefits, no wonder that John Mueller of Google has equated digital PR with high quality SEO, clearly differentiated from run-of-the mill link spam.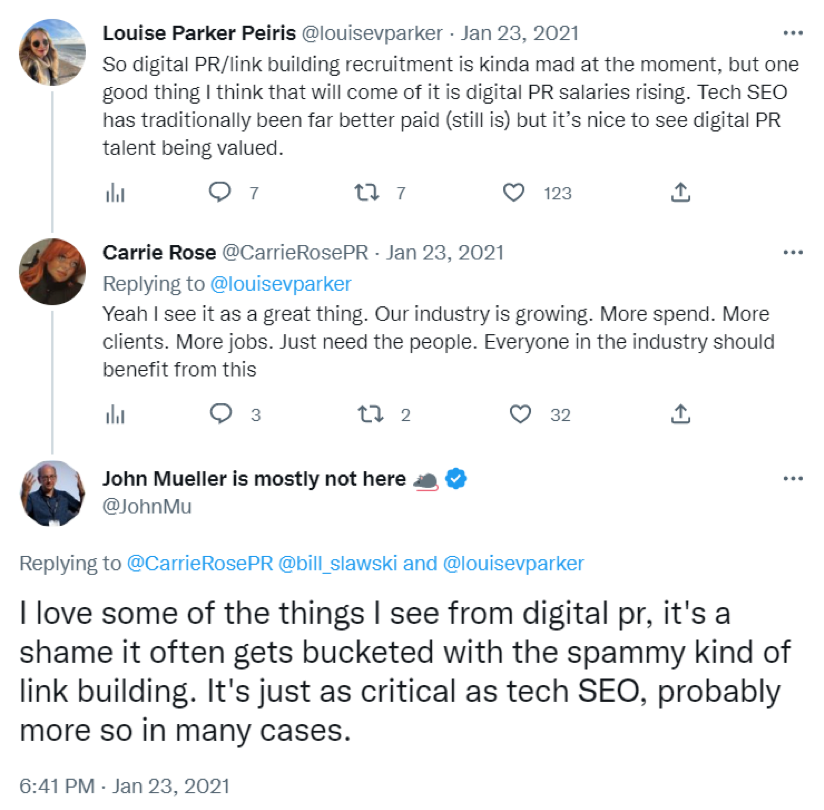 Effective Digital PR Tactics for 2023
By creating engaging and interactive content, you can connect with your audiences on a deeper level. Digital PR can help you reach new audiences, try out new platforms, and understand how consumers respond to your content. So what are some tactics that help you ace your digital PR efforts?
Reactive PR
Reactive PR involves searching for and responding to media requests to earn media coverage. One popular reactive PR platform is HARO, or Help a Reporter Out. This involves subscribing to a daily email list of media requests, and then responding to any requests that are relevant to your brand or expertise. By doing this, you can earn valuable media coverage and position yourself as a thought leader in your industry. In addition, you can build relationships with key influencers who may be interested in promoting your products or services in the future.
HARO became so successful in its first few years that it was eventually acquired by PR giant Cision, who currently owns it.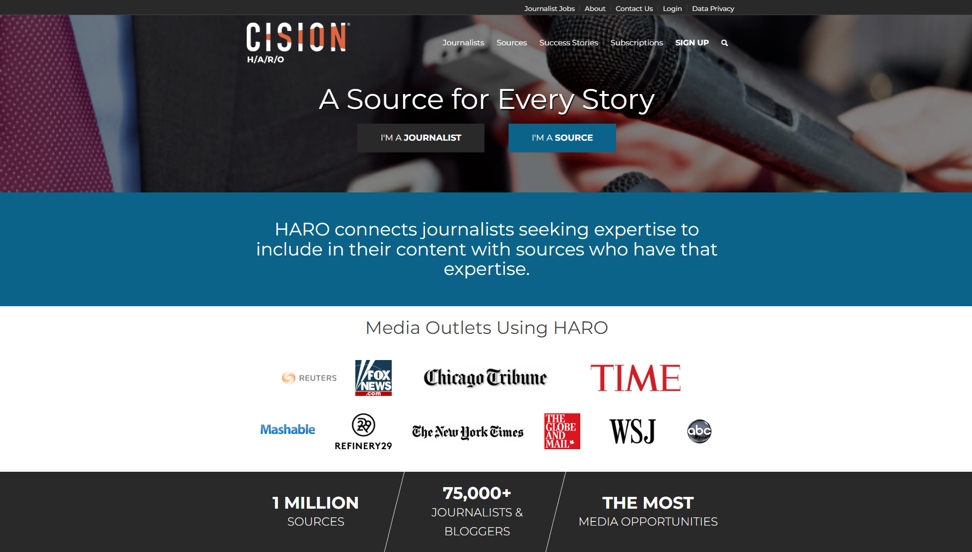 Another alternative is to conduct and publish your own research and then approach journalists for to promote it or write about it. While we've all seen umpteen "State of the Industry" reports – which are very useful and informative, mind you – that is not the only way to put out your data.
Just spend a minute to listen to Fery Kaszoni who landed 20 links with a single campaign, including one from the BBC. His team analyzed the success rate of driving tests in cities across the UK and proactively sent out the stats and results to over 1,800 journalists across the country. Here's how he did it:
Data-Driven Research
Using data to drive digital PR efforts is the most efficient way of using your resources and connecting with your target audience, not just reaching them. There's a plethora of ways, (including surveys and user tracking) to gather and analyze consumer insights relevant to your industry. These are the "State of ____" reports that everyone in your niche wants to lay their hands on.
For example, Dialpad, a business communication platform for global teams, came out with a data-driven report titled the State of Videoconferencing, which enabled them to generate a staggering 185,000 links from a mind-boggling 11,000 domains.

Most of these links are natural and high-quality. The report continues to receive links from high authority websites such as Owl Labs and HubSpot.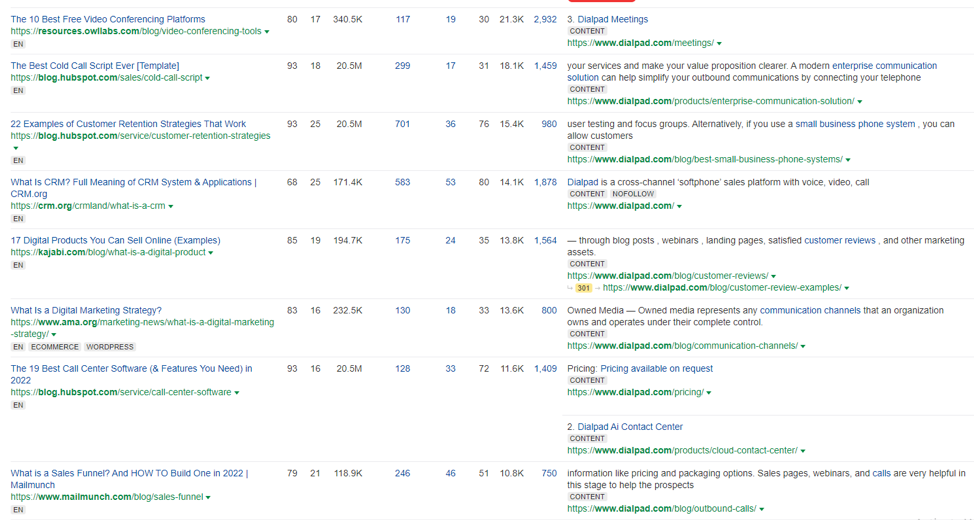 Newsjacking
Newsjacking is the art of "hijacking" a current event or news story and creating clickbait content that is relevant to your brand. This can be done via blog posts, social media posts, infographics, or even press releases. Done correctly, newsjacking can generate a great deal of media exposure as well as search visibility for your business. It can also help you gain a large amount of links in a short amount of time.
Plus, your site starts ranking for a whole new set of keywords or topics that Google never considered you for earlier, just because you were one of the first to provide fresh data or information when no one else did.
Best Practices for Digital PR Campaigns
Now that you're convinced about the pros and pros of digital PR, here's how to create a long-term strategy for your brand:
Set Your Goals and KPIs
In order to create an effective digital PR strategy, first establish goals and key performance indicators (KPIs). What are you hoping to achieve with your campaign? Do you want to increase brand awareness, drive traffic to your website or sell a product? Once you know what your objectives are, structure your campaign.
What platforms or media will you target?
What budget can you allocate?
How long will your campaigns run? How will you perform research?
When you have concrete answers to these questions, you will know what KPIs will help you measure "success."
Define Your Target Audience and Determine What Content Appeals to Them
The first step in a successful digital PR strategy is identifying your target audience. Who are you trying to reach with your message? While detailed buyer personas are not necessary at this stage (because most mainstream media have broad targeting), creating a segment gives you an initial understanding of the needs and wants of your target audience. This in turn enables you to undertake research as well as create content that appeals to them.
Reach Out to Journalists
Who holds sway with the audience that you are targeting? Yes – journalists, bloggers, webmasters, editors and social media influencers. Craft a personalized pitch that appeals to each kind of influencer and reach out to these people with stories that they would want to share with their audience. Don't forget to mention – subtly or otherwise – that you'd need a link back from the story!
In Conclusion
When it comes to link building, it is important to stay ahead of the curve (mostly imposed by Google) and continue to evolve with the times. With smart digital PR initiatives, you can keep getting high authority backlinks consistently for your website. Building truly useful links in legitimate ways will ensure that you stay ahead of your competition. SEO and sales success will follow soon.