Are you a sci-fi movie fan like me? If so, I must ask you – how soon will AI take over the world?
The last eight months have been very exciting – ChatGPT and generative AI have taken the world by storm, especially the SEO industry. Microsoft integrated AI into Bing, making it the first AI-powered search engine. Google's much awaited reply came at the Google I/O 2023 event, when they launched the Search Generative Experience (SGE) and announced their intent to integrate it into the main Google search engine.
Google is touting SGE as a "a new way to search":
Personally speaking, I found the UI to be visually appealing, fresh and "snackable." However, it's poised to shake up the top position – even above the featured snippet, giving nightmares to SEOs already.
Either way, you won't have to wait long to decide for yourself.
Meanwhile, me break it down for you.
What is Google Search Generative Experience (SGE)?
It is the all-new AI-powered Google Search engine that used to go under the code name Project Magi (not to be confused with the popular noodles Maggi).
I started by asking Google itself what SGE means. Here is the answer:
"Google Search Generative Experience (SGE) is an experimental version of Google Search that integrates artificial intelligence (AI) answers directly into results. SGE is rolling out to users who signed up for the Search Labs program."

Then I went a step back and asked Google what Project Magi is. Here's the answer:
"Project Magi is an AI-powered search engine that Google is developing to compete with Microsoft's Bing and OpenAI's ChatGPT. The project aims to add new features to Google Search, including the ability to complete transactions, answer coding questions, and write code based on requests.
Google is working on Project Magi with a team of over 160 employees. The first features of Project Magi will be introduced in May 2023 to one million users in the US, with more features to follow in the fall."

How do you get access to Google SGE?
OK, now you're wondering how I took those screenshots. Because if you just go to Google, you won't get the Google SGE. Yet. As of now, Google is only giving access to a limited number of people to try it out.
I got access on 2nd June via Search Labs: https://labs.withgoogle.com/
Feel free to apply and join the waitlist for Google's special treatment.
Note: If you're outside the US, you'll probably get a message saying your account is not eligible. In that case, just use a free VPN browser extension and you'll be allowed in.
After you get access, you'll get a link to accept the terms and conditions and be notified of the options to get SGE, coding tips, and the Add to Sheets facility.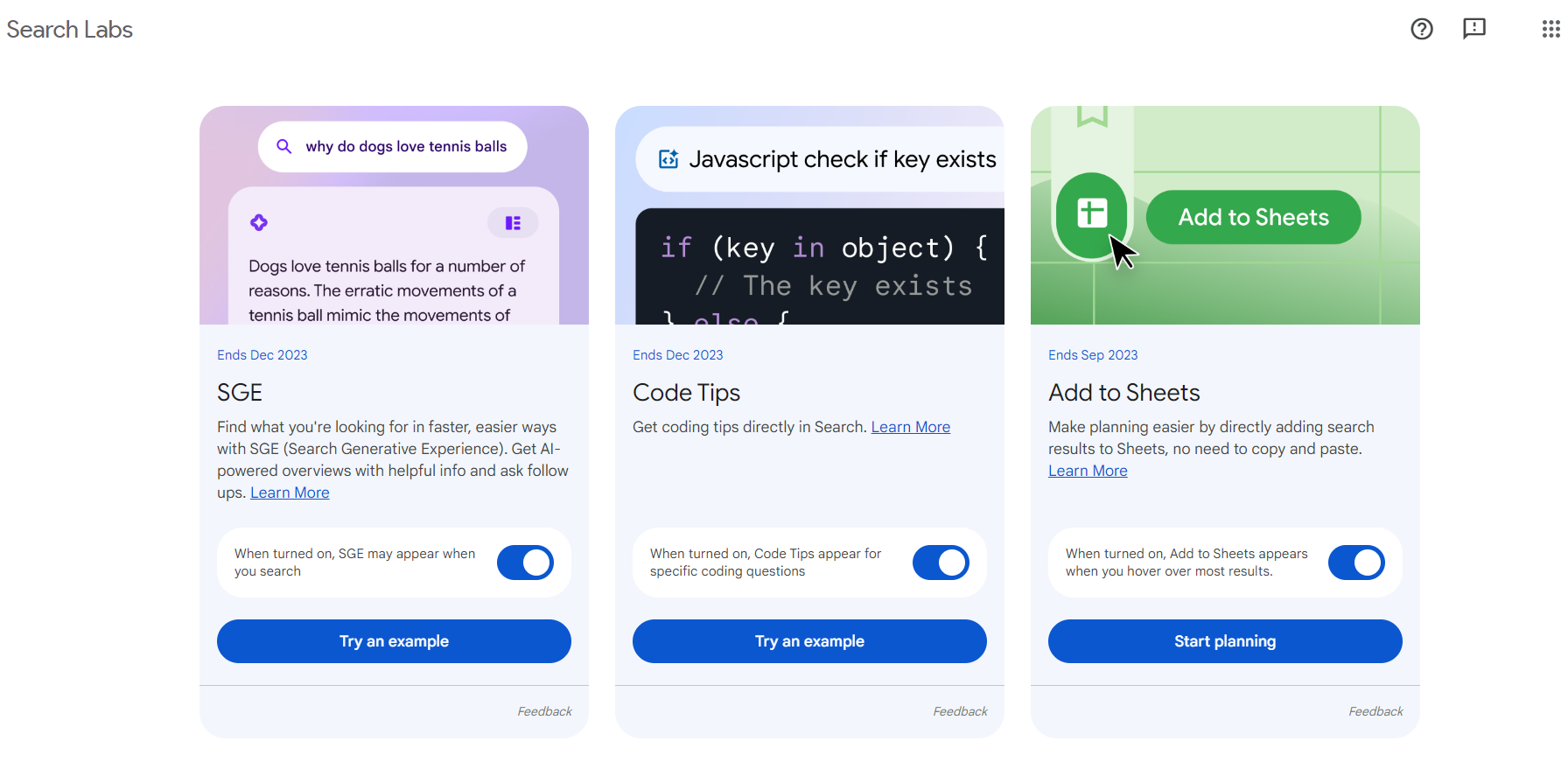 How the Google SGE works
SGE is currently powered by a variety of LLMs (Learning Language Models), including an advanced version of MUM and PaLM2.
The all-new AI-powered search experience is used to generate contextual answers for the search query in the following ways.
AI-powered snapshots
As per Google, "When appropriate, SGE will show an AI-powered snapshot to help people quickly get an overview, with factors to consider and a helpful synthesis of relevant insights and information."
So I asked Google, "Why do cats sleep so much?" (Does yours sleep the whole day too?)
Here's what SGE had to say: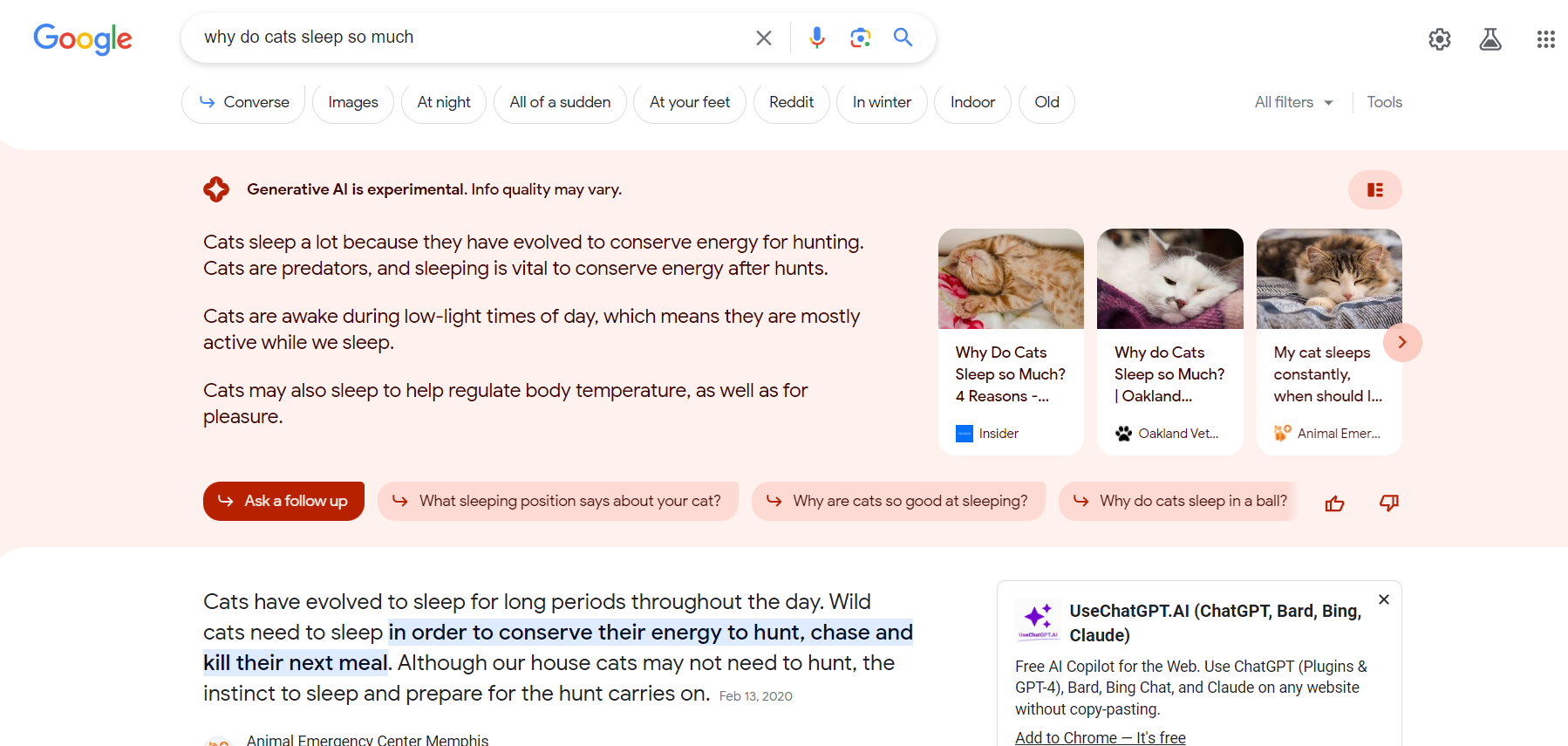 Not an excuse, Oscar.
Conversational mode
SGE allows you to "ask a follow up" or click on one of the suggested next steps under its answer snapshot. This will launch a new "conversational mode," where you can naturally ask Google more about the topic you're exploring.
For example, I wanted to know, "how to make a food youtube channel"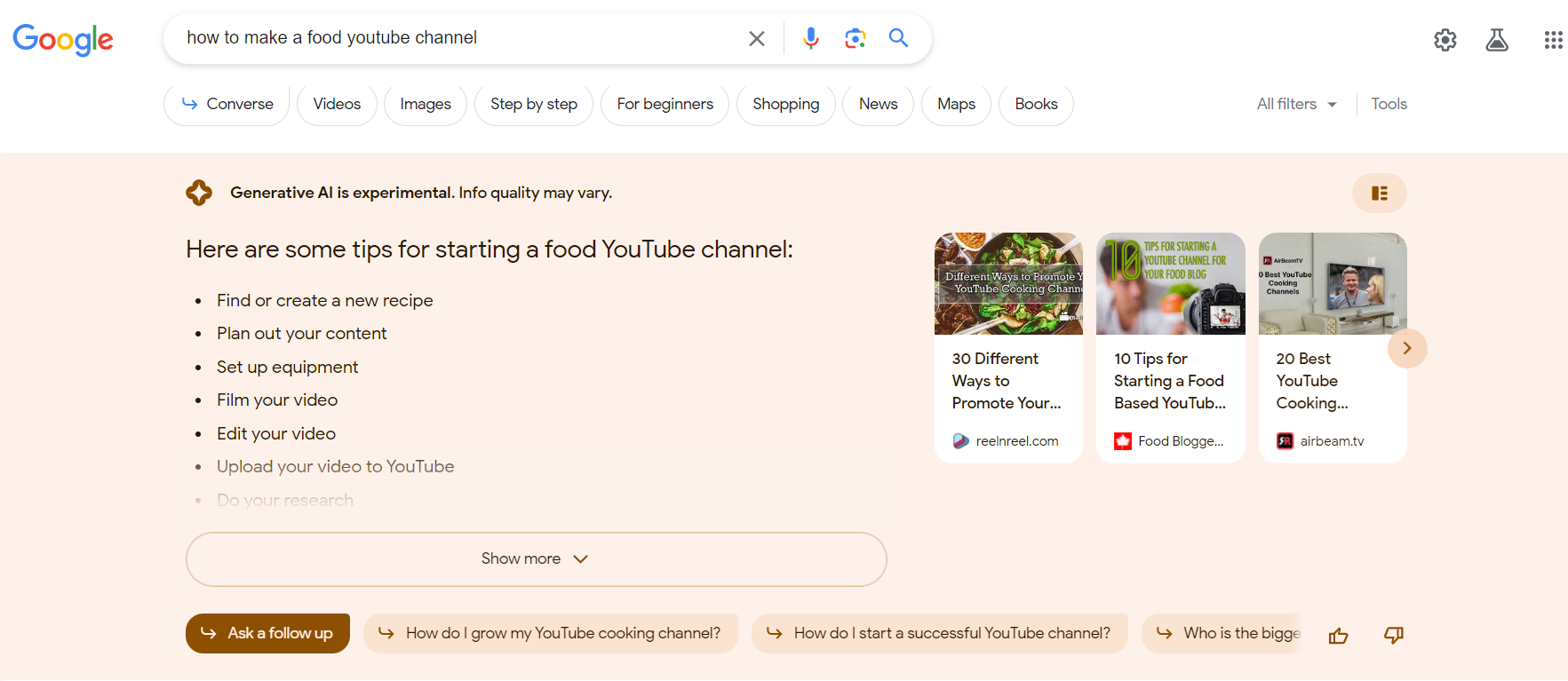 Obviously, once I start a YouTube channel, I want more subscribers and viewers.
At the bottom of the pic, you can see options for a follow-up question; I clicked on the second one – "How do I grow my YouTube cooking channel?" – and I got this:
Vertical experience
Google also says that "SGE will also be helpful for information journeys related to verticals, like shopping or local searches, as they often have multiple angles or dimensions to explore."
In shopping, for example, SGE helps uncover insights so people can make considered, complex purchase decisions faster and easier.
For product searches, SGE generates a snapshot of noteworthy factors to consider and a range of product options. It also throws up product descriptions that include relevant, up-to-date reviews, ratings, prices, and of course images.
For example, I searched for "best electric toothbrush" and got this: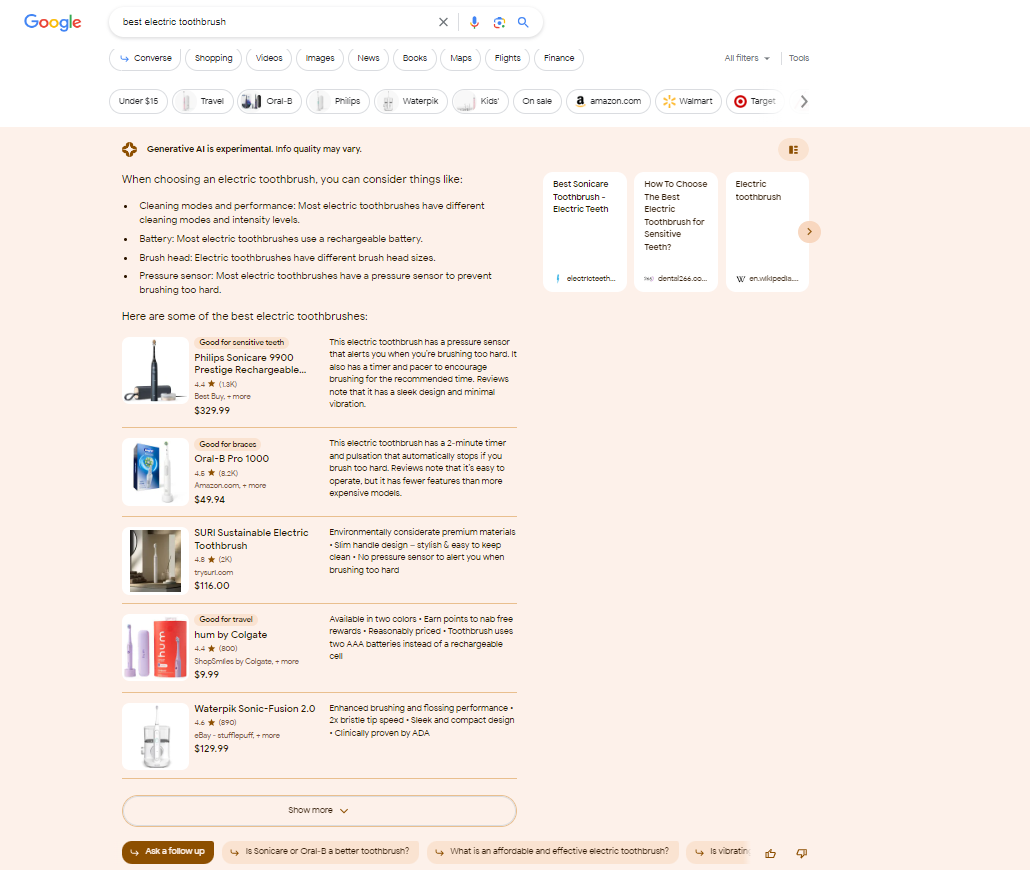 When you click on one of the options, it will show you a nice box on the right with options to buy the product from different sellers: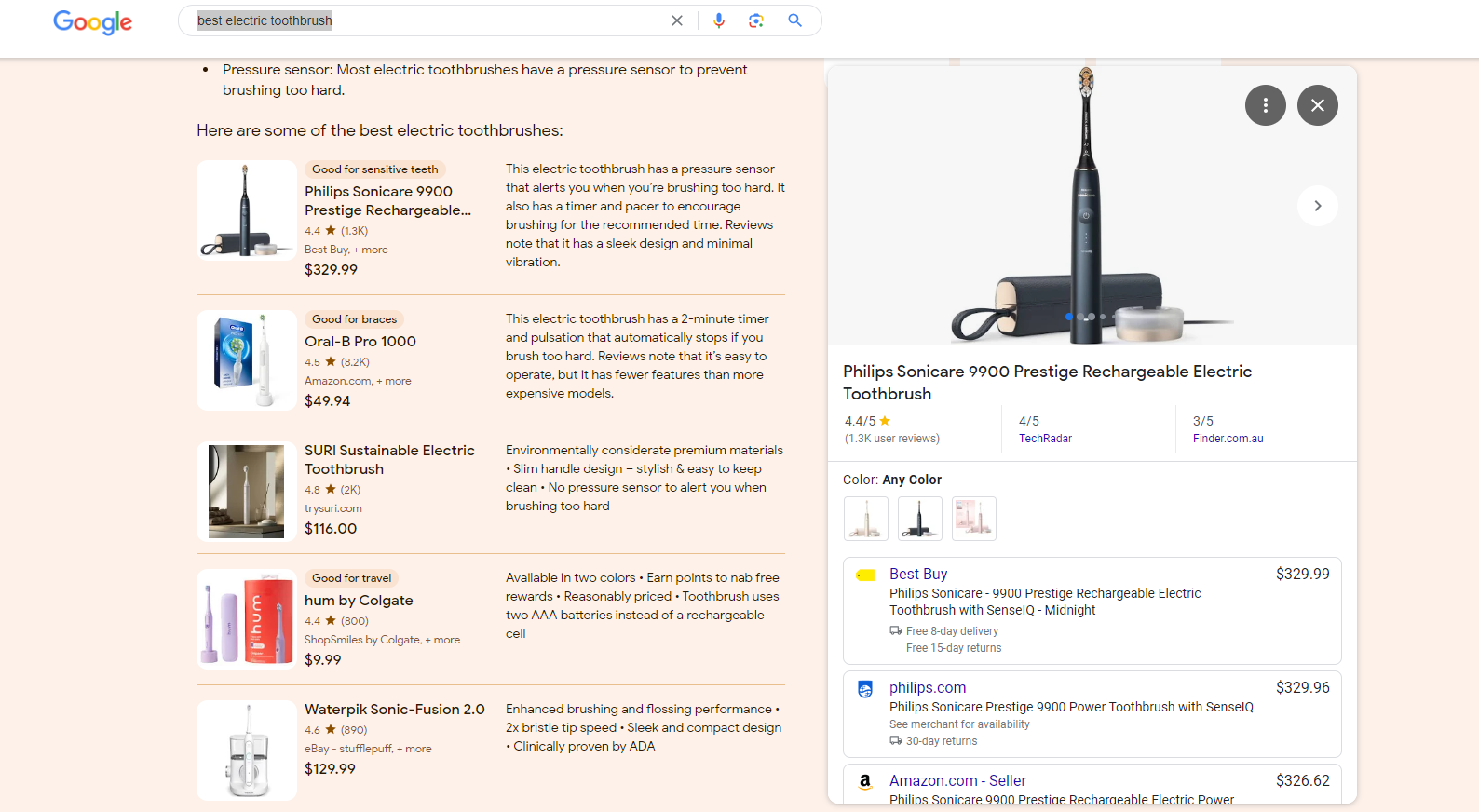 It's possible for SGE to show such real-time and updated product information because it's built on Google's Shopping Graph, the world's most comprehensive dataset of constantly-changing products, sellers, brands, reviews, and inventory.
Similarly, SGE also provides context about local places that make it easy to compare and explore options.
Ads in the new UI
SGE presents some new concerns for SEOs, advertisers, as well as users. There are many uncertainties related to the placement of ads. This is what Google has to say:
"As Search applies the power of generative AI, Search ads will continue to play a critical role. They serve as additional sources of useful information while helping people discover millions of businesses online."
Not very clear, is it? Many experts and bloggers have shared that they are witnessing ads above the SGE search results. However, I'm seeing ads below the SGE results. Check this out:

Limitations of the SGE
SGE is not without its share of drawbacks. Some of them are:
Speed: The SGE box takes its own time to render. Google's official Search Liasion handle tweeted that they were working on reducing the time taken to generate snapshots significantly.

Misinterpretation and bias: The AI is actively learning from human input currently. It follows that the output is only as good as the data fed to it. Users and searchers are not exactly known to enter simple and straightforward queries, so many a time the new AI search results are prone to be biased. Google has already added a disclaimer:
User behavior: Since SGE is so new, it will take some time for users to adapt to querying it, studying its results, and interacting further with it. Meanwhile, new search patterns are constantly being formed.