It is common knowledge that before you start to do off-page SEO or link building, you should make sure that everything on your website is optimized to the fullest.
Your on-page optimization should be complete. Your technical SEO should be perfect. All your pages should be indexed and crawled frequently. The website should be fully functional in terms of downloads, ecommerce, etc.
Of course, if the website is very new, you have a huge task on your hands. You need to give time to Google to crawl the site enough times and make decisions about its content quality. However, if it's an established site, you can proceed with link building and guest posts.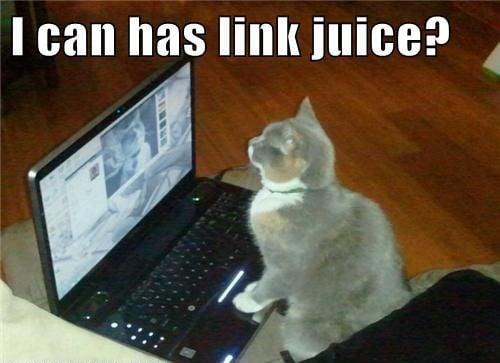 How do you choose which pages on your site to promote with these two evergreen methods? Well, we've identified some of them for you and categorized them according to their characteristics.
Core Pages of the Website
These are the ones which by default have unique and high-quality content. You don't have a choice – you absolutely need to spend time and effort making sure these pages stand out from the rest as well as your competitors.
Homepage: Your homepage contains basic information about your company, your brand, your primary product or service, how you work, your goals, and testimonials from your customers.
Product pages: These are landing pages that contain a detailed description of the goods or services you're selling. The content on these pages is usually very informative, authentic and convincing.
Blog pages: The blog is a collection of pages that contain any and all information your audience might be interested in. They aren't limited to text – each post can have images, videos and even social media posts embedded. Your blog is the hotbed of your content marketing efforts. The topics are chosen based on keyword research and trends. For example, on the Serpzilla blog, we share SEO insights from our studies and experience in addition to the best features of our tool.
About Us: This section contains information about the organization, how it works, its mission, its history, its leaders and other important staff members, the awards and recognitions it has achieved, and job openings if any.
Contact: Information on how to get in touch, the addresses of HQ and branch offices, important email IDs and phone numbers, and a contact form to take messages from web visitors.
Again, all of these pages need high quality content across the board, because their job is to draw and keep the attention of all visitors to the site. You should be doing CRO on these pages along with on-page optimization.
Pages with High Traffic Potential
Some pages attract more visitors than others. By far. These are the most successful pages of your site. They also happen to have helpful content, such as articles, resources, and so on. These are really good for promotion – you can also use them or repurpose them as content assets. Ahrefs has a tool that helps you find the top pages on your site: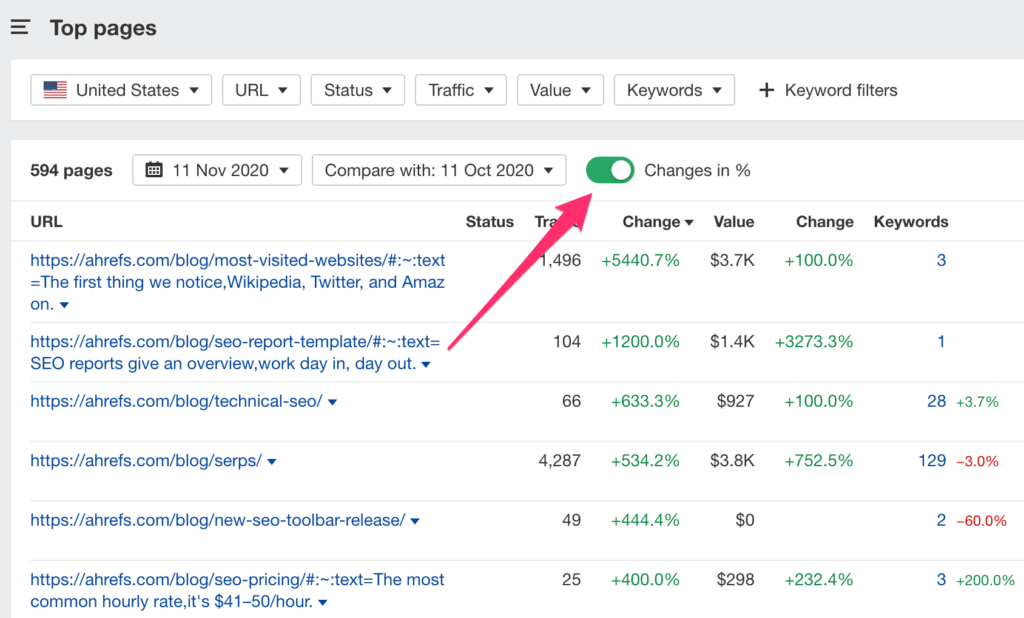 You should list down these pages and optimize them for featured snippets, because they answer a particular question that searchers are asking on Google. How do you do that? Create keyword clusters by using keyword tools and make sure these pages have content that matches the maximum number of significant keywords.
Pages That Offer Value
If you're selling through your site, you will have product pages where you list your best offers and deals. The simple fact that people love to get more value than they pay for means you'll have maximum visits to these pages. If you have a permanent page that lists all offers currently going available on your site, that page might be bookmarked a lot and get a ton of direct visits. Needless to say, it would be one of your top pages.
Pages with Reviews and Recommendations
What do you do when you're considering buying a product online? You'll look at the ratings and reviews, right? Reviews have become so omnipresent today that sometimes, even the brand doesn't matter as much as reviews. In many cases, positive reviews increase trust in your company and encourage new visitors who may not have heard of your brand or company to buy from you.
While a site might decide to put reviews for each product on that product's page, many sites with a limited product range have a specialized page or section where they put all their reviews and client testimonials together.
Now, if you don't have reviews on your site, that doesn't mean consumers will stop looking for them. When people are seriously considering buying from you, they will search for reviews on third-party review sites. And that's when you lose control – they might find reviews on other websites and these may not be glowing. They might not necessarily be negative, they could just be stupid or rambling, but again they might move the needle either way.
So, if you have your own review section or page on your website, you should promote it like crazy. It should show up above all the other reviews for your product, so that people come directly to your site when they search for information about your product, and go on to buy from you.
Remember, we aren't suggesting you lie about your product, create fake reviews, or buy reviews in exchange for money. What we're saying is reviews should be a process fully under your control – you should encourage your customers to leave reviews on your site and even help them articulate the wording if necessary.
Pages with Unique Content
Finally, there might be pages with unique and original content that relate to your brand, your products, or your organization, which might not fit into any of the previously discussed categories.
You might mark these pages for link building depending on the level of intent matching they have for keywords that you're targeting with them.
These need to be given equal priority as the others.
Before You Start Link Building
Now that you've identified all the pages to which you'll build links, I will remind you once again that SEO is a slow, deliberate and complicated process. It requires a lot of patience, research, sustained efforts and experimentation to get SEO right.
You need to go step-by-step, strategically:
Keyword research – deciding the themes and topics on which you'll create content
Technical SEO – good servers, canonicalization, HTTPs, speed optimization, etc.
On-page optimization – titles, meta descriptions, URLs, etc.
Good semantic core – proper use of keywords and their variations in the content
All of these activities should be undertaken and completed before you even begin link building.
Simultaneously, you can run other types of digital marketing campaigns, such as PPC, email marketing and PR. However, SEO is your best bet, because it leads to long-term and sustainable revenue.
Go Build Your Links!
Our own service Serpzilla is a marketplace that allows you to buy links – a real lot of them – in the space of a few minutes. However, there are a lot of variables that affect the cost of SEO. Therefore, you shouldn't think about or spend your link building budget in the same way as your PPC budget.
The difference between PPC and link building is that PPC gives immediate results, but it also stops being effective the moment you stop spending money on it. Instantly. For PPC to work, you need to keep paying as long as you want traffic to your landing pages.
However, if you're looking for a long-term tactic that has the possibility of sustained and exponential returns, look no further than link building. The best way to boost trust and site authority is to build high-quality backlinks from websites that also have great trust metrics. Trust flow in link building is equivalent to cash flow in business.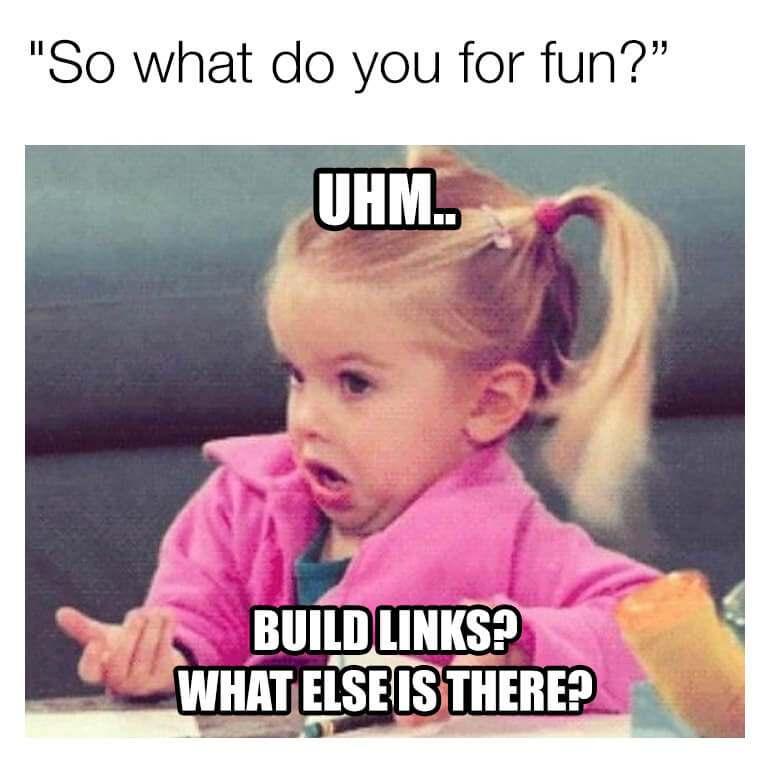 Ultimately, you can buy thousands of backlinks – sky is the limit. Our prices start from as low as $0.01 per link. I highly encourage you to sign up and try out Serpzilla. The account and the billion-page database are 100% free to access. You only pay for the links you actually decide to buy.
And yes, the best backlinks are ones that you pay for. That's the cardinal rule of SEO!