The speed of progress in today's Internet technology is incredibly fast, techniques used even five years ago can seem outdated. While many tools and technologies have come and gone, some strategies have stood the test of time. For instance, link building, a method used to improve website visibility, has been around for over 20 years. It started before major search engines like Google became popular. Despite some criticism, it remains a widely used strategy for website optimization. From early days to now, with advanced tools like Ahrefs or Serpzilla, we clearly see how big a journey it has been. 
In this article, I'd like to speak about how link building has appeared, how it has been evolving and why, miraculously, it is still alive and kicking today after so many years.
A Short Trip Down the Memory Lane
Link building gained popularity with the rise of Google in 1998, which used links as a way to measure the authority and relevance of web pages.
Back in the pre-Google days, website owners used used to create PBNs (Private Blog Networks) – networks of websites, usually managed by an SEO professional, which featured links to boost the search engine ranking of a main "money" site. PBNs helped the owners of the main site to gain visibility and drive traffic, especially during a time when search engines were not as advanced or efficient. The use of PBNs, however, is considered as "gray hat" SEO tactic. Their popularity has waned as search engines have become better at detecting and penalizing such tactics.
Link Building Evolution: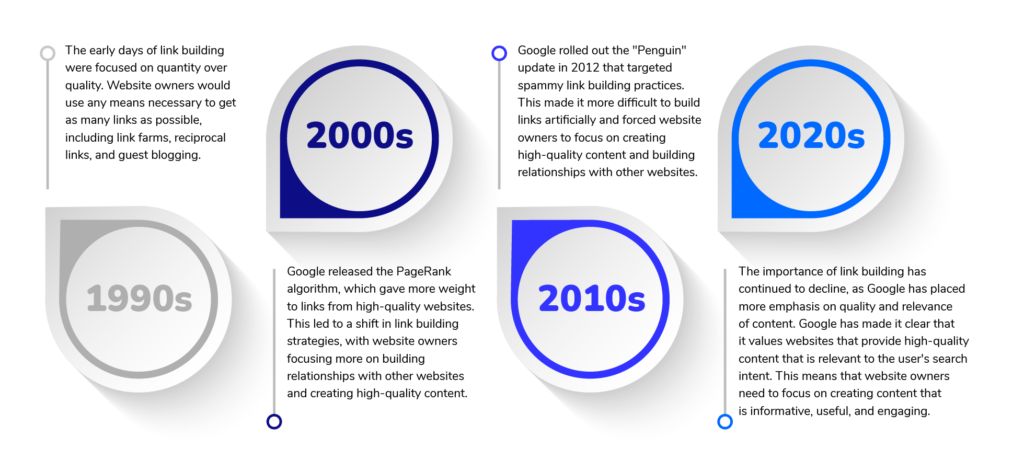 Google Changes the Game
It's common knowledge that Google revolutionized web search by ranking results by citation. This actually gave rise to SEO as a science. It all started harmlessly, with a reciprocal links strategy, where resources exchange links and promote each other. When everyone started doing it, it became obvious that exchanging links was not enough. Marketers first began to post links to their resources wherever possible, from image boards to forums, chats and guestbooks, raising the citation count.
Soon after the focus of link building shifted from driving users to manipulating Google ranking, link building practically became a spam industry. In the early 2000s, Google introduced Page Rank mechanism that measured link equity.
This was when the true exploitation of the tactic began. People created whole networks of sites the sole purpose of which was hosting huge quantities of links. Page Rank also gave rise to purchasing backlinks from sites with a high PR score. Eventually, it led to Google removing the Page Rank scores from public access, but purchasing backlinks remained. 
The Penguin Mechanism
The SERP rank manipulation hit such gigantic proportions that it had a huge backlash, so in 2012 Google acted. The update, rolled out in 2012 remains a controversy. Its aim was to reduce the amount of websites that used spammy backlink shown in the first pages of SERP. Although the update affected only around 1% of queries, it hit hard. If a website was caught in it, there was no way to restore your rankings, only start afresh with a new domain name.
However, what it did do was make marketers rethink the entire purpose and tactics of link building, took it to new heights and shaped it, for the most part into what we understand under link-building today.
Is Link Building Still a Thing in 2023?
The short (and very definite) answer is yes. Although Google now has a much more sophisticated selection mechanism for its SERP, the fundamentals haven't changed. Google still considers a site's domain authority as one of the main factors that should affect its place in the SERP. The domain authority is still gained mostly via citation, although today Google also measures link quality and authenticity, and a dozen of other factors, so spamming forums and chats is no longer viable.
However, the link building as a SEO tool has taken a much more refined shape. Here are some major features that mark today's link building:
The shift from quantity to quality.
Yes, a couple of good, authentic links to your website from resources with high authority and ratings can do much more for your traffic and pass more link juice than hundreds of random forum mentions.
The introduction of dofollow and nofollow attributes for the link tag made it possible to mark paid links so that Google crawlers do not consider them in calculating domain authority. Having a combination of various types of links generally helps you to have a more balanced backlink profile. Diversity also means that your backlinks should come from a very diversified pool of sources. Sometimes, it's hard to accumulate such a pool manually, so using link building tools can be an asset for this.
Changes in link building strategy
Obtaining a good link now is more deliberate and purposeful activity. It is often content-based as Google still considers organic and natural links the best. Activities like guest posting, influencer integrations, getting reviews, unboxings, are effective, but time and resources-consuming
Automated link building tools have also evolved
Automated link building has come a long way from purchasing spammy bundles of links on random boards that do more harm than benefit. Smart link building tools like Serpzilla.com have very good pools of sites for link building and can produce organic-passing backlinks automatically, quickly and at a good price.
Diversity of Content Types
Today link building doesn't have to mean a link wrapped in a line of text. Other types of content, eagerly consumed by the audience can bear links as well! We're talking about infographics, polls, white papers, case studies, statistics, free apps and tools.
Building relationships have become more important
Promoting each other with other businesses, increasing outreach, exchanging links, using content marketing strategies with organic mentions help not only to raise the visibility of your brand but acquire good backlinks that Google accepts as valid. Using digital PR strategy helps you build business relationships and establish working ties, also increase your coverage on social media, with influencers and other digital channels.
A strategy where you act as a subject matter expert for journalists or bloggers writing about your domain. Often obtains you an excellent equity link, but is rather competitive and slow in the uptake.
Finding these 404 links to similar content and replacing them with your own is an excellent and legit way to build new backlinks. Now that analyzing sites for such links can be automated, it has become easy. All you need to do is locate such links, analyze their value,  create a replacement,  and reach out to the owner of the resource with the link.
Charting the Evolution and Envisioning the Future
Just like everything on the Internet, link building has come a very long way. From simple spammy tactics, it has developed in a true art and science domain, with its trends, strategies, know-hows and highly specialized instruments. For example, Semrush and Ahrefs help you to gather analytics for your and competitors' backlinks and traffic and Serpzilla features a multifunctional link building platform which can help streamline your link building efforts. 
Today, a key to creating a robust link building strategy is diversity. Your strategy should combine several various approaches, such as content marketing, PR campaigns, collaborations and tooled link building using advanced modern link building instruments. It requires a lot of fine tuning and constant monitoring, but it still is the most reliable way to improve your website's domain authority and to raise you up in Google SERP.